Economic disparities in education inspired alumna to pursue teaching career
by Eli Saleh and Sal Nudo / Jul 14, 2014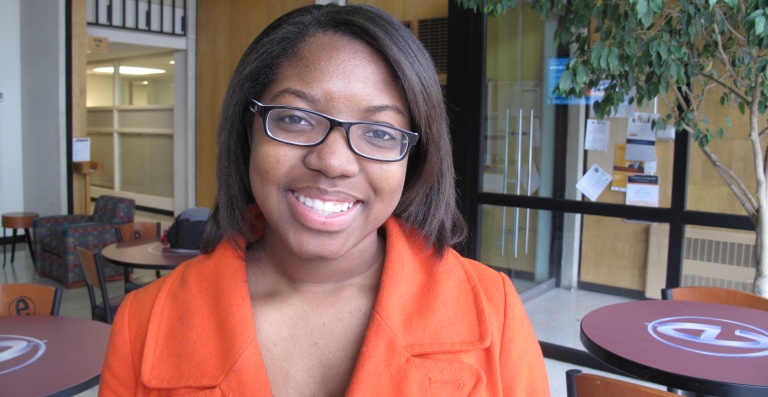 As an elementary student, Arijhanna Mann '14 Elem. Ed. experienced what economic disparities can be like between underserved urban schools and schools that are better funded.
"I went to school in the inner-city in Akron, Ohio, and then I moved to a smaller town of Lisle, Ill.," said Mann. "Seeing the differences in those schools, and seeing my parents want me to go to a different school, trying to understand why, made an impression. Asking questions like, 'What was wrong with this school?' and 'Why did this school have more computers?'"
Mann disliked the idea of students not being able to reach their full potential because of the school they attended, so she decided to do something about it at a young age.
"It made me want to become a teacher," Mann said.
In August, the Illinois graduate will enter the profession she felt compelled to pursue so long ago at Hamilton Elementary School in Chicago.
"I'm so excited to see what it'll be like to teach on my own in third grade," she said.
Professor Marilyn Johnston-Parsons said Mann's quiet forcefulness and tenacity make her a prime candidate to teach in an urban setting.
"She was one of only a handful of students in her program requesting to student-teach in Chicago schools," said Johnston-Parsons.
While at Illinois, Mann gained third-grade student-teaching experience at the Franklin Fine Arts Center in Chicago.
"It was interesting because they integrated the fine arts into everything they did. It was really cool to be in a Chicago school that was just doing so much for the kids," Mann said. "Students are encouraged to be more creative."
Professor Violet Harris said Mann is keenly aware of how race, class, gender, and language issues affect access to education and other benefits of society.
"I believe she views her role as a teacher as a servant-educator. She possesses a philosophy in which a teacher must guide, serve, encourage, teach, and advocate for the students with whom she works," said Harris.
Mann was attracted to the College of Education at Illinois because of the personalized assistance from professors and advisers, and because she wanted the "large Big Ten college experience." Along with Harris and Johnston-Parsons, Mann said several other professors in the College profoundly shaped her.
"They were able to challenge me and my fellow students and bring about new ideas to help us better prepare for our future careers," she said.
Mann earned a variety of scholarships while on campus, including two from the College: the Carol P. Passaneau Scholarship and the William Chandler Bagley Scholarship. She also made plenty of connections as a member of Delta Xi Phi and the Student Education Association. A member of the James Scholar Honors Program, she said the path to any successful career must be molded and stimulated early on.
"In order for the business majors and engineering students to achieve their goals, they must first have good teachers in K-12," Mann said. "I understand the importance of that and want to help others. The best way I could think of to encourage education and make a change to what I saw was for me to do it myself."
With her past campus associations and the knowledge she gained through the College, Mann's future is undoubtedly bright.
"Ari is a leader and I know she will impact education," said Harris. "She has the inner drive and conviction to do so."
If you're inspired to positively impact the lives of underserved students like Ari Mann strives to do, we invite you to begin a career in teaching.