Donors to College give to 'pay forward' the benefits of an Illinois education
by Sal Nudo / Jun 11, 2014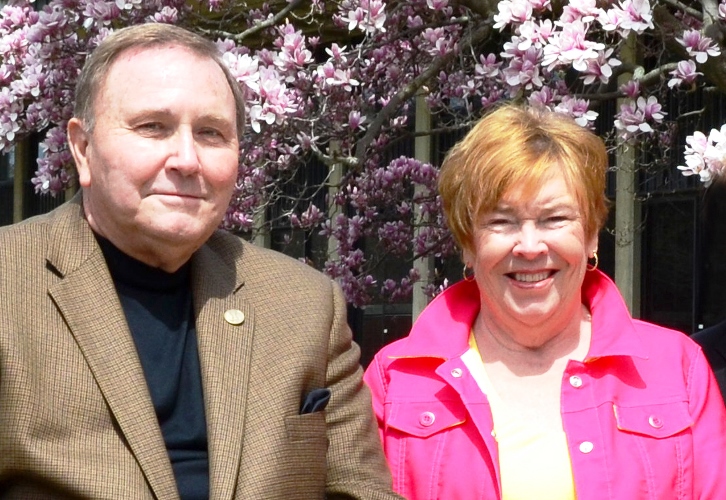 College of Education donor Lawrence L. "Larry" Smith, M.Ed. '69 EAL, Ph.D. '72 EAL, began his education career in Palatine, Ill., teaching remedial reading to grade-school students who struggled mightily in the subject. His method was to use "high-interest, low-vocabulary" books that engaged the kids and left them in suspense.

Following the reading sessions, Larry would collect the books and anticipate with the children what might happen next, with Larry predicting bold, wild happenings that were highly unlikely.

"It kept the kids wondering," Larry said. "The next day when they'd come in, they would say to me, 'Where are the books? Where are the books?'"

Larry's students would discuss what had been read the day before, further escalating an overall eagerness.

"They loved reading that way because it kept them very motivated," Larry said.

His students showed noticeable improvement in their reading skills, and Larry's teaching methods were later observed and emulated by teachers in the district. His creative teaching style, enthusiasm, and penchant for making reading fun worked well.

When Larry pursued his master's degree in the College a few years later, it was his turn to be stimulated by a teacher.

The professor's name was William Powell, and he must have noticed Larry's passion for learning and his infectiously friendly personality because he invited him to collaborate on doctoral work. Larry said yes, and his life changed.

"Let's just say I met him in 1967, and in 2014 he's still my best friend," Larry said of his former Illinois professor.

Giving up his teaching position to pursue his Ph.D., Larry treated his doctoral work at the University like a job. He was married—his family lived in Mahomet—and his goal was to work in higher education.

Following graduation, Larry immediately became a Life Member of the Alumni Association, though at that time he had little money to give. He would go on to successfully work in higher education for 39 years, eventually becoming a Golden I Life Member of the Alumni Association.

Larry and his wife of 21 years, Barbara, are each passionate about higher education and believe in paying forward to students the opportunities they received through their college degrees. The couple has donated money to the College for more than 15 years, often to the Rupert N. Evans Fund, a discretionary fund in which the money goes to where the need is greatest.

"If you have a general fund," Larry explained, "then you have the opportunity to use that money as you see fit for the benefit of the College. I think that's really critical."

Barbara said the focus of their giving for the past several years has been at Illinois.

"It's a fine school," said Barbara, an alumna of Ball State who met Larry while she was a dean at the Muncie, Ind., school. "My opportunities weren't at Illinois, but Larry's certainly were, and that's made a big difference in his life and my life."

In the mid-1990s, Barbara transitioned out of higher education and into entrepreneurism, starting two companies called The Whale Hunters (formerly Smith Weaver Smith Inc.) and later Entrepreneurs in Education. Larry worked as a part-time consultant in both companies until his retirement three years ago; since then he is active in both and president of the education practice. The vast skills they acquired from working in higher education, such as negotiating, teaching, speaking, writing, and administrative duties, helped the transition. Nonetheless, the responsibility of running a business was a huge undertaking, according to Barbara.

"When you give up a salary and really go out on your own, that's a totally different experience," she said. "There's no preparation for that. Making sure that other people get paid, the ones that you hire, it's a huge responsibility, much more so than any salaried position I ever had."

Having worked in higher education for many years, Larry knows the importance of giving to an institution, whether the check is for $10 or $200,000. He said his Illinois degrees have benefitted him tremendously as he's transitioned to different jobs over the years—another reason he and Barbara plan on continuing to give to the College.

"Some of the finest educators that we've ever had in higher education and teacher education have either been faculty at the University of Illinois or have been students at the University of Illinois. You want to help keep that greatness," Larry said.

If you're inspired by the generosity of Larry and Barbara, who take pride in the excellence of the College, we invite you to change a life for the better by making a gift.