Innovative new curriculum, degree program underscore College's mission to prepare 21st-century teachers and educators
by Sal Nudo / Jun 9, 2014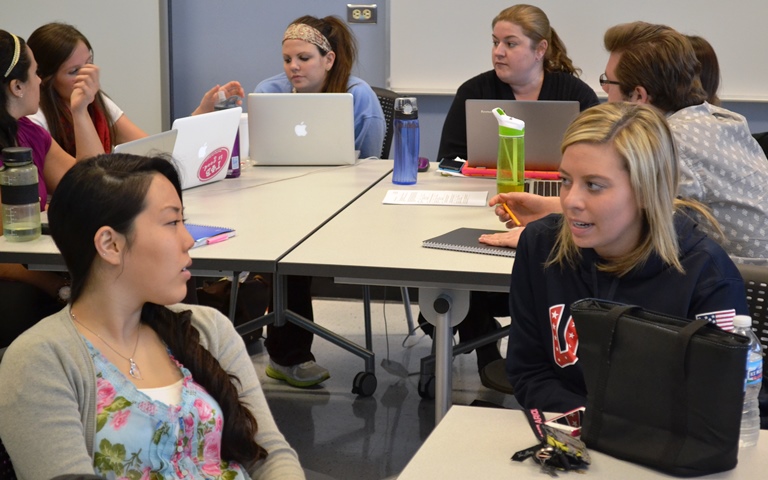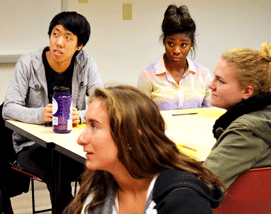 The College of Education at Illinois will be at the forefront of innovation in education when it launches a non-licensure Bachelor of Science degree in the fall of 2015 called Learning and Education Studies, with curriculum focused on three concentrations: applied learning sciences (AppLeS), educational equality and cultural understanding, and workplace training and development.
Dean Mary Kalantzis said the curriculum reflects the College's legacy and commitment to addressing equity and social justice and will help students find jobs—beyond becoming a teacher with licensure—in a wide variety of sectors following graduation.

"This curriculum prepares students for a broad range of positions requiring expertise in formal and non-formal learning and education," Dean Kalantzis said. "Graduates from this program can seek jobs in training and program development, international schools, private and alternative schools, non-government organizations, and other education-related positions in agencies, business, and government."

Kalantzis said the new degree program will offer a well-rounded education for today's learners and tomorrow's teachers.

"We want our students to be able to harness the affordances of new technologies and become prepared for learning in 21st-century workplaces. These initiatives will emphasize those aspirations," she said.

Christopher Span, associate dean for academic programs, said the College has achieved one of its long-term goals with the new degree offering.

"It will enhance the overall profile of the College of Education, attract a more diverse student body, and allow expert faculty in the College to teach and engage undergraduate students in unprecedented ways," Span said. "I am beyond excited about this new degree and the positive outcomes it will bring to the College."
Learning and Education Studies program to launch in fall 2015
The development of the Learning and Education Studies program will arrive in conjunction with the planned fall of 2015 launch of the College's revised teacher certification program curriculum—called ITEACH—in response to the needs of evolving classrooms in the 21st century. Through the ITEACH licensure program, graduates of the College will be fully prepared to engage with the increasingly complex and emerging ecologies of learning, agency, diversity, globalization, and professionalism.

The updated curriculum will provide students with opportunities to gain expertise in themes such as technology, globalization, literacy, social justice, and classroom management across whichever curriculum they choose. The College anticipates offering the elementary education program first within ITEACH, with a middle grades program to follow.

"We are excited by the potential of the new ITEACH structure to get students engaged with faculty earlier and more intensively, to foster seamless linkages between course work and field work, and develop multifaceted relationships with partner schools," said Chris Roegge, executive director of the campus's Council on Teacher Education.

Students will begin their coursework by collaborating in an integrated, team-taught environment where observations of community classrooms, debriefings of those observations, and the planning and implementation of lessons will occur in close conjunction with supervisors and professors assisting them in the field.

"The idea is that you've got these carefully supervised experiences in local partnering classrooms with a diverse group of children and different arrangements," said Sarah McCarthey, director of Teacher Education and a professor in the Department of Curriculum and Instruction. "That will really prepare students who can work in multiple types of environments. We're providing meaningful experiences aligned with our professional expectations."

McCarthey said the ITEACH partnership with local and state schools will offer a pipeline for school districts that want to hire future teachers from the College.

"These school districts will really want our graduates because they've been prepared by working in these different types of classrooms while they were students," she said. "This method of teaching is not just business as usual, showing up to teach your science class and that's it. It's about delving into teaching science and being aware of global perspectives and connecting those perspectives with other classes such as social studies and courses in literacy."

Professors in the College have proactively collaborated on the revised curriculum for more than a year as current discourse about Common Core standards, the Illinois Teacher Performance Assessment, and state-driven mandates by the Illinois State Board of Education have taken place.

Faculty members and field supervisors in the Learning and Behavior Specialist I program in the Department of Special Education are also actively engaged in joint planning to redesign the sequence and content of courses and fieldwork so that they align with new state standards, the Illinois Teacher Performance Assessment, and the Danielson framework.

The implementation of ITEACH should continue—and perhaps enhance—the trend of graduates from the College being the most sought-after teachers in the state and country. Currently, the University of Illinois is the fourth largest provider of teachers in Illinois, with students who traditionally pass their certification exams 95 percent of the time on the first try.

Roegge noted that the curriculum redesign wasn't driven solely by new state regulations.

"We didn't want to just comply with the state and national standards," he said. "We wanted to exceed and, with this ITEACH curriculum, take it to the next level. We needed to set the vision and build the programs to achieve the vision. The belief all along was that if we built the programs to our satisfaction, they would meet and exceed state regulations."

From an administrative standpoint, the ITEACH program was described by McCarthey as "one-stop shopping" for students' needs with all functions related to ITEACH co-located on the first level of the Education Building.

"Students will be able to find out how to apply for programs, understand program requirements, learn about field placements, and consider career opportunities from staff members who will assist them every step of the way," said McCarthey.

Dean Kalantzis said a crucial component of ITEACH is that it will help students beneficially partner with the College from their freshmen year onward. The College will implement a "freshmen-to-alumni" approach in which endorsements will be easier to attain, a well-developed induction model will ease the transition to classrooms, and ongoing support will take place following post-baccalaureate education.

"We will educate our students with the brightest minds and be there for them during their professional development as their careers blossom," she said.