Alumnus and SIU president says his Illinois degree opened doors
by Nicole Mechling / Jun 9, 2014
From his days as a fourth-grade teacher to his time as a university president, Randy Dunn has believed in the power of education to transform lives, advocating for education at every level.
The president of the Southern Illinois University system earned his doctorate in Educational Administration & Leadership from the College in 1991 while working full-time as principal of Roanoke-Benson Middle School and, later, superintendent in the Argenta-Oreana school district. Soon after graduation, he turned a corner in his career.
"Having a degree from a place like Illinois was going to be hard to beat," Dunn said. "Looking at the different jobs I've had, that has proven to be true. Not only was the University a great brand, but the education program was one of the top programs in the country."
Dunn's early professional life included a nearly 14-year stint of teaching in grade-school and middle-school classrooms and working in principal and superintendent roles at the K-12 level. His Illinois education helped him make the transition to leading at the university level and in state government—Dunn became state superintendent of education in Illinois from 2004 to 2006.
Prior to that time period, Dunn was an associate professor and chair of the education administration department at Southern Illinois University for nine years. He will return to SIU this summer as the University's system president, following an eight-month term as president of Youngstown State University in Ohio and more than six years as president of Murray State University in Kentucky.
Joseph Murphy, associate dean for special projects and Frank W. Mayborn chair at Vanderbilt University's Peabody College of Education, was one of Dunn's professors at Illinois. Murphy taught a class on leadership and school improvement and helped train Dunn for his leadership roles.
"We taught students the things they needed to know in order to be leaders," Murphy said of his days as a professor at Illinois. "There was a lot of work on leadership, specifically, and a lot of work on understanding organizations and how they work, so the students would know what they were doing when they found themselves in positions of leadership."

Whether serving as principal, president, or heading the education department for the entire state, Dunn's passion for teaching and impacting lives has fueled his career.
"Many of us desire to do something that leaves a positive mark on others," Dunn said. "As I've gotten to know teachers, school administrators, and people who work at universities, I really think that is the motivator for those of us who have stayed in this line of work."
Graduating from the College helped Dunn reach positions that allowed him to make positive differences in people's lives, and it also created personal memories and traditions in his own life. Fun Friday-night get-togethers with classmates on Green Street were regular events. Once, during a surprise visit to President Dunn's office at Murray State nearly 25 years after the Green Street dinners, Murphy noticed a framed photograph of the close-knit group eating pizza.
Dunn also fondly recalled living in University Housing's Orchard Downs one summer. As a working graduate student with two preschool-aged daughters, however, he didn't fully experience campus until his children were earning Illinois degrees of their own nearly two decades later.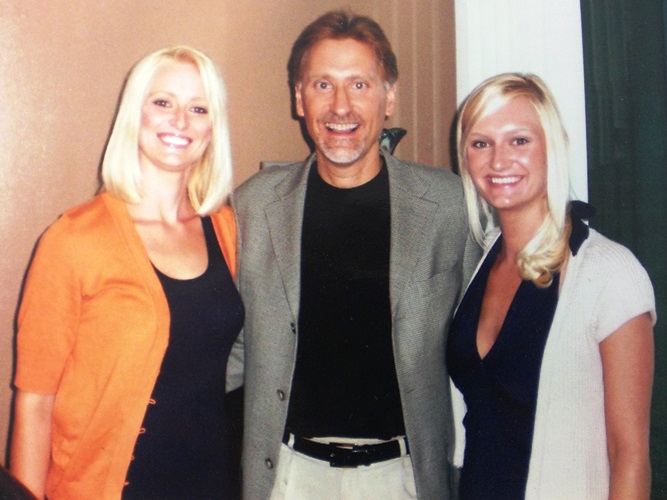 Lindsey, Dunn's eldest daughter, received a bachelor's degree and a master's degree in communication from Illinois in 2004 and 2008, while Erin earned a bachelor's degree in psychology from Illinois in 2008.
Lindsey and Erin helped their father experience the places and events he missed on campus the first time around. Lindsey fondly recalled singing "Hail to the Orange" with her father during Dad's Weekend, eating at Zorba's—one of their favorite campus restaurants—and tailgating together at Illini football games.
"I loved having my dad come to campus," Lindsey said. "I really enjoyed taking him around to my favorite places and him taking me to some of his favorite places from when he was there."
Whether exposing his daughters to the diversity and opportunities at a major research institution at an early age or helping launch Southern Illinois into a new era, Dunn continues to be an advocate for education.
"There really is no other area where you can have such a direct, positive impact on somebody's life," Dunn said.