Esteemed Hardie professor of educational philosophy receives Dewey Lifetime Achievement Award, recalls influential colleague
by Sal Nudo / Apr 24, 2014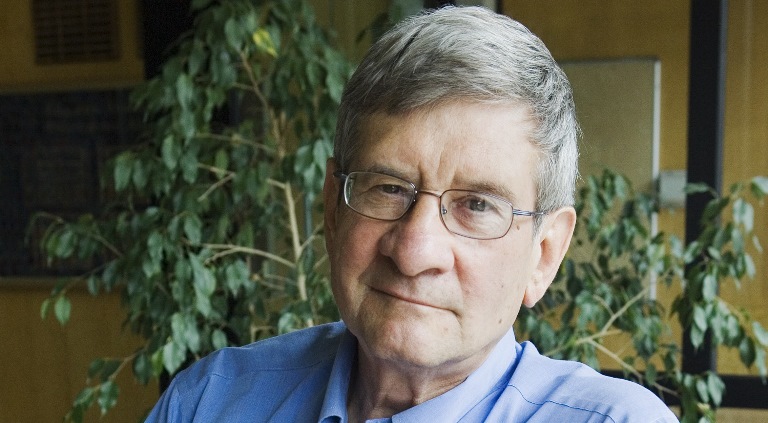 Professor Emeritus Walter Feinberg, a renowned professor of philosophy of education in the Department of Education Policy, Organization and Leadership, was honored in April as a recipient of the Lifetime Achievement Award from the John Dewey Society, in conjunction with the AERA conference in Philadelphia. Feinberg said Dewey was a mentor and one of the foremost philosophers of the first half of the 20th century.
"Dewey has been an intellectual hero and also somebody who I have argued with across generational lines," Feinberg said. "To get an award in his name is a real, real honor."
The acclaim is not new for Feinberg, who has been a Spencer Faculty Fellow, a Distinguished Fulbright Scholar, a Spencer National Mentor, and a Benton Scholar at the University of Chicago.
Feinberg also co-founded the Institute of Philosophy of Education at Fudan University in Shanghai, a project that shaped a course of study that joined the philosophy of education with empirical research.
A prolific writer, Feinberg's latest book, For the Civic Good: The Liberal Case for Teaching Religion in the Public Schools, explores the value of religion in public schools. The subject matter expands on his perennial theme of the need to promote critical thinking in a democratic society without violating the rights of those who choose not to think critically. The tension and delicate balance within his area of study have convinced Feinberg that there is more to democracy than just voting—the cultural aspect is also crucial to discern.
"I don't say I resolve it," Feinberg said. "I reveal it, I guess, and in revealing it, maybe people can work out the best ways to address it."
Feinberg's favorite book to write was Japan and the Pursuit of a New American Identity, which involved doing research by visiting households and factories in Japan. The legwork was more in the mold of a journalist and atypical for the field of philosophy, which Feinberg described as "a lonely discipline."
"It's generally a discipline that comes from your head," he said, though "not all philosophers are divorced from the world."
As much as he cherished doing research and working on other endeavors, Feinberg still misses teaching students. He valued their authenticity, inquisitiveness, and ability to give him a new perspective on things.
"When you present ideas, you don't fully know what those ideas are until you get somebody responding and reacting to them and playing with them and developing them in a different way," he said.
Among these bright and diverse learners, Feinberg absorbed a wealth of wisdom and experience that enriched him as much as it did the many students he taught during four decades.
"It was just wonderful," he said. "They provide a community for you."
Australia connection leads to significant legacy
During his career, Feinberg has cultivated a worldwide network of scholars and knows a thing or two about building a global community. One of his philosophies is that it's worthwhile to always be kind to people, no matter how fleeting a link may seem. Living by this example made a big impact on an unassuming Australian professor of educational philosophy named Charles Dunn Hardie, who passed away in 2002 at the age of 91. Hardie was a visiting scholar for one year at the University in 1968 who bestowed an unexpected gift in an endowment of more than $4 million to advance learning at the College. The 2005 gift occurred more than 40 years after Hardie's short tenure in Urbana-Champaign.
Susan Fowler, dean of the College when Hardie's gift was endowed, said at the time that it was a "stunning" act of generosity, the largest single, private gift in the College's history.
"His experiences here were incredibly significant to him," she said in 2005. "Professor Hardie's gift will play a tremendous role, now and for decades to come, in building and maintaining new learning and teaching opportunities for our faculty and students."
Hardie was a strong advocate of international scholarly exchange, and part of his gift was intended to fund several graduate student fellowships for worldwide study. His remembrance of the University of Illinois currently allows the College to provide the Hardie Conference Travel Support Award to faculty and students, as well as funding for the Hardie Dissertation Award and fellowships to professors such as Hedda Meadan-Kaplansky to conduct research.
Meadan-Kaplansky said the Hardie fellowship lets her devote more time to research and support a graduate student who works with her.
"This fellowship allows me to continue exploring effective interventions for young children with autism who are nonverbal," said Meadan-Kaplansky. "These interventions have the potential to not only promote children's communication skills but also to empower parents and enhance the quality of family life."
Feinberg, a young assistant professor during Hardie's Illinois tenure, offered a thoughtful reflection of Hardie during the public announcement of the gift: "We can only imagine the conversations that he had here with our students and with a faculty who helped shape the ideals of this college. I would like to think it was his participation that enabled him to think so fondly of the time spent here and to grace us with such a generous endowment."
Many years after the short-lived Hardie era, Feinberg was named a Charles Dunn Hardie Professor. Feinberg's recalls that during Hardie's time on campus, the University was one of a few select places in the English-speaking world where topnotch philosophy of education was being taught. Feinberg said Hardie understood that learning is something more than just testing and accountability.
"He knew the importance of philosophy, which is not always easy to communicate to people, especially in these times when you have so many assumptions that we know what education is about," said Feinberg.


Learn more about endowed funds and the types of giving offered at the College of Education.