Integrated technology in renovated classroom fosters collaboration, tech-savvy teaching
by Sal Nudo / Mar 26, 2014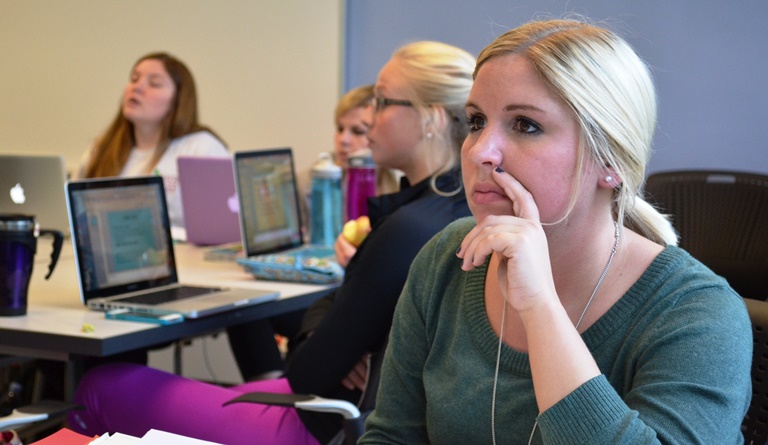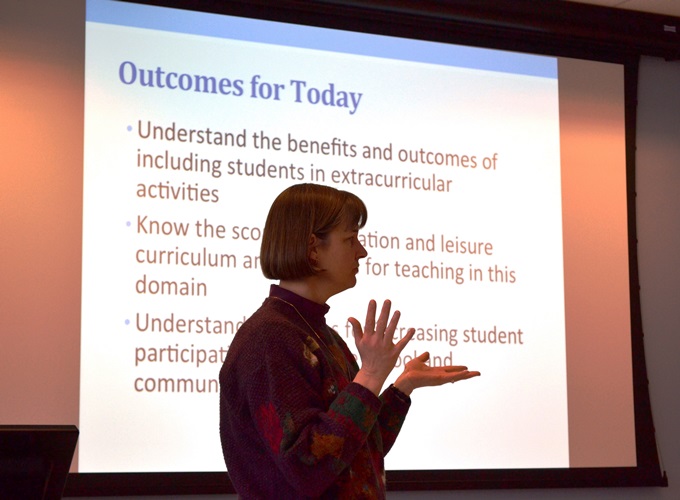 Professor Stacy Dymond can't wait to Skype in a guest lecturer, while students appreciate the open space, easily movable furniture, and technological connectivity.
Welcome to state-of-the-art Room 22, one of the most advanced classrooms on the University of Illinois campus.
Lindsay Solar, a sophomore taking Introduction to Educational Technology in Room 22, appreciates how her class has been enhanced by the technology that the room offers because it advances what can be shared and learned.
"If one of us finds something of value, we can put it on the big screen to share with the whole class. It is a way more technologically enhanced environment than my other classes. The technology gives us so many opportunities we otherwise wouldn't have," Solar said.
Room 22, which can hold approximately 50 students, has the distinction of being the first of numerous classroom upgrades within the college.
"We believe that differentiating the designs of our classroom will allow faculty to choose spaces that best suit their teaching goals. The range of classroom options will also allow faculty to experiment with teaching and model the pedagogical use of new technology for the future teachers who are taking classes in these spaces," said Dean Mary Kalantzis.
The advanced wireless capabilities of the room allow students and professor to access and share multiple forms of content on the two large screens to everybody. Students in the Introduction to Educational Technology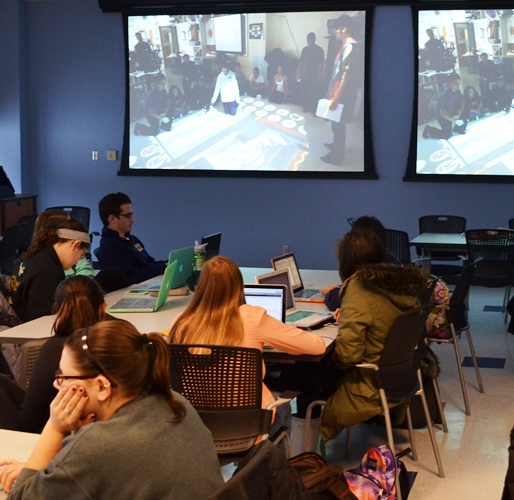 class, for instance, share their class blogs on the screens, promoting lively discussions. Each of the screens can show separate images to stimulate learning and dialogues.
The room's cameras and projectors are easily controlled via a touch panel with Apple TV at the wide lectern up front. The classroom features recording capabilities, well-spaced audio reach, an assistive listening system for students who need it, and mobile and configurable seating for collaborative interactivity.
One lecturer described Room 22 as a "studio-like space for learning," where education is creative, multifaceted, and cooperative. The room offers an exceptional learning environment for next-generation teachers who have grown up in a plugged-in world.
Jeremy Jones, manager of User Services at the college, said he and his team pushed themselves to change and enhance how lectures are normally delivered. The technicians listened closely to what faculty members wanted out of a classroom—a sound system, projector, display source, and the possibility of virtual learning were at the top of the list—and then they made the requests happen.
More technology in the college's classrooms is coming. Room 42A will be an especially unique room, with no actual "front" portion and mobile furniture like Room 22.
"The second part of this is we want to do motorized drapes and then lighting controls and then iPad controls," said Jones.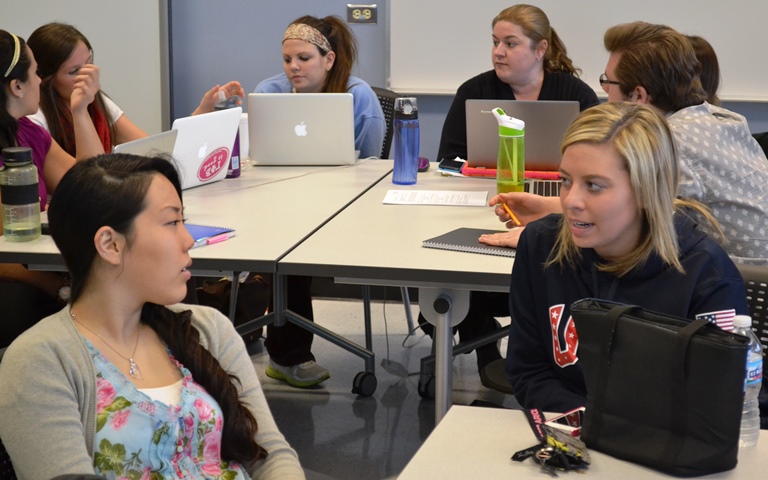 It's all part of the advanced plan for the students of the college, which aims to produce leading teachers in the 21st century who are comfortable and creative users of new technology, as well as scholastically informed instructors in K-12 classrooms.
Solar, a James Scholar who enjoys the open discussions, blog writing, and video projects in Room 22, summed up this pedagogically sound style of teaching in her own way.
"This is fun stuff," she said. "I'm learning so much about what I can do to benefit my own students in the future and having a great time doing it."
View Lindsay Solar's blog, Techy Teachers.
To view demonstrations of Room 22 or for a training session that highlights technological options in the classroom, contact Jeremy Jones.