Accomplished graduate drawn to special education from high school onward
Accomplished graduate drawn to special education from high school onward
by Eli Saleh / Oct 23, 2013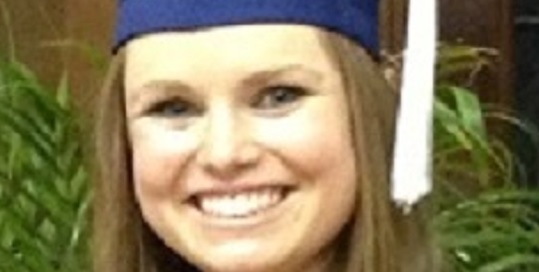 During Abbey Storey's senior year of high school, she was selected to be a peer leader for an adapted physical education class for individuals with disabilities. Upon nervously entering the gymnasium, a girl with a severe form of autism grabbed Storey's hand with a welcoming smile and led her through the gym. From that moment, Storey knew she wanted to pursue a career in special education.
"Working with her and the others in the P.E. class caused me to volunteer my time in the resource room and volunteer to work Special Olympics. I fell in love with each individual I met from that moment, all the way through each of my practicum placements," Storey recounts.
In May 2013, Storey graduated with a Bachelor of Science degree from the Department of Special Education, and was also awarded an Outstanding Student Medal, the highest honor for students graduating from the College of Education.
"I was extremely honored and humbled to be chosen as the Outstanding Student Medal Award Winner at the bachelor's level. I have gained unequivocal knowledge and experiences from my time at the University of Illinois and feel this was the perfect way to sum up my four years of education. I look forward to jumping into the field and utilizing this knowledge to leave a lasting impact," Storey states.
Although Storey admits that the rigorous program at the university does at times present students with doubts and challenges, it also goes "above and beyond to prepare you to excel in a career in the Special Education field."
Her advice for incoming students in the Illinois College of Education is to take advantage of every opportunity and keep an open mind. She came into the LBS1 Program wanting to learn high school life skills. Instead, the practicum placements showed Storey that she also enjoyed teaching other grades and curriculums. In fact, she recently accepted a position co-teaching at a middle school, which is far from what she originally imagined.
"Make solid relationships with professors, members of your cohort and classes and those individuals with whom you volunteer or complete your practicum and student teaching. The advice they can give is truly helpful in all aspects," Storey advises.
Upon graduating, Storey recognizes how she has grown as an individual and as a Special Education major during her time at the university.
"When I entered the program, I thought all levels of Special Education were the same and did not realize all of the legalities, advocacy, modifications, and so on that went into the job," Storey explained. "I have grown in my ability to work with all types of students in all types of settings and feel confident in my abilities in each. Without the program and the way it is designed, I would not feel as confident as I do."
As a student, Storey was an Edmund J. James Scholar, a sister in the Alpha Omicron Pi Sorority, and a Student Alumni Ambassador. She plans to teach special education in the western suburbs of Chicago.