Bringing kids to art: College and Krannert Art Museum introduce local schools to museum experience
by The College of Education / Sep 8, 2013
According to a Carrie Busey Elementary School fourth-grade student named Cadence, KAM-WAM is the highlight of her school year. Through KAM-WAM, a week-long program that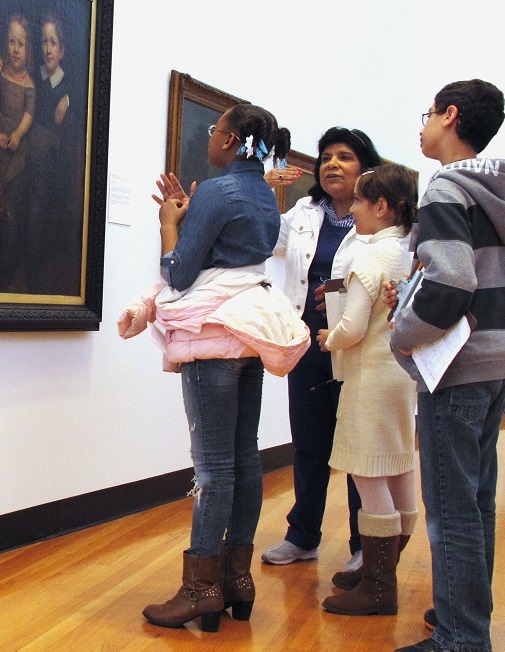 brings local elementary school students to the U of I's Krannert Art Museum, Cadence peruses the artwork displayed throughout its halls and critiques the art with the same flair and finesse of an art reviewer five times her age.

Eager to share what she has learned, she pauses at a large piece of 3-D art that features stories and poems haphazardly scribbled on the canvas, complete with string and duct tape. Without hesitation, Cadence takes a deep breath and surmises that the process of creating the art was healing for the artist.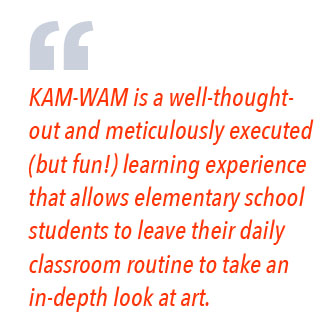 "I think making the art helped him because he was so frustrated," Cadence reflected. "I think the string represents what held him together during his struggle and the duct tape shows how he patched himself up and brought himself up out of despair."
View photos on College of Education Flickr.

KAM-WAM is not an extended field trip to the museum, but a well-thought-out and meticulously executed (but fun!) learning experience that allows elementary school students to leave their daily classroom routine to take an in-depth look at art and how it can be applied to and intersect with other disciplines.
Program reaches out to local schools and community

You could say that the program formally introduced the university's art museum to the local elementary schools, and it was love at first sight. "KAM-WAM has completely changed the museum's relationship with the local school districts. Before KAM-WAM, very few public schools in Champaign and Urbana took field trips to the museum," said Anne Sautman, director of education for Krannert Art Museum.

In contemplating its creation, Sautman heard the typical excuses for lack of a formal program: transportation issues and a perceived lack of support for an off-school event by school administrators. However, those barriers quickly evaporated when she presented the idea to local school superintendents, who jumped at the idea. In fact, the districts back the program by providing buses for transporting students, as well as substitute teachers back at school.
Collaborative in nature, the College of Education plays an integral role in KAM-WAM's success. Teacher collaborators from the College's Center for Education in Small Urban Communities (the Center) helped plan and launch the program by developing curriculum and training teachers. And Center collaborators continue to provide support throughout each school year.
Hands-on learning is offered in many forms

During the program, students partake in hands-on learning at five stations: cultural myths, music, art mystery, myth writing, and making art. The art mystery station includes an extravagant scavenger hunt in which kids use iPods (provided by the Center), take photos, and collect data to find their way to the hunt's final destination. In solving the mysteries, students rely on math and science as well.

The art mystery curriculum was developed by teacher collaborator Brad Thompson. The myth-writing station, where students write their own myths inspired by the artwork they've learned about, was created by teacher collaborator Jill DeHart.
KAM-WAM is much more than a field trip
Sautman got the idea for KAM-WAM after visiting a similar program in Chicago. She craved a program that was interdisciplinary, collaborative, and intense.

"I wanted to go more in-depth with the schools than what can be offered in a one-hour field trip," Sautman explained.

And the intensive, day-long experiences at the museum are not lost on the students. In fact, teachers typically have less disciplinary issues at the museum than they do in the classroom because the students are so engaged.

"I watched them mature all this week," said fourth grade teacher Elizabeth Slifer on the last day of Busey's visit. "They now stand in front of the art and pick out pieces of it," she said, adding that the students can easily identify the theme and read the nameplate.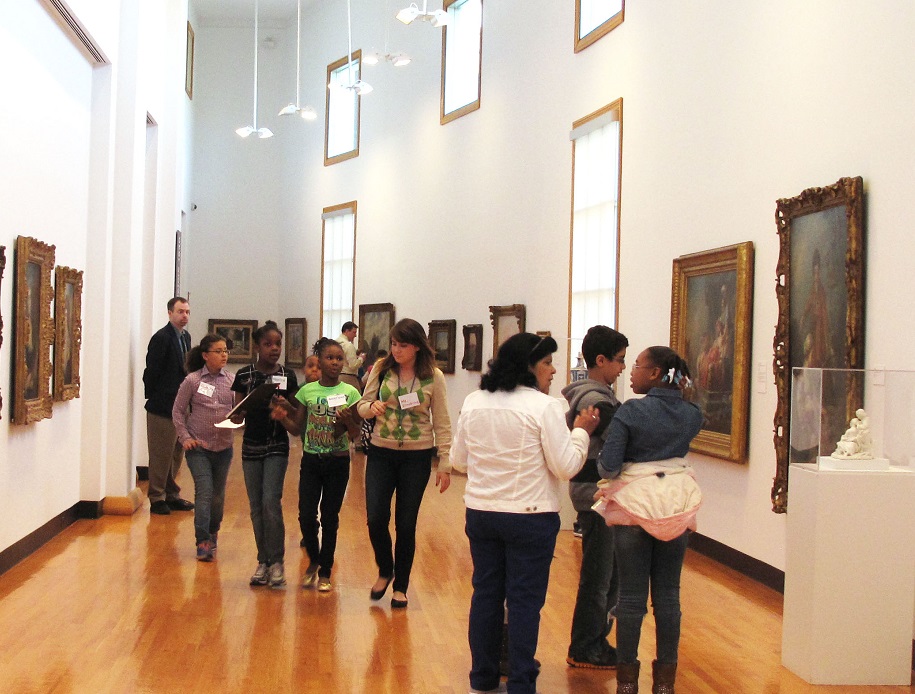 KAM-WAM originated in the fall of 2011 and served three schools that academic year. During 2012-13, the program hosted 500 students from seven schools in the Champaign and Urbana school districts starting in September and ending in May.

In 2013-14, Sautman anticipates the program will undergo a few tweaks: younger students will participate and the length of participation will vary. Along with the original KAM-WAM, a longer, more intense program called KAM-WAM-JAM will be implemented, as well as a one-day offering called KAM-BAM.

Rest assured that any event starting with KAM is sure to enrich the learning experience of Cadence, and hundreds of other students like her.