Center for Culturally Responsive Evaluation and Assessment opens with international conference in Chicago
by The College of Education / Jul 3, 2013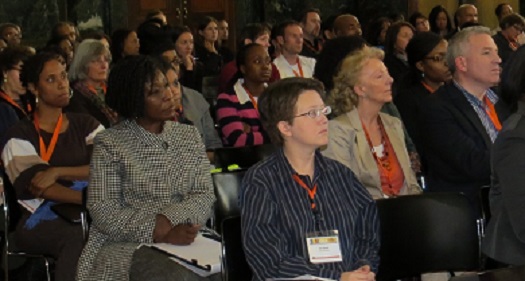 The Center for Culturally Responsive Evaluation and Assessment (CREA) held its inaugural conference in April, and it did what any innovative and ground-breaking first conference should do. In addition to hosting 265 conference registrants and offering 59 breakout sessions and 120 paper, roundtable, and symposium sessions, the conference also examined the past, celebrated its present, and looked to the future to consider what its next uncharted steps might be.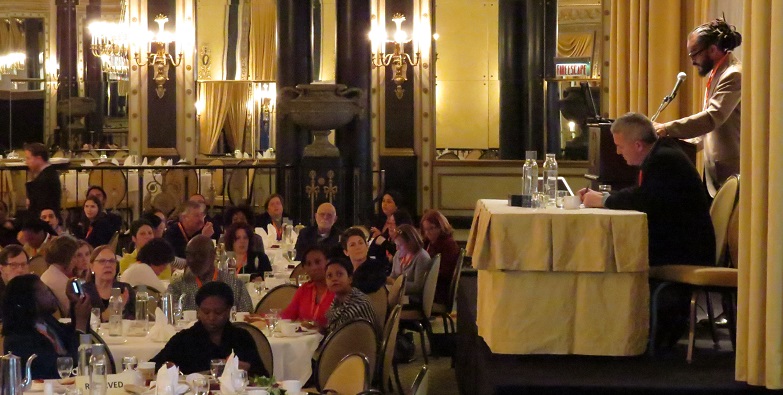 Created in 2011 by the College of Education, CREA has a specific mission designed to be executed on a global platform: to address the vital need for policy-relevant research in evaluation and assessment that explores the cultural and contextual dimensions of social and educational interventions.

Registered participants represented the United States (including a large contingent from Hawaii), indigenous nations, and Germany, Canada, Ireland, New Zealand, Greece, Australia, and Denmark.
CREA is directed by Stafford Hood, who is the associate dean for research and research education and the Sheila M. Miller Professor of Education. CREA's associate director and Senior Fellow is Thomas Schwandt, professor of Educational Psychology.
The conference convened the CREA community in Chicago to collectively examine the past by conducting scholarly inquiry into the role of cultural context that surrounds evaluation, assessment, research, and scholarship. A small, committed, and vocal group of evaluation and assessment scholars (particularly in evaluation) spearheaded this movement more than a decade ago, according to Hood, which helped pave the way for the creation of CREA.
To view additional photos of the conference, click here.
The event's present-day focus was to formally launch CREA, which Hood says is unique in its focus on the role, impact, and utility of the study of cultural context in educational evaluation, assessment, research, and policy. "I am reasonably certain we are the only center nationally and internationally with such a focus," Hood said.
With no rest for the weary, CREA is looking to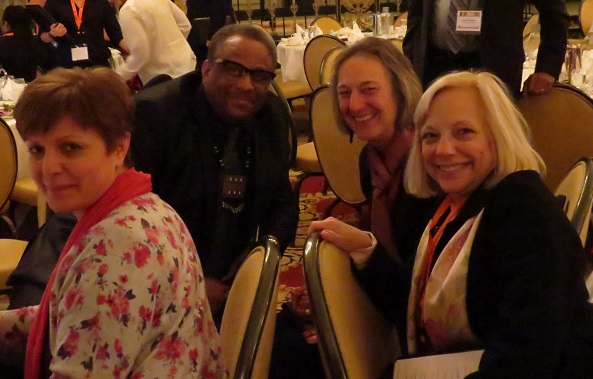 the future to consider all that transpired during the conference and to identify its next phase of work.
Keynote speakers for the conference were Eric Jolly, president, Science Museum of Minnesota; Rodney Hopson, Duquesne University, past president of the American Evaluation Association (AEA); and Maria Araceli Ruiz-Primo, director, School Research Center and the Laboratory of Educational Assessment, Research and Innovation, University of Colorado-Denver.
Hood referred to the keynote addresses as "phenomenal" and said that the two invited panels of past presidents of the American Educational Research Association (AERA) and the AEA added much to the conference. Those panelists were AEA past presidents Jennifer Greene, College of Education at Illinois, and Karen Kirkhart, Syracuse University; and AERA past presidents Gloria Ladson-Billings, University of Wisconsin-Madison, and Carol Lee, Northwestern University.
A personal highlight for Hood was the formal welcome and closing by representatives from the American Indian Center of Chicago, who provided "ceremony" as appropriate protocol for "acknowledging the indigenous people of the land," according to Hood.
"That was a very intentional and critically important protocol for us to follow, especially when we consider the mission of CREA and particularly in view of the substantive representation and participation of indigenous people in the CREA community," Hood said.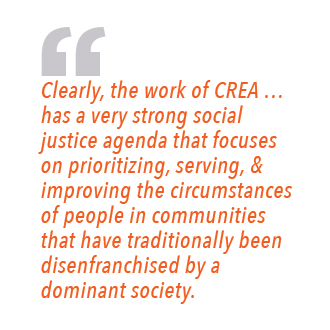 "Clearly, the work of CREA and the CREA community has a very strong social justice agenda that focuses on prioritizing, serving, and improving the circumstances of those people in communities that have traditionally been disenfranchised by a dominant society," Hood said. "That is where we are focusing our attention and that is where we're hoping to see the presence and impact of our work."
It is the College's aspiration that CREA will establish new benchmarks in educational research, evaluation, and assessment unique among its peers, according to Dean Mary Kalantzis, adding that "culturally sensitive and responsive practices both recognize ethnicity and position culture as central to the research process."
Staying true to its global focus, the Center already boasts a partnership with Dublin City University (DCU) that is reflected in the establishment of CREA at DCU in the School of Education Studies under the leadership of Professors Joe O'Hara and Gerry McNamara. Dublin City University also has plans for creating an Institute of Education in coming years, according to Professor Brian MacCraith, president of DCU. The institute, w
hich will be one of the largest in Europe, will engage in a wide range of innovative educational research practice, "and I am convinced that our association with CREA will add significantly to its impact," MacCraith said.
In retrospect, Hood said that one positive outcome of the conference was that it provided a "safe space" for younger members of the CREA community to engage with more senior scholars in "substantive, meaningful, and sometimes even intense, debate, but all the while growth was also nurtured in that space."
Hood said that the inaugural event set a high standard for future conferences, and that he and the CREA community owe much of its success to the CREA conference staff (Team CREA).
The content of the CREA inaugural conference truly encompassed its mission and work, as evidenced by the breadth of papers, talks, and breakout sessions that transpired.