Talent for building relationships earns doctoral student Un-Yeong Park 2013 Larsen Human Development Award
by The College of Education / Jun 6, 2013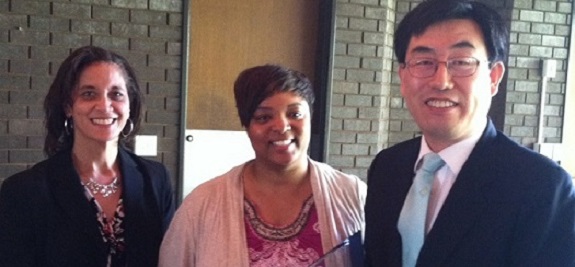 Ed.D. candidate Un-Yeong Park is a recipient of the Counseling Center's 2013 Robert P. Larsen Human Development Award. Park is a doctoral student in Human Resource Development in the Department of Education Policy, Organization and Leadership (EPOL). He is also a career coach for international students and adults. Recipients were honored at a ceremony on May 8.

"Mr. Un-Yeong Park is a full-time doctoral student in EPOL, and I am often in awe of all the programs and activities he is involved in," one nominator wrote. "He rarely hesitates when it comes to students in need, often taking student calls (late at night). To me in particular, he is a great friend, colleague, and mentor who advises me in my work supporting international students."
Another nominator wrote, "Simply put, Un-Yeong cares about international students and is a great relationship builder. Un-Yeong was the president of the Korean Student Association, so he has a deep understanding of international students' strong ties to their own cultural registered student organizations (RSOs). He spends a lot of time building trust with the student leaders of various RSOs and actively offers to help those student groups."
The Larsen Award was established in 1992 to honor individuals and or groups that make significant contributions to the campus consistent with the general mission of the Counseling Center. The award is named in honor of Robert P. Larsen who was a staff member at the center for more than 50 years. It is presented annually to any person or group who enhances student development and maximizes student capabilities to make effective and satisfying life choices.
Photo: Carla J. McCowan, director of the Counseling Center and Dynesha Mason Grissom, the Counseling Center's outreach and consultation services coordinator, with EPOL doctoral student Un-Yeong Park, recipient of the 2013 Robert P. Larsen Human Development Award.