Women's Resources Center names Ruth Nicole Brown Faculty Woman of the Year
by The College of Education / May 2, 2013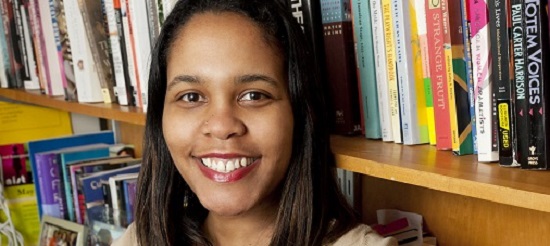 Ruth Nicole Brown, assistant professor of Education Policy, Organization and Leadership (EPOL), was named the Faculty Woman of the Year by the Women's Resources Center at an awards ceremony on March 29.
Brown's nominator was Rachel Storm, Ed.M. '12 EPS, who is pursuing her Ph.D. in educational policy studies with minors in gender and women's studies and gender relations in international development.
The Faculty Woman of the Year Award is given to a woman faculty member whose research, scholarship, activism, and community work reflect a dedication to advancing the rights of women and producing critical feminist scholarship the contributes to the advancement of the study of women.
Storm noted Brown's scholarship, which spans black girl studies, hip-hop feminism, and performance. It has utilized poetry, art, autobiographical vignettes, and community engagement to center on the celebration of black girlhood. In so doing, her research "makes a vital intervention into the lives of young, black girls," Storm said.
Brown is the founder and co-organizer of Saving Our Lives Hear Our Truths (SOLHOT), a space dedicated to the celebration of Black girlhood in all of its complexity.
"Her work with SOLHOT is a fantastic example of public engagement—or, participation—and actively works to disrupt dynamics of power between woman and girl, professor and student. All of the college students engaging SOLHOT are as much participants and celebrators of black girlhood as the young, black girl participants," Storm added.
Brown's latest book, "Wish to Live: The Hip-Hop Feminism Pedagogy Reader," is a collection of poems, essays, scholarly papers, and performances concerned with the ways Hip-Hop feminism can be of use in the reading of our everyday lives from the magic that "occurs in underground basement spaces where childhood dance routines are created and remembered well into adulthood." Brown is currently working on a new book project, "Hear Our Truths: Performance and Creative Potential of Black Girlhood."

In addition, EPOL doctoral student Durell Callier was given the Women's Center Ally Award. Callier's research explores the relationships between Blackness, queerness, and spirituality by utilizing autoethnography, performative writing, and intersectional analysis indicative of Black feminist and queer cultural criticism.
He is an artist, a poet, a performer, and a feminist man whose community work includes organizing with SOLHOT and Inner Voices Social Issues Theater. Among other contributions, this spring Callier delivered a lecture at the Women's Resources Center on how men can engage feminism.
Callier was nominated by WRC staff collectively.