Education Justice Project volunteers bring upper-level college courses to Danville Correctional Center students
by Dave Evensen / Mar 21, 2013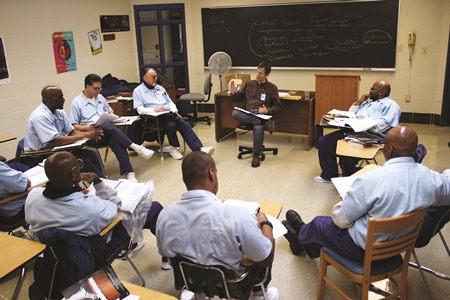 The Education Justice Project (EJP) offers education programs to incarcerated students at the Danville Correctional Center. The EJP is directed by Rebecca Ginsburg, associate professor in the Department of Education Policy, Organization and Leadership and in Landscape Architecture. The project involves about 60 U of I grad students and faculty members in various roles, including instructors, tutors, and program evaluators. Illinois Alumni magazine featured an article about EJP, written by Dave Evensen.
MARCH 8, 2013, Illinois Alumni magazine — Approximately 40 miles east of the University of Illinois campus sits a tight configuration of hard-angled buildings surrounded by fields. If you approach this place in the evening, as do many members of the Education Justice Project, you might not know what it is until you come close.

That's when you see the tall fences and gleaming coils of wire, the looming guard towers. This is Danville Correctional Center, a medium-security prison home to 1,800 male inmates, including some of the most dedicated UI students you can find.
One rainy December evening, 60-some inmates – students – dressed in the standard "state blues" and bright white sneakers gather in the chapel of the correctional center to meet with members of the Education Justice Project, a robust, volunteer-based program initiated at the University of Illinois in 2006 to bring upper-level college education to the prison.
This was an organizational meeting, with curricula, scholarships and new programs on the agenda. There were no guards in the room. Speakers were greeted with loud applause, with the loudest reserved for a slim, soft-spoken woman named Rebecca Ginsburg.
Read entire article from Illinois Alumni…
Photo by Rebecca Ginsburg