Winter break turns educational: Students expand their horizons by studying abroad in China
by Allie Pitcher / Feb 19, 2013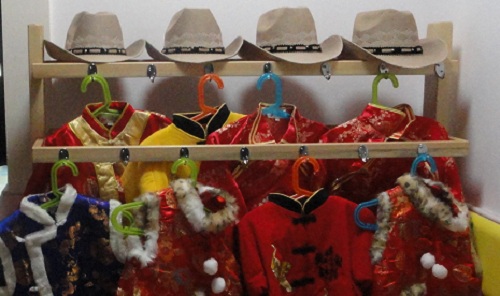 Kathy Ryan, assistant dean for Academic Affairs, has always wished for the students in the College of Education to have a study abroad experience. This fall, Ryan discovered that Lucinda Morgan was working on just what she had hoped for.
And Ryan didn't hope for your average study abroad experience; her wish list was specific, desiring in-school experiences for students. "I think it is really important that our students know that it's a big world filled with a lot of different people and that when they get out of here, they are going to teach people that aren't just like themselves," Ryan explained.
Lucinda Morgan, coordinator of the Greater China Initiative for the Office of International Programs in the College of Education, spends 75 percent of her time in Shanghai, China, and the rest at the University of Illinois as a Ph.D. student. Because she worked in the education field in China prior to beginning her graduate studies, she is quite familiar with the ins and outs of coordinating a study abroad experience.
"After sitting through meetings, listening to the staff and faculty express their frustration with the lack of study abroad opportunities for their Education students, I got to work and said, 'We're doing this.'" Morgan said. "I saw that there was a need and I knew that I could do something about it."
With numerous connections in China, Morgan created an itinerary that was solely focused on education. Morgan also knew of a grant from the Center for East Asian and Pacific Studies (CEAPS) that would greatly benefit the study tour.
So Morgan applied for and the College received the CEAPS' $20,000 grant from the Freeman Foundation. In addition, the College of Education contributed a $500 study abroad scholarship to each student, an offer that stands for any Education student who studies abroad.
Due to tightly packed curriculum for undergraduate education students within the College of Education, there was little room left on the academic year calendar to study abroad for a semester. Because of that, Morgan and Ryan decided the best time to offer an international experience for the students was for 17 days over the winter break.
The two leading the trip expected a low number of applicants and were pleasantly surprised to receive 42 China Study Tour applications.
"We accepted 18 applications, thinking that a few wouldn't be able to go, but all 18 ended up going." Ryan said. "I think that if we could have opened it up to all 42 students, they all would have gone."
After the applicants were chosen, it was time to help them prepare for the trip. The students attended pre-departure class sessions led by Morgan. Those all-important classes provided an overview of China's educational systems, explained safety issues for international travel, and introduced basic Chinese Mandarin.
Finally, on December 26, 2012, the group departed for Shanghai Pudong Airport. Morgan, Ryan, and the 18 students were accompanied by Sheila Dean, clinical assistant professor in Curriculum and Instruction. The trip consisted of excursions to 12 schools and four universities as the group traveled to eastern China from Shanghai, Suzhou, Fuyang, and Nanjing. In addition to schools, they were exposed to many unique aspects of Chinese society, such as the variety of its cuisine, its rich traditions, and long history.
"For the most part, every day of the 17-day trip, they were in schools, anywhere from preschools to universities." Ryan said.
Anny Chang, a freshman in Elementary Education, described how she felt about these new experiences. "The trip was unforgettable in that we saw such a wide variety of schools and learning about how each school functioned was very interesting," Chang said. "Aside from the schools, we also met a lot of students, preschool to university, and they were always so excited to meet the group."
While the students had a great time enjoying the numerous shopping trips at Chinese markets and sight-seeing at the tourist spots, Morgan emphasized the real purpose of this trip and felt that it was executed well. "I wanted the students to see that there is more than one way of making education occur," Morgan said. "And although it is different from what they have grown up with, it still exists and is still effective."
Jennifer Pavel, a junior in Elementary Education, reflects on what she took away from this experience.
"I realized the impact that culture has on the various aspects of my life. It's important to realize that as educators, we need to embrace the cultural backgrounds of all students within our classroom."
Pavel plans to use the lessons she learned from this trip to better herself as a future teacher. "This trip has impacted me because as an educator, it is essential to reach the needs of all learners," she said, adding that the study tour helped her to learn more about Chinese culture and to gain a new perspective on appreciating all cultures outside of her own.
The trip concluded January 11 and the students returned to the U of I campus with a new appreciation for differences in culture, education and people.
Due to its overwhelming success, Morgan is working on an eight-week teaching experience in China for the summer of 2013 so that other Education students can also travel beyond the boundaries of the Urbana-Champaign campus to study abroad.