Academic adviser Michael Parrish awarded for advocacy in LGBT affairs
by Allie Pitcher / Dec 1, 2012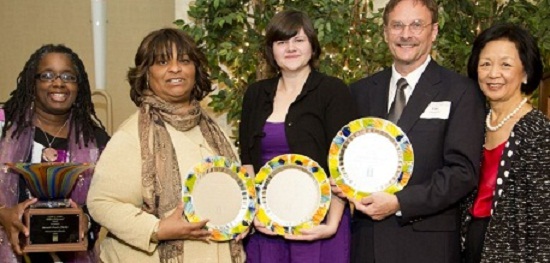 Michael Parrish, an undergraduate academic adviser in the College of Education, has recently been awarded the Larine Y. Cowan "Make a Difference" Award from the Office of Equal Opportunity and Access. Parrish, an active member in many organizations on campus, was given this award in the category of Advocacy for LGBT (Lesbian, Gay, Bisexual, and Transgender) Affairs.

The "Make a Difference" Award seeks to recognize nominees that display extraordinary commitment to encouraging diversity and inclusion through all aspects of their position on campus and in the community. Parrish accepted the award at the 27th Annual Celebration of Diversity held on November 9.

Kathy Ryan, assistant dean for Academic Affairs in the College of Education, nominated Parrish for the award.

"I am so grateful to have Michael," Ryan said. "I think she has a great sense of inclusivity and how important it is to recognize, embrace, and respect difference."

Bringing much experience from her previous position at the Department of General Studies, Parrish immediately began promoting equality here at the College of Education.
"Shortly after she started here, Michael and I did a rainbow book bag event and since then, she has taken the lead on LGBT advocacy projects in the college and around campus." Ryan said.
Although her efforts to support the LGBT community have been recognized primarily for her time at the University, her participation began long before.
"LGBT activism and equality have been part of my life for a long, long time." Parrish said. "I grew up with a gay parent, so that personal connection has informed what I want to do with my life."
Through her observations and involvement in the community, Parrish has seen the need for people like herself to assist LGBT efforts and those with a personal connection to the issue.
"I see that there are particular academic issues that aren't necessarily part of the broader conversation about LGBT equality that are equally important to address." Parrish said. "For me, as an academic adviser, I feel like I have the role to help them think about how students fit in on campus, if their classrooms are safe and welcoming, and other, possibly less glamorous, issues."
With these issues in mind, Parrish makes sure she does all that she can to help in this area. One additional way she reaches out to students in the LGBT community is by working as a satellite with the on-site advising at the LGBT Resource Center. In this role, she can "build connections and make people feel comfortable leaving out of the center and going into different places on campus."
Parrish also participates on the Ally Network training committee and is an active member in other LGBT-supporting programs in the Urbana-Champaign area.
Through her activism, Parrish hopes that she can have a positive impact on campus that brings inclusivity and awareness to the LGBT community.
"I hope that through my relationships with other people, they would be open to taking on a different perspective on this issue," Parrish explained. "I hope that I can help get people thinking about traditional roles in society and start those important conversations."
Photo: Michael Parrish (center) with Associate Chancellor Menah Pratt-Clarke (left) and Vice President and Chancellor Phyllis Wise. News Bureau photo by L. Brian Stauffer.