Scholarship recipients, donors honored at Student Recognition Brunch
by The College of Education / Oct 26, 2012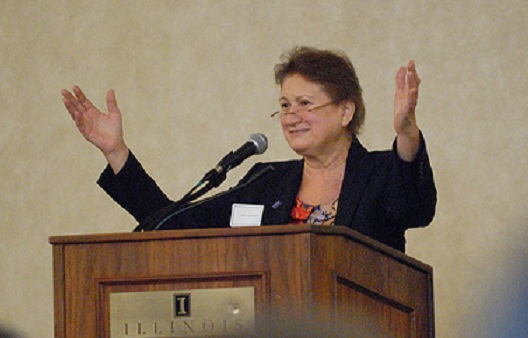 The College of Education held its 24th Student Recognition Brunch on October 20 at the I-Hotel and Conference Center in Champaign.
Dean Mary Kalantzis represented all faculty and staff when she welcomed everyone in attendance, from the donors who made the scholarships possible to all the exceptional students who benefit from the scholarships and awards. In addressing attendees, the dean touched on the four pillars of support that are essential to our College: faculty, students, donors, and family/loved ones.
"Our college attracts some of the best and brightest students from Illinois as well as across the country and around the world, Kalantzis said. "We have every confidence that our students not only will make extraordinarily well-prepared teachers and educators but also that they be the leaders in their areas of specialization."
About the selflessness of donors, Kalantzis called the gifts provided by alumni, friends, corporations, and foundations as "votes of confidence" that show our College continues to provide a first-rate education to its students. "Quite simply, our donors are passionate about education at large and they put that passion into action," she said.
Since the event's inception in 1988, the College and its donors have granted more than 1,000 scholarships to worthy students, according to Deborah Lowe Morgan, the event's coordinator and associate director for development.
Each year, Morgan looks forward to bringing together donors and the Education students who are their respective scholarship recipients. "It's very gratifying to give donors the opportunity to meet students so that donors can see firsthand how much of an impact they are making in the lives of the students," Morgan said.
The following list outlines the scholarships and awardees for 2012:
Graduate Awards
The American Chemical Society-Hach Foundation Scholarship
Sara S. Patterson, Master's student, Curriculum and Instruction
The William E. Albin and Charlotte C. Young Award
Emily Ann Dorsey, Doctoral student, Special Education
The Wanda Taeschner Babcock Fellowship
Maria G. Lang, Doctoral student, Curriculum and Instruction
The Margaret Bansau Fellowships
Michelle Lee Bonati, Doctoral student, Special Education
Christine Lynn Nittrouer, Master's student, Special Education
Nat Vikitsreth, Master's student, Special Education
The Max Beberman Award
Anna Fricano DeJarnette, Doctoral student, Curriculum and Instruction
The Joan Kohlenbrener Boruszak Scholarship
Mary Kathryn Russell, Master's student, Curriculum and Instruction
The Harry Broudy Award
Heather Ann Greenhalgh-Spencer, Doctoral student, Education Policy, Organization and Leadership
The Caterpillar Corporation Scholarships
Alexiss Morell Underwood-Davis, Master's student, Education Policy, Organization and Leadership
Seung Hyun-Han, Doctoral student, Education Policy, Organization and Leadership

The Community College Leadership Award
Rodney Shawn Ranes, Doctoral student, Education Policy, Organization and Leadership
The Al Davis Leadership
Chelsea Morel Wright, Master's student, Curriculum and Instruction
The B. L. Dodds Award
Joel Robert Malin, Doctoral student, Education Policy, Organization and Leadership
The Joann B. Eisenberg Scholarship
Kaili A Salyers, Master's student, Special Education
The Rupert N. Evans Award
Syahidatul Khafizah M. Hajaraih,Doctoral student, Education Policy, Organization and Leadership
The The Fabac-Tomlinson Award
Jeong-Hwan Choi, Doctoral student, Education Policy, Organization and Leadership
The Charles E. and Nora D. Fletcher Scholarship
Erica J. Harwell, Master's student, Education Policy, Organization and Leadership
Laura Romani, Master's student, Curriculum and Instruction

The Goldstick Family Fellowship
Mariana Aparicio Betancourt, Doctoral student, Liberal Arts and Sciences (Neuroscience)
Melinda Snodgrass, Doctoral student, Special Education
The Hibel Family Higher Education Internship Award
Suzanne M. Blanco, Master's student, Education Policy, Organization and Leadership
Quortne R. Hutchings, Master's student, Education Policy, Organization and Leadership
The Thelma (Jamie) and Orin Hove Scholarship
Mei-Tzu Huang, Doctoral student, Education Policy, Organization and Leadership
The Richard W. and Patricia A. Justice Award
Gianina Renee Baker, Doctoral student, Education Policy, Organization and Leadership
The M. Ray and Frances Karnes Scholarship
Catherine Patricia Corr, Doctoral student, Special Education
Candace Rae Flatt, Doctoral student, Education Policy, Organization and Leadership
The Carl Knox Award
Erica J. Harwell, Master's student, Education Policy, Organization and Leadership
Bradley K. Hemenway, Doctoral student, Education Policy, Organization and Leadership

The Raymond W. Kulhavy Memorial Scholarship
Cassie Palmer-Landry, Doctoral student, Educational Psychology
The Linda S. Lotto Award
Jin Lee, Doctoral student, Education Policy, Organization and Leadership
The James Machin Award
Yuni Sari Amalia, Doctoral student, Curriculum and Instruction
The Thomas McGreal Award
Jason A. Swanson, Doctoral student, Education Policy, Organization and Leadership
The Kay Reeves Meginnis Endowment for the Enhancement of Special Education Programs
Anne Walz Graves, Master's student, Special Education
The Robert Mendelson Award
Aaron Steven Barker Weiner, Doctoral student, Educational Psychology
The Richard E. and Ann M. O'Leary Assistantship
Matthew Allen Linick, Doctoral student, Education Policy, Organization and Leadership
Tiffany Sharnay Puckett, Doctoral student, Education Policy, Organization and Leadership
The Robert Bruce Reinoehl Memorial Award
Sarah L. Ballard, Doctoral student, Special Education
The Donna Riechmann Award
Heather L. Fox, Doctoral student, Education Policy, Organization and Leadership
The Frederick Rodgers Award
Sandra Lucia Osorio, Doctoral student, Curriculum and Instruction
The Seymour Stiss Award
Angela L. Masters, Doctoral student, Curriculum and Instruction
The Ray Simpson Scholarship
Brennan R. Payne, Doctoral student, Educational Psychology
The Special Education student Award
Hyejin Park, Doctoral student, Special Education
The State Farm Companies Foundation Doctoral Scholarship
Elaine Atherton, Doctoral student, Curriculum and Instruction
Christopher Paul Cunnings, Doctoral student, Curriculum and Instruction
The College Of Education Synergy Fellowships
Deborah Ann Hrubec, Doctoral student, Education Policy, Organization and Leadership
Victor H. Perez, Doctoral student, Education Policy, Organization and Leadership
Renata Alejandra Revelo Alonso, Doctoral student, Education Policy, Organization and Leadership
The Tatsuoka Award
Michael J. Culbertson, Doctoral student, Educational Psychology
The Letitia Walsh Fellowship
Gloria F. Shenoy, Doctoral student, Education Policy, Organization and Leadership
Melinda Snodgrass, Doctoral student, Special Education
The Margaret Westerbeck Scholarship
Anne Butler, Doctoral student, Special Education
The Phyllis A. Wilken Award
Julia Nadler, Doctoral student, Education Policy, Organization and Leadership
The William Chandler Bagley Doctoral Scholarship
Daniel Araya, Doctoral student, Education Policy, Organization and Leadership
Renato Ferreira Leitao Azevedo, Doctoral student, Education Policy, Organization and Leadership
Jane Heather Blanken-Webb, Doctoral student, Education Policy, Organization and Leadership
Michelle Lee Bonati, Doctoral student, Special Education
Jeong-Hwan Choi, Doctoral student, Education Policy, Organization and Leadership
Lisa De La Rue, Doctoral student, Educational Psychology
Milo Laurenz Dodson, Doctoral student, Educational Psychology
Nora K. Gannon-Slater, Doctoral student, Educational Psychology
Mariana G. Martinez, Doctoral student, Education Policy, Organization and Leadership
Cristin Marie Geoghegan, Doctoral student, Curriculum and Instruction
Grace Yun Kang, Doctoral student, Curriculum and Instruction
Elzbieta (Elka) Kazmierczak, Doctoral student, Education Policy, Organization and Leadership
Lori Erbrederis Meyer, Doctoral student, Special Education
Jasmine Danielle Parker, Doctoral student, Education Policy, Organization and Leadership
Renata Alejandra Revelo Alonso, Doctoral student, Education Policy, Organization and Leadership
Blanca Esmeralda Rincon, Doctoral student, Education Policy, Organization and Leadership
Gloria F. Shenoy, Doctoral student, Education Policy, Organization and Leadership
Yi Zheng, Doctoral student, Educational Psychology
Undergraduate Awards
The William E. Albin and Charlotte C. Young Award
Natalie Lynn Radke, Senior, Special Education
The Myron and Jewel Ash Scholarship
Donovan J. Wynn, Freshman, Pre-Teacher Education
The Connie McGill Atkins Scholarship
Lauren Elise Michels, Senior, Curriculum and Instruction
The Debra Bear Scholarship
Amy Lynn Allen, Senior, Curriculum and Instruction
The Ann H. Bender Scholarship
Lauren Nicole Vidal, Senior, Curriculum and Instruction
The Katherine Colman Scholarships
Rachel Anne King, Senior, Curriculum and Instruction
The Denver C. and Mildred F. Corn Scholarship
Jenia D. Price, Freshman, Pre-Teacher Education
The CWK Scholarship Fund
Danielle E. Mallett, Freshman, Pre-Teacher Education
The Carol Dunnivant Cygan Scholarship
Jennifer Pavel, Junior, Curriculum and Instruction
The Norma and Charles Doering Scholarship
Rachel Michelle Helfer, Junior, Curriculum and Instruction
The Dorothy E. Fletcher Scholarships
Daniela Abril Don, Freshman, Pre-Teacher Education
The FMC Award of Excellence
Swathi Jaishankar, Freshman, Pre-Teacher Education
The Norman and Blanche Good Scholarship
Christina Elizabeth Holec, Senior, Curriculum and Instruction
The Peggy Elaine Grein Scholarship
Gina Carrillo, Sophomore, Pre-Teacher Education
The Walter and Mabel Harper Scholarship
Lauren Gui, Senior, Curriculum and Instruction
The Freeman and Jacqueline Hrabowski Scholarship
Donovan J. Wynn, Freshman, Pre-Teacher Education
The Elizabeth, Holly, and Bonnie Ramond Hulina Scholarships
Katrina Marie Nelson, Senior, Curriculum and Instruction
The Ruth Kephart Scholarship
Lauren A Choi, Freshman, Pre-Teacher Education
Patrick Impola, Freshman, Pre-Teacher Education
Meghan M. Leibforth, Freshman, Pre-Teacher Education
Katelyn J. Mendez, Freshman, Pre-Teacher Education
Melinda N. Mendoza, Freshman, Pre-Teacher Education
Annette Lorette Popernik, Freshman, Pre-Teacher Education
Brian M. Ruiz, Freshman, Pre-Teacher Education
The Todd Zeno Kopecky Scholarship
Kelly R. Morgensen, Junior, Curriculum and Instruction
The Ted Manolakes Award
Samantha Renee Kocher, Senior, Curriculum and Instruction
The Billie Marsh Scholarship
Danielle Olivia Davinroy, Senior, Curriculum and Instruction
The John McGill Memorial Scholarship
Sara K. Graden, Junior, Curriculum and Instruction
The Minority Recruitment Enhancement Endowment
Sophia M. Geroulis, Freshman, Pre-Teacher Education
Alyssa Marie Sandoval, Freshman, Pre-Teacher Education
Ana Schcolnik, Freshman, Pre-Teacher Education
The Jeanne Marie Montgomery Memorial Scholarship
Erin Elizabeth Karner, Junior, Curriculum and Instruction
The Carol P. Passaneau Scholarships
Bianca V. Carbajal, Freshman, Pre-Teacher Education
Ariel Ward, Freshman, Pre-Teacher Education
The Jane Luedtke Seiler Scholarship
Margaret Ann Miller, Senior, Curriculum and Instruction
The Timothy Collins Stafford Scholarship
Amy Lynn Allen, Senior, Curriculum and Instruction
The Evelynne M. Stiles and Vivian A. Stiles Scholarship
Sarah J. Wagner, Junior, Curriculum and Instruction
The Donald E. and Margaret P. Stillwell Scholarship
Melinda N. Mendoza, Freshman, Pre-Teacher Education
The Shaw and Lillian Terwilliger Scholarship
Marissa Wrae Walczak, Senior, Liberal Arts and Sciences (Mathematics)
The Wheeler Foundation Scholarships
Gina Lynne Cernyar, Senior, Special Education
Rhea Marie Matar, Senior, Special Education
The Robert L. and Rena Williams Scholarships
Amber Renna Ballinger, Junior, Liberal Arts and Sciences (English)
Chanel Im Keyvan, Senior, Liberal Arts and Sciences (Mathematics)
Benjamin Alexander Rubin, Senior, Liberal Arts and Sciences (History)
Sarah Vorreiter, Junior, Liberal Arts and Sciences (History)
Jeanne E. Zeller, Senior, Liberal Arts and Sciences (English)
The William Chandler Bagley Scholarships
Kayla N. Bell, Senior, Curriculum and Instruction
Gina Lynne Cernyar, Senior, Special Education
Hannah E. Deutsch, Senior, Special Education
Hana E. Dolin, Sophomore, Pre-Teacher Education
Jennifer Lea Guenther, Junior, Curriculum and Instruction
Elise Marie Heiting, Curriculum and Instruction
Meagan Dolores Hynes, Senior, Curriculum and Instruction
Kelly Marie Kanarowski, Senior, Curriculum and Instruction
Emilee K. Lebaube, Senior, Curriculum and Instruction
Briana Rene Lucas, Senior, Curriculum and Instruction
Rhea Marie Matar, Senior, Special Education
Kyle John McCreedy, Senior, Liberal Arts and Sciences (History)
Robert Morrissey Jr., Senior, Liberal Arts and Sciences (History)
Erin R. Mueller, Senior, Liberal Arts and Sciences (English)
Lesley Alison Nagle, Senior, Liberal Arts and Sciences (English)
Matthew M. Neesan, Junior, Liberal Arts and Sciences (Mathematics)
Bria Angela Olson, Junior, Curriculum and Instruction
Carli M. Padgett, Senior, Curriculum and Instruction
Penny Paraskis, Senior, Liberal Arts and Sciences (English)
Anne Porto, Junior, Curriculum and Instruction
Jessica Quinn, Sophomore, Pre-Teacher Education
Erin H. Ross, Junior, Special Education
Hillary A. Sanfillippo, Senior, Curriculum and Instruction
Emily Schaefer, Junior, Curriculum and Instruction
Marian Blair Stauder, Senior, Special Education
Kelley Jo Sullivan, Junior, Curriculum and Instruction
Amy Svenningsen, Senior, Special Education
Andrew Yiu Fung Wong, Senior, Curriculum and Instruction
Jasmine Wong, Sophomore, Pre-Teacher Education
Sarah J. Yockey, Sophomore, Pre-Teacher Education
Nicole Maria Yoon, Sophomore, Special Education