CSTL Student Perspectives
Curious about what it is like to be a student in the CSTL Division?

Renato Azevedo
Renato is a PhD Student in Educational Psychology (CSTL). He holds a M.Sc. in Applied Statistics from UIUC, a M.Sc. in Accounting Education & Research from University of Sao Paulo (USP), B.S. in Information Systems and B.S. in Accounting. At UIUC he serves as Research Assistant at the Beckman Institute for Advanced Science and Technology and as Teaching Assistant (EPSY 456 - Human Performance and Cognition in Context). Within Cognitive Psychology, he has been working with Prof. Daniel Morrow, on the nature of complex human problem solving and learning. The current research projects aim to improve self-care (e.g. taking medications) and health outcomes among older adults. These interdisciplinary projects leverage expertise in computer science, medicine, human factors, and education to improve provider/patient collaboration related to self-care.
He has further interest in investigating relationships among professional expertise, cognition, decision-making, risk perception, and workload in complex task domains such as accounting and behavioral economics. He is currently working on his dissertation entitled "Accounting Expertise and Decision-Making through the Lens of Fuzzy-Trace Theory (FTT)". His interest in this domain reflects his own experiences in the field as lecturer and researcher in Accounting in Brazil at the University of Sao Paulo. He has been teaching accounting and business undergraduates since 2007 and MBA students since 2009.

Jack Dempsey
I grew up in Mahomet, IL & Greenville, SC before receiving a BA in Linguistics from the University of Illinois in 2015. Since then, I've worked as a lab manager at Penn State's Center for Language Science and received an MS in Educational Psychology here at Illinois.

My PhD adviser in CSTL is Dr. Kiel Christianson, and together we research various aspects of language processing. Specifically, my research revolves around the role of experience and context in interpreting grammatical structures, measurement differences between real-time reading and explicit comprehension questions, and applied quantitative methods. I have also worked on projects establishing structural validity of surveys probing connections between STEM interest and Minecraft play, investigating how experienced programmers read Python code while debugging, and using Bayesian methods to analyze experimental data.

I recently joined an educational tech start-up as a part-time research consultant developing and testing methods for improving reading comprehension. My goal is to lead a career in cognitive/psycholinguistic research, inside and/or outside Academia, and teach in the field. In my spare time, I love learning/practicing foreign languages (French, German, Italian, TBD) and playing story-driven video games.
Joe Mirabelli
Joe Mirabelli is a doctoral student in the CSTL division of the Educational Psychology department. While he is currently researching education, he was driven to research issues within STEM higher education due to his experiences studying physics. ('17 MS in Physics at Indiana University in Bloomington, '16 BS in Engineering Physics at UIUC.) His research focuses on academic mentorship, student retention, and student well-being. In particular, he is interested in improving the attrition rate and experience of STEM graduate students. He is advised in education by Dr. Jennifer Cromley of the CSTL Division and in engineering education by Dr. Karin Jensen of the Bioengineering department and works alongside both advisors across several projects related to engineering education. He hopes to carry on to a faculty position in which he can instruct physics or engineering while researching issues crucial to students in those disciplines. Towards that end, his mixed methods research approach is centered around measurement work, triangulating student experiences towards the development of measures of stress, culture, and retention. In his spare time, Joe professes his dual Midwestern and Nerd heritages by chasing storms, saying "excuse me" to crowds at national parks, running a few D&D campaigns, and attending Cubs games.

Given that mentorship is a key element of his research interests, Joe is happy to give advice to undergraduate and graduate students considering academic pursuits in both STEM and Education disciplines and encourages prospective and current students with questions to contact him.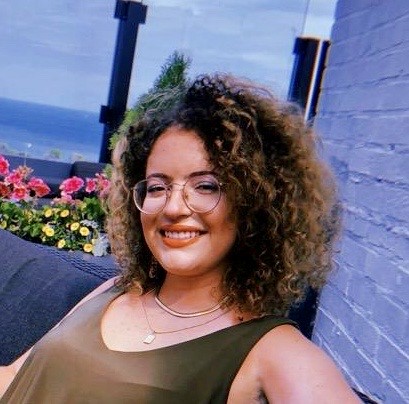 Hannah Valdiviejas
Hannah is a fourth-year doctoral student in the CSTL division of the Department of Educational Psychology. She obtained her B.A. in Psychology and Spanish from Northeastern Illinois University in 2017. She is a proud product of community college and a Hispanic serving institution, of which have shaped her academic and career goals.
Her scholarly interests center around STEM educational equity, including topics like dual language education, self-regulated learning, evaluation, data mining, and achievement goals. She is also enjoys using popular culture to inform her work.
Her scholarship is largely aimed at revisiting and revising classic psychological theoretical models to be culturally sensitive and responsive, with the aim of flipping the deficit-based paradigm to asset-based, regarding the way educators view marginalized students' abilities.
She works under the guidance of Dr. Michelle Perry and is currently investigating expressions of the "Twice As" phenomenon, the popular saying of needing to "work twice as hard to get half as far", and how it psychologically and academically impacts STEM students of color at predominantly White institutions.
In her spare time, she travels back to Chicago to be with family and reads. She is a total foodie and she loves the beach, cats, and vintage shopping.
Destiny Williams-Dobosz
Destiny is a third-year doctoral student in the CSTL division of the Department of Educational Psychology. She obtained her B.A. in Chemistry from Mount Holyoke College in 2019. She was led to the Department of Educational Psychology because of the opportunities to conduct interdisciplinary and collaborative research in STEM education. As a scholar, she seeks to understand the connection between psychological constructs and the curricular experiences of students traditionally underrepresented and marginalized in STEM disciplines to find ways to support students in pursuing STEM careers. She capitalizes on her lived experiences as a Black woman and a low-income first-generation college student as inspiration for her research. She works under the guidance of Dr. Michelle Perry and currently investigates the help-seeking behaviors of traditionally underrepresented students in online STEM courses.

She is an awardee of the 2021 Elbert & Barbara Gentry Scholarship and the National Science Foundation Graduate Research Fellowship Program (NSF-GRFP). In her spare time, she enjoys reading, listening to podcasts, and playing with her dogs.
Sherry Yi
Sherry Yi is a doctoral student studying educational psychology at the University of Illinois at Urbana-Champaign. She is examining how interest is developed and sustained over time. Her current project investigates the triggering of interest in science, technology, engineering, and mathematics using entertainment technologies like video games. Most recently she has led the Graduate Student Conference, served on the College Research Committee, and reviewed applicants for the Fulbright U.S. Scholar Program. She is currently serving on the EPSY Executive Committee as a student representative. In her spare time, she likes to draw, explore and grow bits of nature, and keep up with the latest tech.