Best Online Master's in Education Degree Programs in the Nation
by Ashley Lawrence / Jan 24, 2023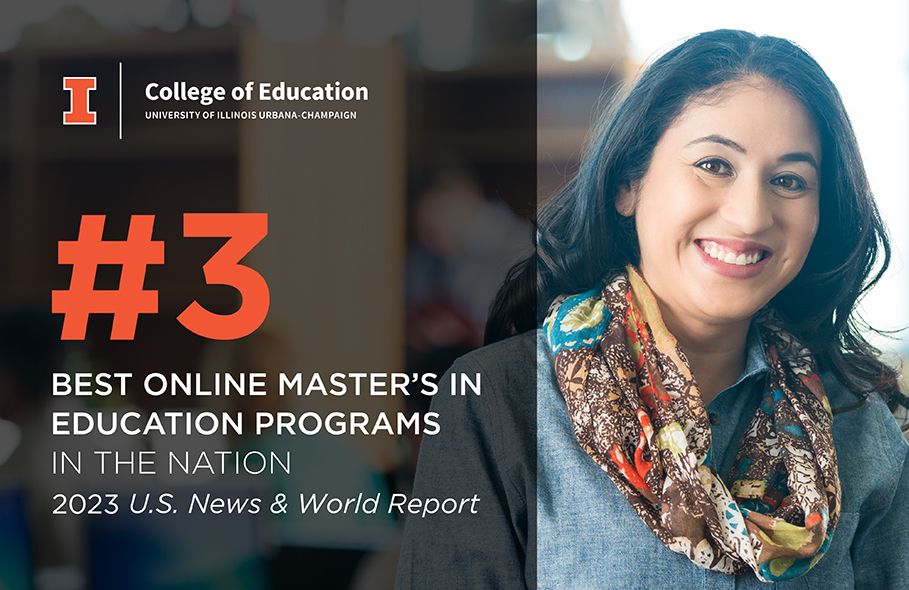 U.S. News and World Report has ranked Education at Illinois' overall Online Master's in Education programs #3 for 2023, confirming a strong commitment to providing students with high quality, innovative online learning opportunities and excellent experiences.
The College of Education at Illinois' Online Master's in Education Programs have once again been named among the nation's top-ranked, according to the 2023 Best Online Master's in Education Programs list from U.S. News & World Report. Education at Illinois was ranked No. 3 on the list out of 329 institutions evaluated, having retained this spot since 2021.
The College's overall programs ranking score was up three points in 2023 to 98 of a possible 100.
Additionally, UIUC's Online Master's in Education Programs remain a top value in terms of quality and price, with a low per credit cost among the top 10 ranked institutions.
"This No. 3 in the nation ranking is a testament to the excellent work happening today in the online environment within the College," said Sangeetha Gopalakrishnan, Director of Online Programs. "We have been focusing efforts on innovatively meeting market needs, attracting a wide variety of students, adhering to best practices in online education, engaging students in their online learning and helping them succeed, and staying connected with alumni—a full spectrum approach."
As one of the first colleges on the Urbana campus to provide an online degree program, Education at Illinois is a pioneer in the science of education. The College offers online graduate degrees, certificates, and endorsements for educators who work in both the public and private sector, from pre-kindergarten through post-secondary.
View all Education at Illinois Online Programs.