Planting Seeds for Future Illini
by Tom Hanlon / Nov 28, 2022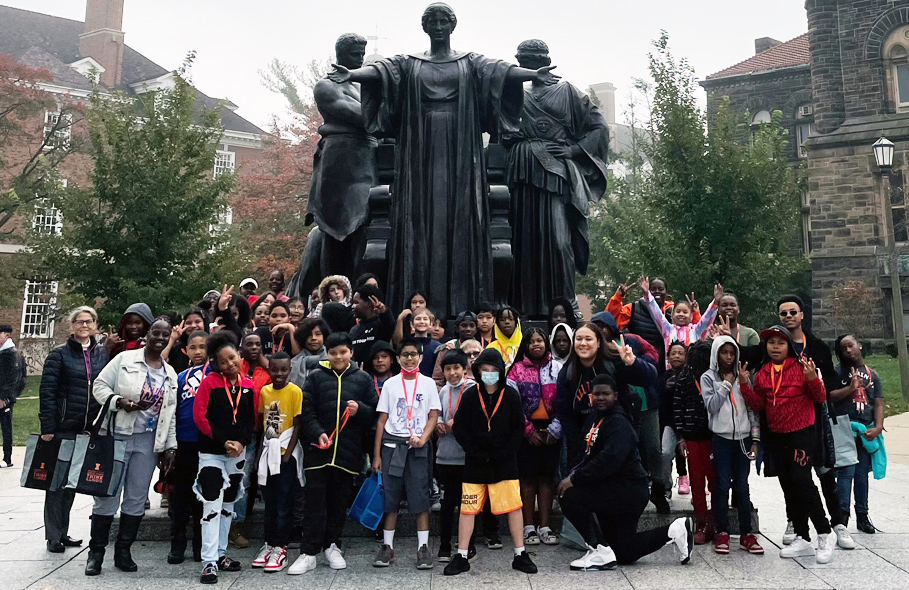 Fifty-three fifth-graders from Garden Hills Elementary School in Champaign enjoyed a fun-filled, four-hour tour of the University of Illinois campus in early November, starting at the College of Education and taking in and learning about many of the campus's renowned buildings and features.
The tour was hosted by the Office of Community College Research & Leadership (OCCRL), which has long worked with Garden Hills. That bond tightened even further when Dr. Asia Fuller Hamilton, an alumna of the College of Education, became Garden Hills principal in 2020.
"The students loved the tour and were excited to see a part of campus that they often don't know they have access to," says Gianina Baker, associate director of learning, evaluation, and equitable assessment for OCCRL.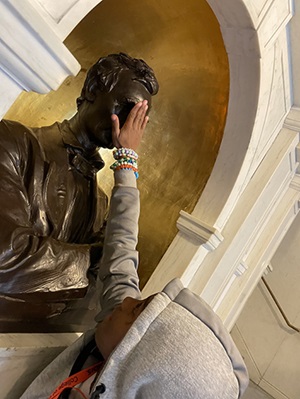 A few highlights of the tour:
Lincoln Hall, including the bust of Abraham Lincoln and his very shiny nose (it's traditional to rub the nose for luck)
Foellinger Hall, where if you place yourself on the round medallion in the lower patio, face the building, and whisper, you should hear your echo
The Main Library, part of the world's largest public academic library system
The Illini Union, through which 20,000 students walk each day
The Alma Mater, sculpted by the world-famous Lorado Taft, a UIUC alumnus
"It was so fun watching them experience these things for the first time," Baker says.
The tour was designed to be both fun and educational.
"We wanted to help the fifth graders feel excited about college, to feel comfortable on the Illinois campus, to feel like they belong here," says Emily Stone, director of public engagement for the College. "College tours help younger students learn about college and feel more confident talking about college with their teachers and counselors. All of these factors can help increase access to college."

Besides that, Stone says, welcoming local schools on campus is the neighborly thing to do. "As a transplant to the Midwest, something I've noticed and loved is a culture of hospitality and warmth," she notes. "We want the College of Education and the campus to feel like a warm and inviting place to be. We hope that this is the first of many visits from Garden Hills and other local schools! In seven years or so, I hope to welcome at least a few of the Garden Hills students that visited this year into the Illinois Class of 2034."