Centennial High School's New Principal Returning to His Roots
by Ethan Simmons, The News-Gazette / Jul 29, 2022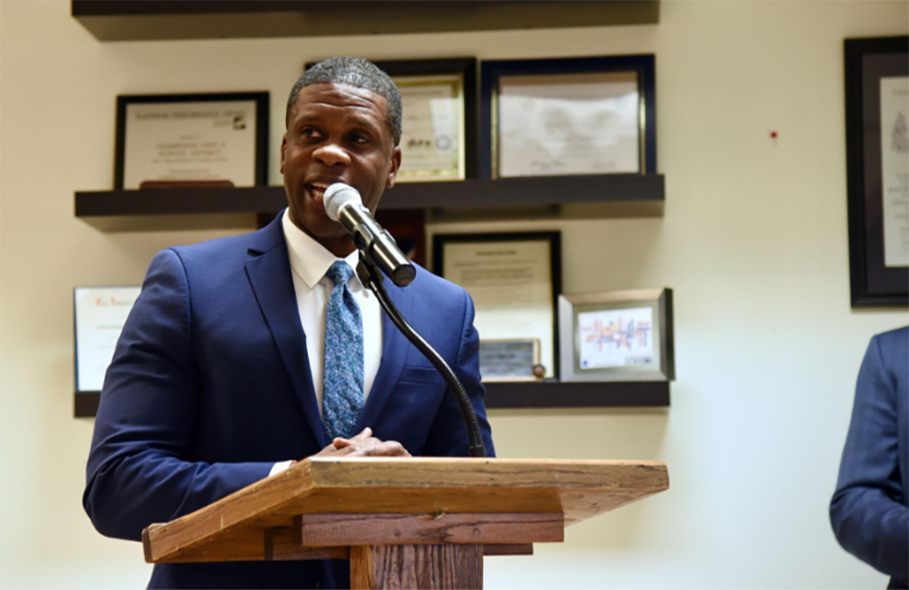 Photo by Ethan Simmons/The News-Gazette
Being named the new principal of Centennial High School in Champaign marks a homecoming for alumnus Scott Savage, '98 C&I.
Minutes after the Champaign Unit 4 school board unanimously confirmed him for the job at their meeting, Savage received rounds of embraces and congratulations from a mix of local friends and new co-workers.
"I have friends, family here, I have roots in this community," Savage said. "With the expertise I have gotten over the years, I want to give back to the community that gave me so much."
The search for a new principal for Centennial began months ago, after Charles Neitzel announced he would leave at the end of the 2021-22 school year.
His successor is Champaign born and bred.
After matriculating through Kenwood Elementary, Jefferson Middle and Centennial High Schools, Savage earned his associate degree at Parkland College and bachelor's from the College of Education in secondary education.
He's had a hard time keeping away from Champaign ever since. In 1998, he worked part-time as a social-studies teacher at Centennial while finishing his UI degree.
That August, he accepted his first full-time role at Whitney Young Magnet High School in Chicago. Two years later, he was back at Centennial teaching social studies, later becoming dean of students.
"Scott has grown tremendously both personally and professionally since he left Champaign nearly two decades ago," said Ken Kleber, the district's director of human resources. "And he's excited to bring everything he's learned back to his alma mater."
In that time, he's served as a top administrator for several schools, mainly around the Chicago suburbs. Since July 2019, Savage has been assistant principal for the East Aurora school district, which serves almost 14,000 students.
"I'm from here, but I've been away for some time, so I want to really listen and figure out what's important to our families," he said. "The pandemic really challenged education, and right now I think people need to feel valued, they need to feel trusted, they need to be understood. My goal is to listen for understanding and find out how I best can be of service."
School safety, student achievement and making Centennial a "flagship" high school were a few priorities he mentioned Monday. But raising school spirit isn't far behind.
"I want the students to know we need to have fun," he said. "I'd rather see students laughing than anything else, so we need to enjoy each other, have a good time, and bring back the culture and the spirit. 'Spirit Week' should lead into 'Spirit Year.'"
Read more
about alumnus Scott Savage in another story from the News-Gazette...