Mark Dressman: Teaching on the Navajo Nation
by Tom Hanlon / Jul 9, 2019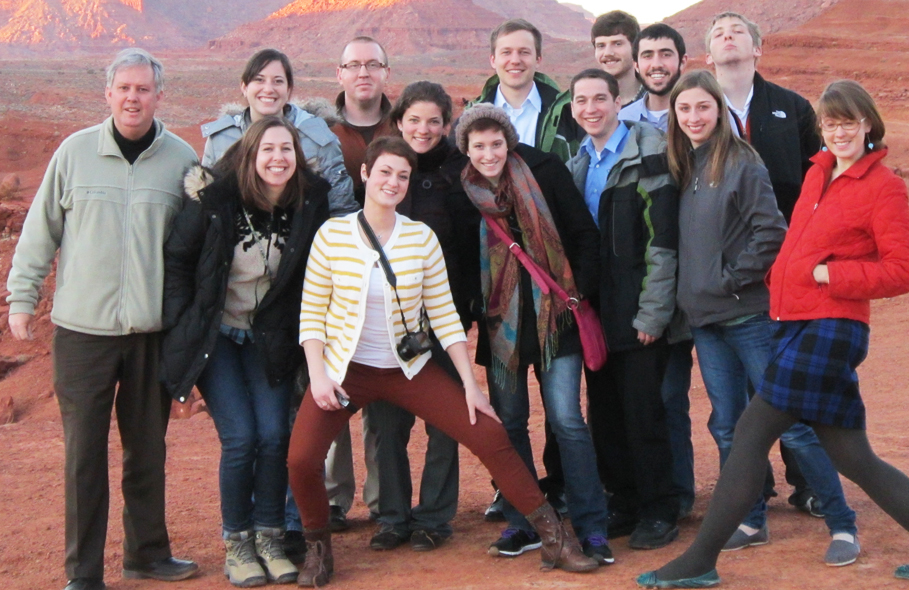 Recently, University of Illinois at Urbana-Champaign Chancellor Robert Jones spoke of the university's plans to expand educational opportunities and access to members of tribal nations. Mark Dressman shares his wealth of experiences in doing just that.
When Mark Dressman graduated with his master's in curriculum development from Teachers College, Columbia University in 1981, he had two unique teaching opportunities to choose from: one in Saudi Arabia, the other on the Navajo Nation, which covers more than 17.5 million acres of land in Arizona, New Mexico, and Utah.
Dressman, now a professor emeritus in the College of Education, chose the latter, and taught middle and high school English and Social Studies for two-and-a-half years at Rock Point Community School, a K-12 school of about 300 students. The school was historically significant, he says, in that it was one of the first contract schools in the US (where it was federally funded, but had a local school board and control of its budget and curriculum). Though he left the job and the Navajo Nation in 1983, it would be far from his last time there.
Beginning in 2008, Dressman began taking undergraduate College of Education students with him, first to Rock Point in the northeast corner of Arizona; then in 2010 he made the first of nine yearly trips with students to Monument Valley High School, where former Illinois student Robin Amado taught for two years.
"Robin was on one of the trips to Rock Point and fell in love with the place," Dressman says. "She eventually was able to take a job as an English teacher at Monument Valley High School in Kayenta."
So Dressman steered his annual winter break student trip to Kayenta, where up to 13 undergraduates lived on the reservation and spent a week teaching literature, writing, and vocabulary development. Books they taught included The Kite Runner and War Horse.
"It was a powerful experience," Dressman recalls. "It was exhausting but very rewarding for the students. They did lesson plans and taught seven classes a day for the whole week."
Beyond the school day, he adds, they toured Monument Valley with its amazing panoramic views, cheered on the school's basketball team, and learned about a culture entirely different from their own.

"The teachers and staff at both Rock Point and Monument Valley were incredibly welcoming. They opened their classrooms to us for a week, invited us to dinner, taught us about Diné (Navajo) culture, and showed us around the community. After we returned, the stuents in one of the classes wrote letters to us and we wrote back. All our success was due to their openness and hospitality," Dressman says. "We are very grateful to them."
He and his wife, Sarah, own a house in Dolores, Colorado, about two-and-a-half hours from Kayenta; the group would gather at the house first, getting acclimated.
"We'd do some hiking, give a geographical and cultural tour of the place, and talk about education on the reservation," he says.
It was a time of learning and impact for the students who traveled with Dressman.
"About half of them had never been west of the Mississippi before," he notes. "Most had never driven across the Great Plains. Many had never seen a mountain. Living on the Nation was like a foreign country to them. People spoke differently, dressed differently.
"I loved seeing the looks on their faces as they were discovering things."
Many, he adds, ended up teaching on the reservation. "Out of that program, I had six or seven students who became teachers at Monument Valley High School," he says. "The experience changed many of their lives."
Two of the students met future spouses on their trip. Two others, at Dressman's suggestion, applied for and received Fulbright scholarships to teach in Vietnam and Morocco.
"Many of these undergrads form relationships that go well beyond the trip," he says.
As for Dressman, he says he had so much fun doing the trip that he "just kept doing it year after year. Every fall, I'd say 'Never again,' and then by late September we'd start to organize our next trip. Word would spread, and I'd have secondary students come up to me and say, 'I hear you have this great program going, are you going to do it again'?"
And so he did--again and again. About 120 students over a 10-year span piled into cars and vans and headed west to the Navajo Nation, expanding educational opportunities for the Navajo students, even before it was a priority for the university. And in the process, they deepened their own experience and understanding.