New TIER-ED scholars position College as ed-tech leader
by the College of Education at Illinois / Jul 3, 2018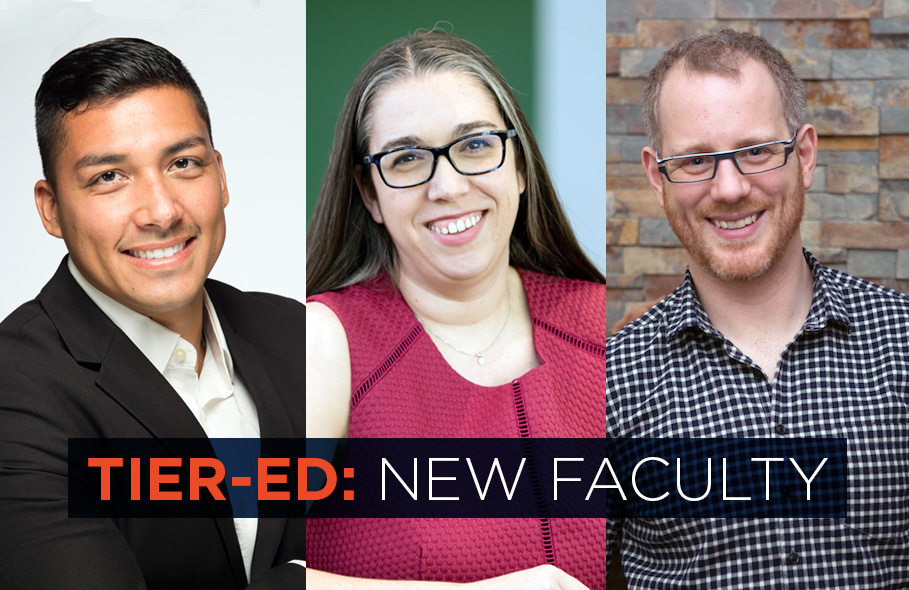 College of Education hires three new faculty members to join TIER-ED, a cross-disciplinary research community at Illinois
Scholars Nathan Castillo, Cynthia D'Angelo, and Michael Tissenbaum will join the College of Education this fall as faculty members in the Technology Innovations in Educational Research and Design (TIER-ED) initiative, positioning the College as a leader in advancing cutting-edge technologies that address critical education issues.
TIER-ED Director Robb Lindgren said each of the scholars will bring specialized expertise to the ambitious program, bolstering the capacity to conduct innovative research on the effects of new technologies on educational contexts and learning.
"We are incredibly fortunate to have recruited three talented new faculty members as part of TIER-ED," Lindgren said. "Each one of them brings a novel program of research and a unique perspective that will help us to build the initiative."
Among other innovations, TIER-ED will increase the pipeline of students into programs that prepare them for design and research; identify ways to use technology in teaching and designing tools to support teachers; and establish new connections with industries to develop and bring to scale the technology innovations happening at Illinois.
The new TIER-ED hires have already been collaborating with researchers across campus in exciting ways, Lindgren said. Tissenbaum has connected with faculty in the colleges of Fine + Applied Arts and Engineering, scholars who share his interest in designing and building interactive interfaces. D'Angelo is forming partnerships with faculty who focus on natural-language processing and teacher professional development in STEM content areas. And Castillo is promoting international development by working with scholars in the College of Business and elsewhere on campus to lay the groundwork for high-impact literacy research.
Lindgren said there was a large pool of applicants for the TIER-ED positions, and that it was a College-wide effort to select the top candidates.
Castillo is a graduate of the University of Pennsylvania, where he conducted crossover work on digital literacies and the development of education internationally. His cross-cultural research on the use of reading technologies has taken him to places such as rural South Africa and Peru.
D'Angelo comes from Menlo Park, California, where she was a senior researcher at SRI International. She directed several federally funded projects and center initiatives that focused on the application of new technologies designed around education. These projects included simulation and game-based learning, as well as analyzing student speech to assess learning and collaboration.
Tissenbaum was a research scientist at MIT, where he empowered K-12 students to develop their own mobile applications. He also worked with teachers to promote computational thinking among students. The scholar is interested in the design of immersive and interactive spaces that facilitate innovative educational experiences in formal and informal contexts.
"These extraordinary scholars will push the College of Education into new directions and bring fresh energy to our mission of improving education in the state of Illinois and worldwide," Lindgren said.