Military Families Learning Network
The Department of Special Education is one of the newest members of the Military Families Learning Network (MFLN), funded by a Department of Defense (DoD) and US Department of Agriculture (USDA) grant to the University of Illinois. MFLN's focus is on serving military family service professionals around the world. Professors Amy Santos and Micki Ostrosky are the project leaders of The Early Intervention (EI) Concentration Area that is operating within the Family Development Concentration Area of MFLN. The overall purpose of the EI Concentration Area is to enhance the capacity of professionals working with military families who have young children (birth to 5 years old) with or who are at-risk for disabilities and developmental delays.
Dr. Meghan Burke receives Organization for Autism Research Grant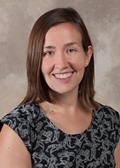 Department of Special Education Professor Meghan M. Burke examined parents' use of procedural safeguards in resolving disputes with schools about the education provided to their children with autism. She and co-researcher Samantha E. Goldman found that families whose children with autism spectrum disorders spend less than 20 percent of their time in mainstream classrooms are nearly twice as likely to resort to litigation.