East St. Louis Teacher Surprised With Illinois' Highest Honor for Educators
by Garen Vartanian, Belleville News-Democrat / Apr 18, 2023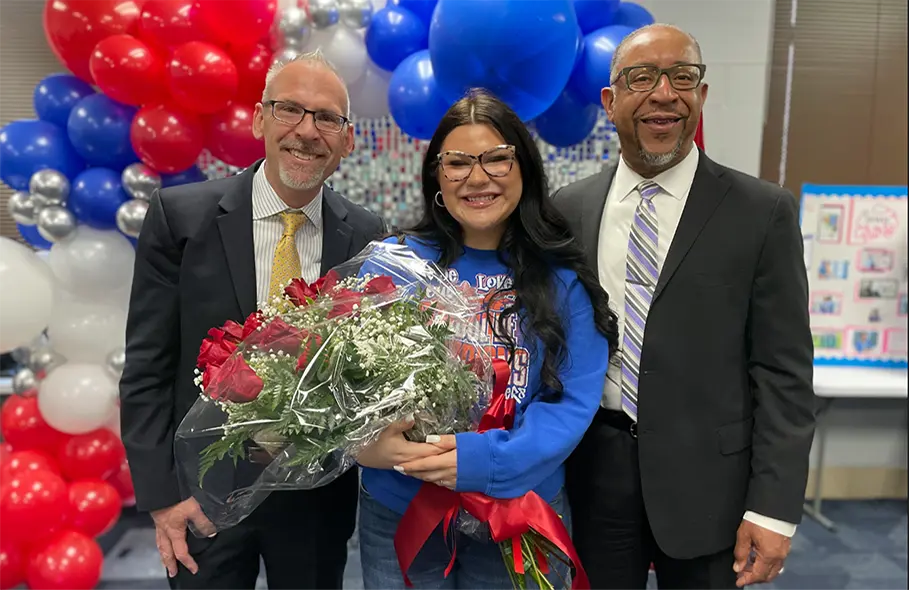 State Superintendent Tony Sanders, doctoral student Briana Morales, and Gordon Bush principal Darnell Spencer.
Congratulations to current Education Policy, Organization and Leadership online doctoral student Briana Morales, who on Monday was named the
the 2023 Illinois Teacher of the Year by ISBE.
Briana Morales might be worth consulting for this week's winning lottery numbers.
When Gordon Bush Alternative Center Principal Darnell Spencer informed the English teacher she was the Southwest Region's 2023 Illinois Teacher the Year winner, he said, "A few weeks later she came down to my office and she said, 'Mr. Spencer, I think I've got this one'" in reference to winning the overall award for the state.
Indeed she did as the Illinois State Board of Education has named Morales the 2023 Illinois Teacher of the Year. State Superintendent Dr. Tony Sanders was on hand Monday morning at Gordon Bush to present a surprised Morales the award in front of several of her students.
"They faked me out; I thought I was coming down here for a meeting," a stunned but appreciative Morales said. "I think that the work we do is amazing. There are so many amazing things that are going on and I just knew we had such a great story to tell here. The kids have an amazing story tell."
As far as her prediction to Spencer, Morales — who was selected from 13 other finalists — said with a laugh, "I was kidding, but not really."
One of Morales' students, Devin Mosely, was thrilled to see his teacher honored. Mosley, 18 and a 12th grader, said Morales has the nickname of "Giddy" because she smiles every day she walks into the classroom.
Read the full story and watch the video from the Belleville News-Democrat...