Haptic Technology Offers Powerful Tools in a New Era of Exploratory Learning
by Tom Hanlon / Feb 27, 2023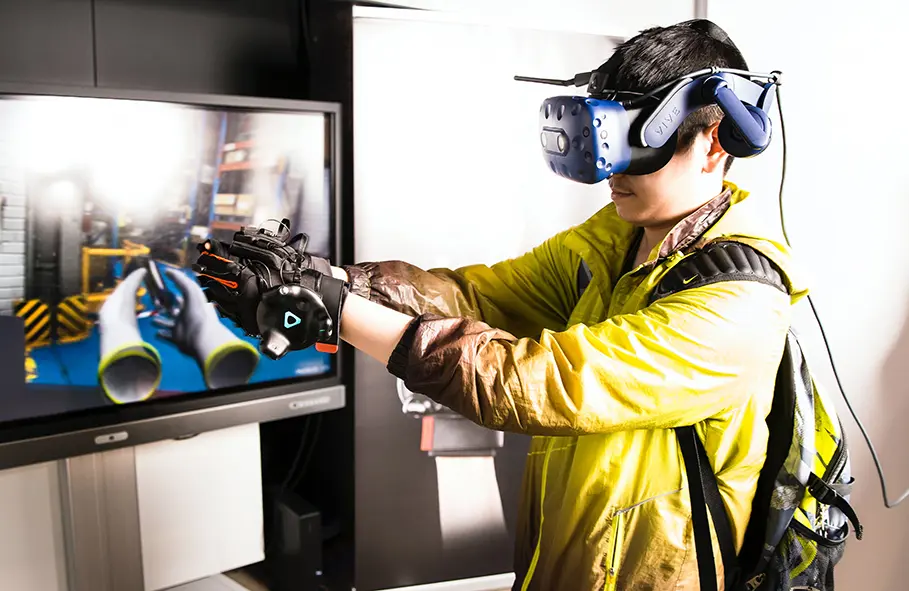 Robb Lindgren is part of a multi-institutional team that is exploring how to design powerful new haptic technology tools to provide students with simulated physical feedback that can be especially useful in understanding complex phenomena in STEM classes.
Your phone vibrating in your pocket. Your car's assistive technology warning you that you're drifting out of your lane. Your video game controller allowing you to feel your tires skimming along the dirt, the bumps in the terrain, the resistance of the gas pedal as you accelerate in Dirt 5, a video racing game.
These physical sensations come to you courtesy of haptic feedback, a type of technology that provides simulated physical feedback.
"Right now, haptics is a little known and underused technology for most people in education," says Robb Lindgren, an associate professor with a joint appointment in Curriculum & Instruction and Educational Psychology in the College of Education. "If anything, people think of it as the bells and whistles of certain video games that can make them more exciting. They're not thinking about how can I potentially use this technology to help my students understand things?"
Lindgren, however, is. And the research he's conducting in the field of haptic technology is both promising and exciting for the future of education.
Collaborative Grant
Lindgren is part of a collaborative grant, working with researchers from the University of Iowa and University at Albany to create haptic tools for use in educational contexts. The grant is funded by the NSF's Research on Emerging Technologies for Teaching and Learning (RETTL) program.
Lindgren's role is to design and develop a biochemistry simulation that undergraduate students will interact with using a haptic glove. The specific learning objective of the simulation is understanding the multiple forces that determine whether and how many ions cross the cell membrane—a type of phenomenon referred to as "dynamic equilibrium." At Albany, project team members will develop the haptic glove that will deliver force feedback and guide students' gestures as they interact with the simulation. At Iowa, researchers will study the learning and neuropsychological effects of students using the technologies. This includes using a relatively new type of brain scanning technology called fNIRS (functional near-infrared spectroscopy) that allows for more flexibility and movement than an fMRI. The three-year project started in September.
"It's an interesting and interdisciplinary opportunity to look at how new technologies aren't simply used in educational contexts but are designed specifically for those contexts," says Lindgren, who has affiliate appointments at the Beckman Institute, the National Center for Supercomputing Applications (NCSA), the Informatics program in the iSchool, and the Computers and Education program in the Grainger College of Engineering. "We're pushing the envelope and doing things that haven't been done before in terms of how haptic technologies are developed."
Uses of Haptic Technology in Education
In pushing the envelope, the research team is opening the door wider to the use of haptics in education.
"You'll find these technologies in medical simulation environments, in industry and engineering contexts, but you'll rarely find them in educational contexts," Lindgren says. "It's not widespread in education largely because of the cost of the gloves. But it doesn't have to be that way."
He notes that the cost of a commercially available haptic glove—about $20,000—has remained constant for the last 20 to 30 years. "Our goal is to create a specific application that shows a lower-cost version of these gloves can be effective in educational contexts," Lindgren says. "And then spur more designers and developers to create applications that use these kinds of gloves.
"A $20,000 glove will typically have features that are overkill and frankly not well-suited for the kinds of feedback that we'd want to give a college student or a K-12 student."
Lindgren believes that educational applications can provide the kinds of force feedback—the tactile feedback provided through the glove—that will help lead students to make gestures that afford more effective scientific explanations. "This is an opportunity for us to say these are the very specific things that these gloves would need to have and then to make versions of the glove that will be much more affordable for school and university contexts," he says.
How can haptics be used in the classroom?
"Imagine a math classroom," Lindgren says. "Supporting students' understandings of spatial relationships in geometry or their explanations of quantitative relationships, such as ratio and proportion, to be able to respond to students' attempts to represent these ideas with their hands in real time and with feedback they can feel—that could be really powerful."
The uses don't begin and end with math.
"I think this could be used in almost any context where giving visual spatial explanations and representations is done," Lindgren says. "Which is almost all domains. Talking about geographical displacement in history, talking about the ways that artists express their ideas in sculpture, in paintings… anywhere one can use gestures could be aided and supported by haptic devices and technologies."
Project Exploration
Part of the project is exploring how haptics can help students understand scientific systems when there are multiple variables at play, Lindgren says. For example, there's more than one factor that determines whether ions move from the outside to the inside of a cell. "There's an electrical force at play, which is basically how many positive ions versus how many negative ions are on one side of the cell versus another side, but there's also a density issue of how many ions are in one side versus how many ions are in the other side," he explains. "It becomes difficult to balance those things and talk about them simultaneously. Seeing the visualization makes things like density, how many ions are on one side versus another, very salient. But the electrical gradient is less salient.
"So, what we're doing here is providing feedback as the students are representing an ion in a simulation, saying, 'I think this ion is going to move over here.' But if that's working against the electric gradient, they're going to receive a force on their hands that says there's resistance to that movement, and that helps clue the students in to the multiple forces that are at play."
Rethinking Haptics in Education
The RETTL project, Lindgren says, is creating a different application of haptics, a different framing for how to use the technologies in education. The research is designed to spur a change in how people think about the use of haptic technologies in education.
"The goal is to help students give better explanations to these very complex phenomena by giving targeted feedback that is multimodal," he notes. "You hear people talk about the importance of multimodality in education a lot these days. But particularly for the modality of touch and feelings of force, there's not a lot of work about how to embrace those kinds of sensations in typical learning environments. So, this is a way to start talking about those things, about how you design a touch-based experience for students. It's an exciting area."
And it's an area, he emphasizes that is a shared space.
"I believe very passionately that adoption of educational technology cannot be a one-way street," Lindgren says. "It can't be researchers or companies or designers telling teachers, 'Use these technologies and use them in these very specific ways.' It has to be a process of helping instructors to understand the affordances of these technologies and allow them the opportunity to design the specific experience and the specific way that those technologies are used. Because ultimately, they're the experts on the pedagogies and the ways that they cultivate learning in their environments. We just want to give them new and powerful tools to be able to do that more effectively."
Promising Era of Exploration
Lindgren sees the RETTL project as groundbreaking.
"If we think more creatively about how these technologies can be used to support learning, it's going to open up the ways that we can utilize haptics in K-12 and in university contexts," he says. "In specific contexts, we'd really like to open it up for all students. It certainly has a lot of relevance in any of the STEM fields."
Lindgren hopes that the project will show the potential and utility of haptic technology in educational environments so that teachers can see the possibilities and engage in meaningful conversations about how the technologies can be used.
"If we're successful and we demonstrate that these are very powerful tools for inducing new learning, we'll be able to sit down and have those conversations and say, 'How would you like to use this to teach geometry? How would you like to use this to teach about government or whatever you are interested in?' That's what I'm excited about," Lindgren says. "It's not that I think every student should come to class with a haptic glove, but that it becomes an option and something that teachers and also students are thinking about ways they can be used in the educational ecosystem.
"I believe that we're cracking open what will be a really promising era of exploration."
Learn more about Research on Emerging Technologies for Teaching and Learning(RETTL) ...