'Thanks to Illinois for Making My Dreams Possible'
by Ethan Simmons, The News-Gazette / Oct 29, 2022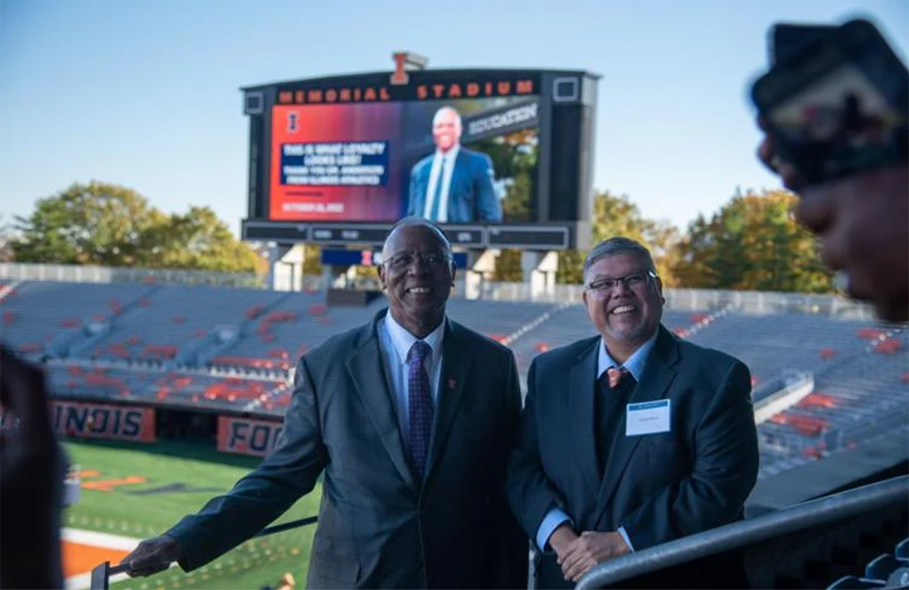 Professor Emeritus James D. Anderson stands next to fellow College of Education colleague professor Victor Perez outside the Colonnades Club at Memorial Stadium, where Anderson's image projects on the jumbotron. Photo credit Ethan Simmons, News-Gazette.
When James D. Anderson arrived to Champaign-Urbana in the fall of '66 as a graduate student, fresh out of Stillman College in Tuscaloosa, Alabama, he didn't know a soul on campus. He didn't even have a place to stay.
Fifty-six years later, the retired Dr. Anderson walked out of a door of the Colonnades Club to see his face projected on the big screen of Memorial Stadium.

"There's no way I could've imagined the career that I've been so blessed with," Anderson said. "And that's why I say this for young people everywhere: Just give yourself a chance sometimes. You have no idea how life is going to turn out."
Having spent a half-century as an educator, mentor, and administrator at the University of Illinois campus, Anderson retired in June after six years helming the UI's College of Education as dean. He spent Friday afternoon surrounded by generations of friends, colleagues, peers and students gathered in his tribute.
Anderson's knowledge of the history of African American education is internationally renowned. His 1988 book "The Education of Blacks in the South, 1860-1935" won the American Educational Research Association's outstanding book award in 1990. He has served as an expert witness in several seminal desegregation and affirmative action court cases, and even appeared on six televised documentaries.
In his 48 years on the UI faculty, Anderson advised more than 100 master's and doctoral students, who knew him as "Doc." He held positions on nearly 70 different campus committees, including the search team that invited Chancellor Robert Jones to join the university.
"I don't think there is another scholar in this world who has touched more lives than Professor Jim Anderson," Jones said. "I consider myself as one of your students; I consider myself deeply humbled in your presence."
Both are from the Deep South — Anderson was born in Eutaw, Ala., in November 1944. It was Jones who persuaded Anderson to take what ended up being his final role at the university.

"We had to twist both of his arms and one of his legs to get him to serve as the interim Dean of the College of Education," Jones said. "He's a true scholar; he wanted to avoid the dark side of administration at any cost."
Turns out, Anderson was fulfilling a favor. After Jones accepted the offer of chancellor, committee members wrote notes to greet him. Anderson wrote Jones, "I got your back."
"And now, he was asking me to do something," Anderson fondly recalled. "I said, 'Now it's time for you to deliver on what you promised.'"
The celebration was lined with the voices of Ollie Watts Davis' Black Chorus, who performed for Anderson their renditions of "Lovely Day" by Bill Withers, "My Guy" by Mary Wells, "The Way You Do the Things You Do" by The Temptations, "Lift Every Voice and Sing" by James Weldon and J. Rosamond Johnson, and "Optimistic" by the ensemble Sounds of Blackness.
"It was so important for me to know I had an elder brother when I came to the prairies of Illinois," Watts Davis told the audience.
To Perry Range, a former Illini men's basketball player, Anderson was "Big Jim." He led another life as a mentor to student athletes and joined him and his teammates on morning runs across campus.
"He builds your confidence; he's always a team player," Range said. "My hero coming up was No. 6, Dr. J. Now as I leave, Dr. J is retired — but Dr. James Anderson, my good friend, he has always been my hero."
Joy Williamson-Lott is now dean of the graduate school at the University of Washington. Though her career's roots trace back to her advisor Anderson and his longtime "partner in crime" on the faculty, Dr. William Trent.
"We all here are standing on the shoulders of giants," Williamson-Lott said. "Doc and Trent aren't just tall, look at how high they both held us: We got provosts; we got deans; we got presidents; we got people outside of academia; we got superintendents. We got all kinds of people who came through here because they said 'yes.'"
After a long day of celebrating himself, a humble Anderson directed his attention outward. He thanked his college's staff, admitting that he tried to "sneak out the back door" after announcing his retirement, and expressed his gratitude to the people who supported his long tenure on campus.
"Don't think of what you can do as some magnificent leader. Think about what you can do with all kinds of support from other people to make your dreams possible," Anderson said. "Thanks to Illinois for making my dreams possible."