Illinois State Legislature Honors Dean James D. Anderson
by Ashley Lawrence / Apr 13, 2022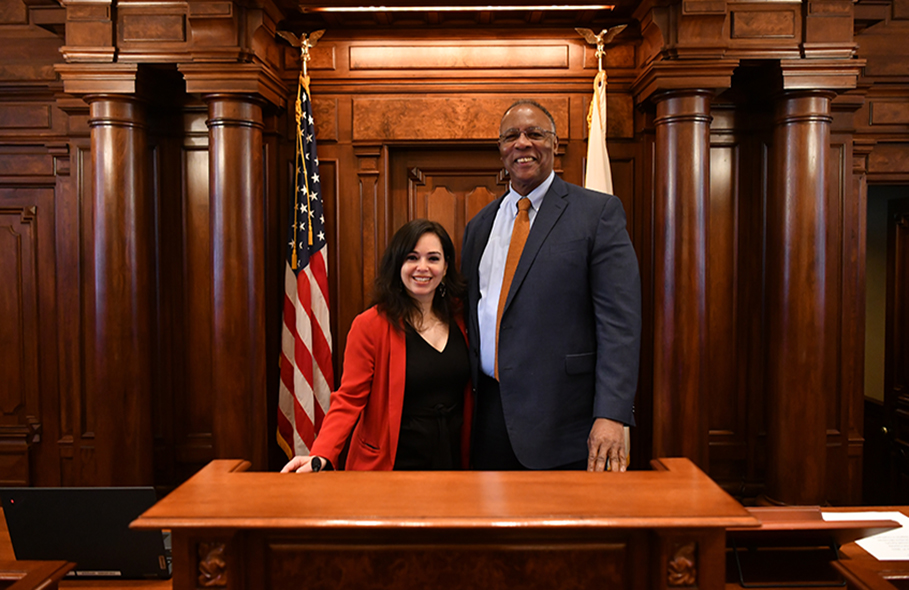 Policymakers in Springfield recognized a giant within the field of education last week, ahead of his approaching retirement. James D. Anderson, dean of the College of Education at the University of Illinois Urbana-Champaign, was presented with a proclamation honoring his "invaluable contributions" to the state of Illinois and the discipline of education.
State Senators and UI alumni Cristina Pacione-Zayas, B.A. '00 LAS, Ed.M. '03 EPOL, Ph.D. '09 EPOL, and Celina Villanueva, B.A. '08 LAS, initially proposed that Anderson be recognized by the Illinois legislature on April 7 at the Capitol Building.
"It was my honor to welcome Dr. James Anderson to Springfield and present him with a proclamation and certificate to highlight his outstanding work in education," said Sen. Pacione-Zayas (D-Chicago). "The body of research on the history of education will forever be impacted by his work, especially his expertise on African American education. During his time as a professor, department chair, and dean, he has cultivated the minds of countless students and removed barriers for their educational attainment. I congratulate him on his nearly 50 years of service and express my deep gratitude for his mentorship," she said.
Among others, Lt. Governor Juliana Stratton, B.S. '97 MEDIA, and Rep. Carol Ammons (D-Urbana) were on hand to celebrate Anderson's immense impact.
In her announcement to the Senate floor, Sen. Pacione-Zayas continued, "Dr. Anderson, or "Doc" as his students call him, is one of those individuals whose wisdom, commitment, and talent has poured into literally hundreds of doctoral, master's, and bachelor's degree holders in the area of Educational Policy Studies at the University of Illinois Urbana-Champaign. He is one of the most sought-after historians in our nation, and I had the honor of him chairing my dissertation committee.
"We are fortunate that his academic home has been the University of Illinois at Urbana-Champaign throughout his storied career," said Sen. Pacione-Zayas. "While his honors and achievements on the national and global stage are numerous and prestigious, his unequivocal contribution to the field is manifested in the mentorship and unconditional support of numerous scholars—many of whom are scholars of color—who are considered the foremost leaders in education across the country in our universities and school districts. His contributions to the state and the field of education are invaluable."