Projects Explore Role of Social-Emotional Learning in Healing Racial Wounds
by Sharita Forrest, UI News Bureau / Jan 6, 2021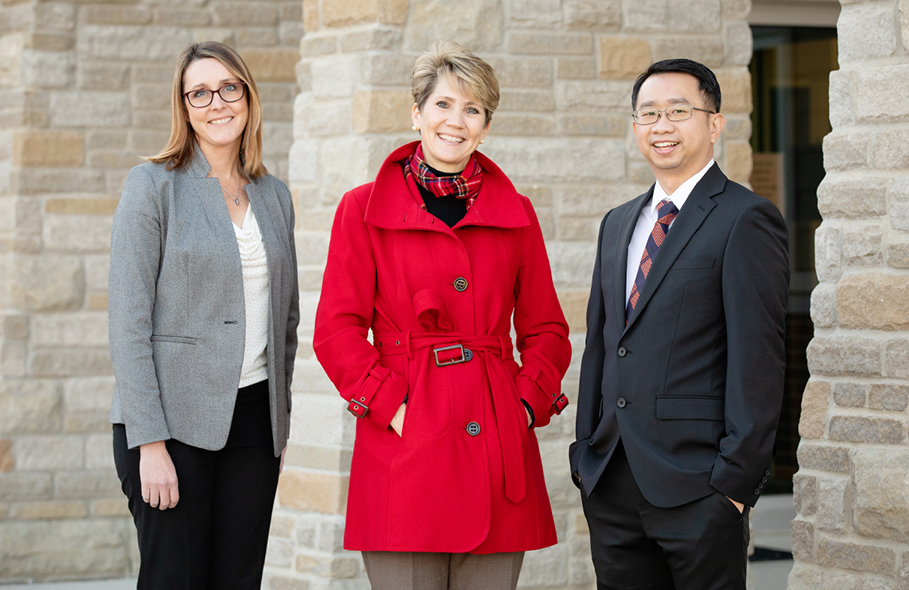 University of Illinois Urbana-Champaign social work professor Kevin Tan is collaborating with members of Mahomet-Seymour Community Unit School District No. 3 including superintendent Lindsey Hall, Ed.D. '06 EOL, on activities that explore the role of social and emotional learning in racial healing.
The impact of the 2020 U.S. presidential election on children's mental health and the role of social and emotional learning in healing racial wounds will be explored in upcoming online parenting seminars and other activities.
Led by University of Illinois Urbana-Champaign SEL scholars Kevin Tan, a professor of Social Work, and Durriyyah Kemp, ­­­­an Illinois Extension educator based in Cook County, the seminars are part of a broader initiative addressing systemic racism in schools and promoting collective healing and growth in Illinois communities.
Kemp will lead online focus group discussions that explore parenting in the current social and political climate and examine the impact of the 2020 U.S. presidential election on young people's mental health. Titled "Bold Conversations: Racial Healing With Social and Emotional Learning," the online discussions are open to all parents and caregivers in Illinois.
On January 9, participants will explore parenting within white supremacy culture. The discussion on January 19 will examine the role of SEL in healing racial wounds and the importance of parents' nurturing their children's social and emotional development when discussing issues of race and racism.
"We want to build parents' capacity to address their children's social and emotional needs and help them develop the competencies such as self-awareness, managing emotions and valuing diversity that are expected of young people today as participants in a global society," Kemp said.
The parenting seminars and some other racial healing activities Tan and Kemp will lead are supported by a grant from Healing Illinois, a statewide anti-racism initiative funded by the Illinois Department of Human Services in partnership with the Chicago Community Trust.
Kemp and Tan are collaborating with students, parents and teachers in two schools in the ASPIRA of Illinois system in Chicago on developing an equity-focused SEL intervention for the classroom that is intended to encourage more young people of color to pursue careers in math and science fields. That work is funded by a $60,000 faculty collaboration grant from Illinois Extension.
Additionally, Tan is working with the Mahomet-Seymour Community Unit School District No. 3 in Mahomet, Illinois, and the surrounding community on SEL workshops and race relations and equity initiatives. Some of that work is being funded by a $45,000 Healing Illinois grant to the school district.
On January 19 and 23, the Collaborative for Academic, Social and Emotional Learning, a national organization, will hold sessions on transformative SEL for members of the Mahomet community.
"Transformative SEL is a collaborative process in which youths and adults come together to seek understanding and explore solutions with regards to race relations and social justice issues," Tan said.
In the spring, CASEL will lead a series of sessions with school administrators that will provide them with additional skills and tools to support SEL in adults and students.
In September, in response to nationwide racial unrest related to the death of George Floyd, an African American man who died while under arrest in Minneapolis, Tan and some colleagues hosted three in-person and one virtual town hall meeting for students, parents and members of the Mahomet community to voice their concerns.
"Those conversations, which were not easy to have, were really meaningful opportunities for the district to hear directly from parents," Tan said. "We came out of the town halls recognizing more work needs to be done. People want change to occur immediately, but it's a process that takes time."
For staff in Mahomet schools, Tan and his colleagues conducted workshops on SEL and young people's mental health, along with bystander training on confronting acts of bigotry and racism.
Currently, the school district's staff members are reading the book "Culture, Class and Race." Tan is working with administrators and staff members to equip them with the skills and tools to discuss SEL, diversity, equity and inclusion with students.
Nicole Rummel, the school district's director of instruction, said the school district also reached out to the U. of I. School of Social Work for help supporting the district's staff members and families after Illinois passed a law last year requiring public schools' history curricula to include content on the positive contributions of lesbian, gay, and transgender individuals.
Superintendent and College of Education alumna Lindsey Hall said the school district's equity work is important because the community has experienced significant growth and demographic changes in recent years.
"All of our students need to feel accepted and welcomed as part of our community," Hall said.
Tan said some of the Healing Illinois funding is being used for a professional development initiative for U. of I. social work students. Over the university's winter break and spring semester 2021, a group of students who demonstrated interest in equity issues is experiencing and learning how to facilitate restorative circles on racial healing. The circles encourage participants to share personal experiences, understand others' perspectives and commit to ending white supremacy and furthering racial justice.
For more information or to register for the parenting seminar, visit the website Bold Conversations: Racial Healing with Social and Emotional Learning.