Two Education Faculty Receive 2020 'Make A Difference' Awards
by Office of the Vice Chancellor for Diversity, Equity & Inclusion / Dec 14, 2020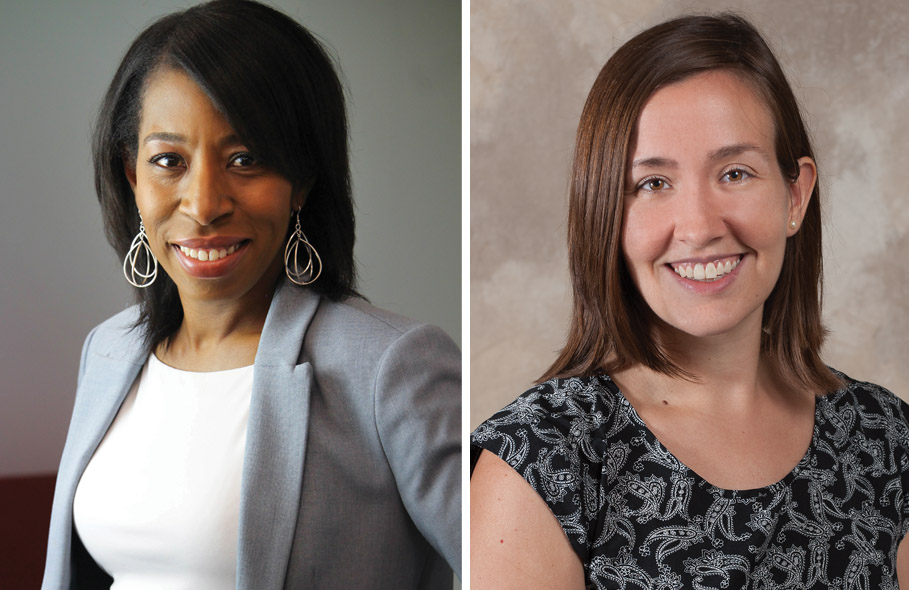 Congratulations to Eboni Zamani-Gallaher and Meghan Burke, who were chosen as 2020 recipients of the Larine Y. Cowan Make a Difference Award. These campus-level annual awards celebrate the achievements of faculty, academic professionals and civic service employees who made significant contributions in creating and sustaining an inclusive living, learning, and working community at Illinois.
Named in honor of the past Assistant Chancellor and Director of what is now the Office for Access & Equity, the Larine Y. Cowan Awards were created to reflect the commitment to human rights advocacy, social justice, and diversity that defined her leadership for nearly 20 years at Illinois.

Read more about Eboni and Meghan's accomplishments, below, and watch the Annual Celebration of Diversity video here.
Teaching and Mentoring in Diversity
2020 Larine Y. Cowan Make a Difference Award

A nationally renowned scholar in higher education and policy, Eboni Zamani-Gallaher, professor of Education Policy, Organization and Leadership, is considered one of the leading experts on issues of equity and diversity at community colleges. Her work aims to bridge scholarship with practice in higher education and strives to ensure the applicability of diversity research in educational and workplace environments.
As the director of the Office of Community College Research and Leadership, Dr. Zamani-Gallaher has expanded the scope and vision of that office to provide equity-driven change, comprehensive P-20 educational pathways, transformative leadership, and public engagement through evidence-based research. She was also instrumental in establishing the Dean's Diversity Lecture Series in the College of Education. Every grant she has secured advances research and informs practitioners' actions towards achieving racial equity in education. She has secured National Science Foundation (NSF) grants to study the undergraduate STEM pipeline at two-year Hispanic Serving Institutions (HSIs), as well as racial equity and access issues in Calculus courses at community colleges, a Lumina Foundation grant to support professional development workshops for community college leaders on advancing racial justice and equitable outcomes for students, and two Bill and Melinda Gates Foundation grants.
A mentor to countless undergraduate and graduate students, Dr. Zamani-Gallaher has been a caring advocate and role model who provides endless support and guidance to grow the next generation of equity-minded citizens and scholars. In the words of one nominator, "I have never met such a truly selfless scholar whose entire embodiment and barometer of success for her own career is based on nurturing, promoting, uplifting, and advancing the careers of others." Dr. Zamani-Gallaher's tireless efforts and dedication consistently put into lived practice her message that diversity is excellence.
Excellence in Access and Accommodations
2020 Larine Y. Cowan Make a Difference Award
Meghan Burke, associate professor of Special Education, is described by her nominators as a model of someone who has and continues to make a difference in the Champaign-Urbana community. With a deep commitment to real-life translations of research to practice, Dr. Burke developed the Volunteer Advocacy Project (VAP), which provides 36 hours of training to enable individuals – primarily parents – to become special education advocates for other families of children with disabilities. Her studies have extended the literature on special education advocacy and have clear and specific implications for future research, policy, and practice, leading to increased parental empowerment, improved services for individuals with disabilities, and improved quality of life for families.
In 2019, the News Gazette and Chancellor Jones highlighted Dr. Burke's work with students in her physical disabilities and assistive technology class, who together worked to create a website, Access Urbana-Champaign, that rated 117 local restaurants as having excellent, good or limited accessibility. Under Dr. Burke's guidance, students visited each restaurant and using a 25-item survey, rated accessibility and compliance with universal design standards. Her work with Community Choices and other local groups has also underlined her commitment to making our whole community, both university and locally based, one where all people have the opportunity for meaningful access to true participation in a community-based life.