LES Capstone Projects Bring New Ideas to Learning Environments
by Lea Peck / May 15, 2019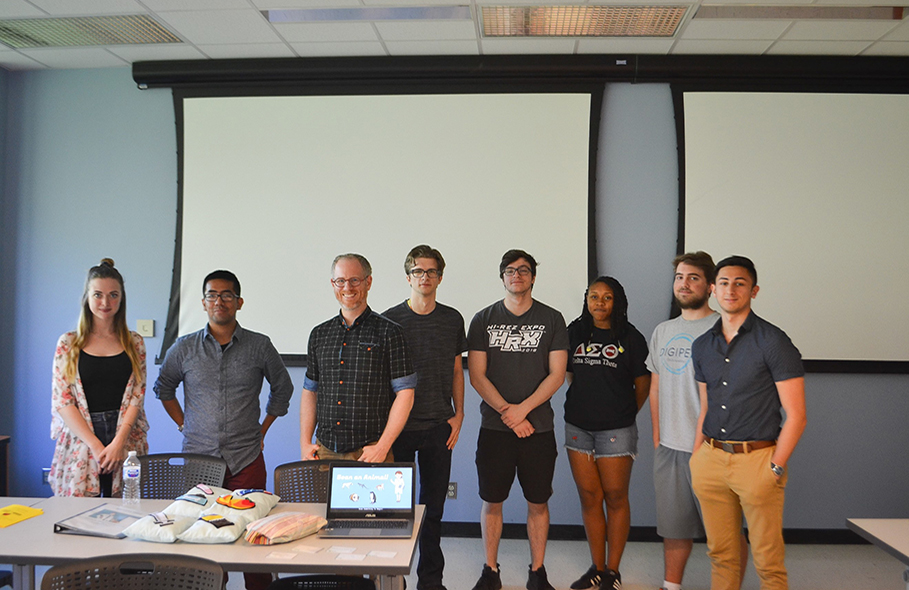 From geolocation apps for primary school history classes, to interactive activities at a children's museum, AppLeS and DELTA senior undergraduates are exploring technology that could change the way people learn.
The College's Bachelor of Science in Learning and Education Studies (LES) program focuses on the growing demand for "knowledge workers" who are prepared to lead in today's workforce landscape. LES students choose a concentration within the program, including Applied Learning Science (AppLeS) and Digital Environments for Learning, Teaching and Agency (DELTA).
Students who pursue a degree in LES gain expertise in the design, analysis, and evaluation of learning environments, and prepare for career opportunities as educators, knowledge managers, policy makers, analysts, and professionals in education, government, healthcare, business, and non-profit organizations.
Applied Learning Science
AppLeS provides a thorough grounding in the learning sciences through an innovative program that includes courses in learning, language understanding, quantitative reasoning and statistics, designing learning environments, and human performance.
The program culminates in a capstone course in which the student works on a research project under the direction of one or more faculty members. Graduating students will have a solid preparation for graduate study in this emerging area of scholarship, as well as in education, psychology, business, law, and other areas of study.
Vocabulary Learning Capstone Project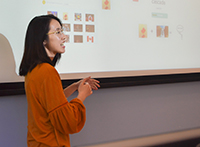 Senior Xue Chen developed an application for vocabulary learning through a keyword mnemonics method application. The keyword method is a memory technique that emphasizes the meaningful integration of visual images and acoustic links to enhance the memory retention of vocabulary. In Xue's interactive prototype application learners used self-generated keywords and images that they associated with the vocabulary word they were trying to remember.
For example, if a native English speaker is trying to learn the Spanish word "playa" meaning "beach" he may enter the word "player" and choose a photo of someone playing beach volleyball. All of those words and images would then be integrated into one word: playa.
Limited English Proficiency in Health Capstone Project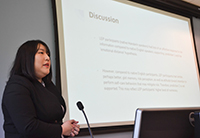 AppLeS senior Yanhong Zhong focused on the idea that limited English proficiency lessens effective responses to health information. Before her study, Yanhong predicted that non-native English speakers would show less affective responses toward health risk information compared to native English speakers.
She presented six scenarios to participants (native and non-native English speakers) where "patients" would be given health diagnoses and risk factors. Here is an example of a scenerio: "Marsha is a 75-year-old woman without a family history of coronary artery disease. She does not smoke, but she is overweight. Here are her cholesterol test results." Participants would then review the scenario and test results and answer a survey of questions that evaluated their understanding, as well as their emotional response.
Digital Environments for Learning, Teaching and Agency
DELTA students work to design and implement digital technologies that promote learning in a range of environments including classrooms, mobile devices and immersive virtual worlds, in schools, homes, museums, and workplaces.
The DELTA capstone is project-based course where students work in teams to build technology-supported learning activities. The course provides a studio-based, hands-on and participatory approach to the development and research of technology tools and curriculum materials.
GeoSource Capstone Project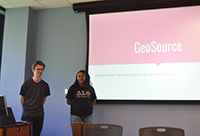 DELTA students Mikey Dentino, Theo Grant, Baily Hartley, and Jacob Theobald developed a geolocation-based app to teach students how to analyze primary sources in the context of local history. The app operates similarly to Geo Cach or Pokemon Go where participants follow a map to a specific location. For example, students may find Alma Mater on the map; once they arrive on location, primary texts and photos would pop up on screen that prompt discussion and give context to the history of the monument.
The group hopes to better prepare students on how to better use primary resources to conduct research in middle school by making them think and work like a historian.
Helping Hands Vet Clinic Capstone Project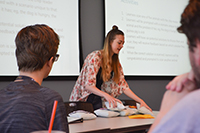 Seniors Eric Hernandez, Steph Sroczynski, and Patrick Hurtado worked with the Orpheum Children's Museum this semester to create an RFID-enabled Vet Exhibit for visitors. The exhibit gave children a basic understanding of how to take care of an animal/pet, identify problems and solutions, use process of elimination, experience collaborative learning, and develop social skills.
The exhibit had scannable stuffed animals for different scenarios. Participants were prompted to make a choice to solve the problem. For example, if participants scanned the dog, a possible would have been: "The dog is hungry! What could he eat?" Students then chose from scannable pillows containing different items including dog food and chocolate. If they chose dog food they got a correct message; if they chose chocolate they were told that chocolate is bad for dogs and asked to try again.