I-STECS: Ushering in the New Frontier of School Curriculum
by Tom Hanlon / Oct 23, 2018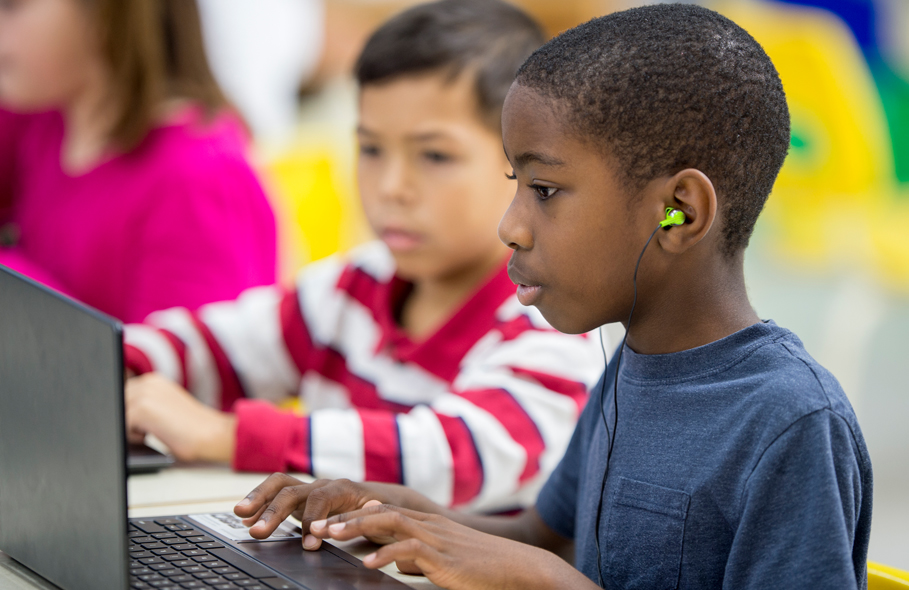 As the field of computer science continues to grow and impact essentially every industry, the need for computer science education in high schools becomes ever greater. According to a recent Gallup survey, 84 percent of parents, 71 percent of teachers, and 66 percent of principals say that offering computer science is more important than or just as important as offering required courses such as math, science, history, and English.
Currently, there aren't enough high school teachers who are certified or endorsed to teach computer science—but an initiative undertaken by the University of Illinois promises to change that and establish the university as a leader in the development of secondary computer science education.
The Illinois Secondary Teacher Education and Computer Science (I-STECS) initiative will establish an undergraduate program to certify high school computer science teachers, says Mark Dressman. It will also create an online or hybrid program through which current secondary teachers can earn an endorsement for computer science education.
Dressman, a professor in Curriculum & Instruction in the University of Illinois' College of Education, is lead author and project coordinator of the initiative.
"Computer science and programming and coding are going to become the "fourth 'R,'" says Dressman. "Why do you need to be literate? Why do you need to learn math? It's for the same reasons. Computer science education is the new frontier of school curriculum."
I-STECS Fulfilling Many Needs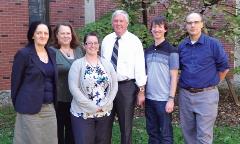 I-STECS is a collaborative effort involving faculty and administrators from the College of Education, the College of Engineering (the Department of Computer Science), and the Council on Teacher Education. This effort is coming at the right time for a few reasons, Dressman says.
First, computers are an integral part of everyday life and their digital fingerprint is on almost every industry. "To live in the 21st century everything you do is going to be digital," he says. "There's a real need for people to know how that stuff works."
Second, the initiative fits perfectly with the university's land-grant mission. "The University of Illinois, the College of Education, the College of Engineering, are perfectly situated to help students become literate in computer science," Dressman says. "Illinois is a land-grant institution and has one of the top engineering schools in not just the country but the world, and there's a need for both Colleges to fulfill our land-grant mission."
Third, and perhaps most importantly, Dressman adds, the state of Illinois is emphasizing the need for such education. Chicago Public Schools are now mandating that to graduate, a student must take a computer science class—driving the need for teachers with certifications or endorsements. Currently, only a program run in partnership between Illinois State University and Northeastern Illinois University is offering such certification in Illinois. The state finds itself in a vicious cycle of having few high school computer science classes offered because there are few teachers who are certified in the subject. And teachers aren't getting certified because… well, most schools don't offer computer science classes. Why get certified in something you aren't going to teach?
"How do you break that cycle?" asks Luc Paquette, assistant professor in Curriculum & Instruction and project co-coordinator. "You break it by exposing students to computer science, which will increase the number of students who are interested in studying computer science or a related field at the university level."
In other words, you break the cycle with I-STECS. The five-year initiative (one year each for feasibility and curriculum development, three years for implementation) will begin to produce the certified and endorsed teachers that the state needs to educate high school students in computer science. And those students can eventually help revive the state's flagging economy.
"The College of Education and the College of Engineering are at the center of that huge part of the rejuvenation of the state's economy," Dressman says. "I see this connecting the College of Education to the university's emerging role as this engine of science and technology. It's always been there but it's that on steroids now."
Investment for Growth Funding
I-STECS is one of 14 proposed projects selected by campus to receive "Investment for Growth" funding. Now in its second year, the Investment for Growth program generates new sources of revenue while continuing to invest in the university's missions of education, research, and public engagement.
I-STECS is the second Investment for Growth project selected by campus from the College of Education. The College's TIER-ED initiative was chosen for funding last year.
"The Investment for Growth program will enable the College of Education to expand our mission," says College of Education Dean James Anderson. "The I-STECS initiative responds directly to recent, urgent calls from politicians, business leaders, educational policy makers, and school administrators, especially in Chicago, for the establishment of programs of computer science throughout secondary schools in the State of Illinois and nationally."
Creating Buzz, Changing Thinking
Before any economy is rejuvenated and before the state of Illinois improves its standing in computer science education, the entrenched way of thinking needs to be uprooted.
"We are lucky in that most local schools already offer introductory courses in CS and one school offers an AP class," Dressman said. "Our role, we hope, will be to help build on those foundations and to build capacity by developing a secondary teacher education program in CS and an endorsement program for teachers locally, across the state, and nationally. In these programs teachers and pre-service teachers will acquire content knowledge in computer science as well as knowledge of how to teach this content to students in K-12 and, possibly, community college settings."
Raya Hegeman-Davis, school-university research coordinator for the Bureau of Educational Research, has begun establishing connections with local schools, Dressman says. Many people involved with the initiative hope to be talking with PTAs and school boards. Dressman hopes to have many schools in Champaign County who are already offering introductory classes in computer science to begin offering more advanced classes, and the high schools that are offering AP classes to expand their offerings.
Most of the teachers currently teaching these courses are math teachers who are not yet endorsed in computer science education. "We need to begin helping teachers in those high schools, probably in math and physics, move toward teaching these courses," he says. "They will need to learn how to program and how to teach programming and computer science."
To that end, I-STECS is developing courses for two summer institutes where teachers can receive credit and supervise the students the university recruits to take their courses.
The I-STECS team (see "I-STECS: It's a Team Effort") is also discussing the student recruitment plan. Likely candidates for the program include incoming freshman in math and physics, students already in computer science, and education students who are interested in incorporating technology in their classrooms.
I-STECS: It's a Team Effort
"I think it's absolutely critical that we are teaching students not just a basic literacy in using computers but the skills they need to be able to innovate with computers—to create and implement new algorithms, new mobile apps, new medical devices, new entertainment media, new digital learning materials, and so on, " says Gabrielle Allen, associate dean for research in the College of Education and a professor of astronomy. "It's important for our children to have the skills they need to be successful in their own careers, and for the state and nation to develop a workforce that is going to be competitive in the global economy."
"In the last decade or so, interest in teaching computer science to K-12 learners has rapidly increased," adds Chad Lane, associate professor in educational psychology. "That has led to important questions such as "What should be taught? At what grade levels?" and "What certifications should be in place for K-12 computer science educators?"
Those questions are being tackled now by the I-STECS team.
"Between the College of Education and Department of Computer Science at Illinois, the expertise and experience are in place to develop a very strong program and help Illinois excel in this area," says Lane. "It will also open up new possibilities for developing and deploying innovative methods for teaching computer science that are more age-appropriate and potentially engaging for younger learners."
Allen and Lane are part of the I-STECS overall effort to expand computer science education in K-12 and prepare teachers to teach the subject.
Other team members include:
College of Education: Mark Dressman, Luc Paquette, Elizabeth Niswander, director of strategic initiatives in the Bureau of Educational Research, and George Reese, director of the Office for Mathematics, Science, and Technology Education (MSTE)
College of Engineering: Craig Zilles, Associate Professor of Computer Science and project co-coordinator; and Leonard Pitt, associate Computer Science Department head
Council on Teacher Education: Nancy Latham, executive director
"This is a project I am very excited about," says Allen. "My own research is in astrophysics in developing software to model black holes and gravitational waves, and I know very well how important it is for students to have computer science skills to be effective researchers and to be competitive for jobs outside of academia. Students who when they join my group already know how write their own software programs, how to manipulate data, how to visualize data, have a big advantage. I would like to see I-STECS help provide this advantage to all high school students.
"I think I-STECS is going to make a really meaningful and long-term contribution in helping to prepare the teachers needed for our future workforce."
Computer Science: Solving Problems
Luc Paquette says that high school students will be taught computer science basics: how programs are executed, how to build algorithms to solve problems, how to break problems down into sub-problems and solve those and combine those solutions to arrive at a complete solution for the larger problem.
"Computer science is about more than building software," he says. "It's about solving problems. How do you look at a problem and what is this problem really about? How do I find a way to solve this problem?
"Computer science teaches us a way to think that's not necessarily covered by other disciplines. I think having studied computer science I approach solving problems differently than other people. It doesn't mean that that's the right way to think about every problem, but it is a tool, and if you have that tool when you encounter a problem, you can think about it from a computational perspective and see if it would help you solve that problem."
"Computer science is for everyone"
A different type of problem that I-STECS will help solve is who can and can't do computer science. Too many people, when thinking of a computer scientist, conjure up a picture of a white male who is socially awkward and into video games, says Paquette.
"There is nothing about computer science that makes it inherently the domain of only white males," he says. "There's been a lot of effort to break down those barriers and show that computer science is for everyone."
And, he adds, as the diversity of those who do computer science increases, that expands the ways computer science is used and who the software is designed for.
"Computer science is making its way into almost every field that exists," Paquette says. "Computational biology, computational physics, computational social science. You name it."
Discovering Passions
At the end of the five-year initiative, what does Paquette hope to see?
"I want to see an increased number of high schools offering computer science courses," he says. "I want to raise the interest in computer science in populations of students that might not have traditionally been interested. I want to see increased enrollment, both in overall numbers and in those who do not traditionally enroll in computer science programs. I want to see high school students who are more computer-science literate.
"I want to expose more students to this type of activity and see them discover a passion that they might not have otherwise discovered."
Expanding Boundaries, Thinking Across Borders
At the end of five years, Mark Dressman hopes I-STECS is operating on all cylinders: students in schools starting the program, the first core class graduated and beginning to teach in high schools, online courses leading to endorsements in computer science education for current teachers.
"I hope by then we have a functional undergraduate program that's enrolling 25 students a year," he says, "and an online program with significant numbers of teachers. And the faculty we have with computer science degrees in the College of Education are busy teaching lots of classes, with maybe some new lines: computer science and social studies. Computer science and bilingual education. Computer science and early childhood education, and so on. This is a growing trend in the field of Curriculum and Instruction, along with trends in diversity and inclusion and other areas responding to our changing demographics and economic needs."
That future also includes expanding computer science education down into elementary schools, and potentially marketing an online master's degree in computer science nationally and internationally.
"There's a huge need for this program," Dressman says. "A huge need for people to drop their fences and start thinking across borders, across curricular areas, across institutional boundaries. I think the success of this initiative depends on that."
Computer Science: It's Elementary
George Reese has long witnessed what can happen when you pair kids with computer science education.
Reese, director of the Office for Mathematics, Science, and Technology Education (MSTE) in the College of Education, first met Kathleen Harness, then an elementary school teacher in Champaign, in 2004. Harness had become excited about the Squeak Etoys programming environment and brought her ideas to MSTE.
"This led to her work with MSTE and local schools to create the etoysillinois.org site that has over two thousand programs written by both students and adults," Reese says. "It also has a variety of teacher resources created by Kathleen."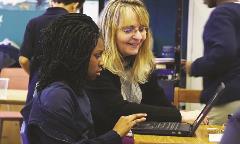 MSTE has developed curriculum resources for use in elementary schools, including those close to home, such as Kenwood Elementary in Champaign. "I and others from the University of Illinois have worked with teachers at Kenwood to make computational thinking a magnet theme," Reese says. "As a result of this effort, Kenwood is significantly more sought-after in the schools-of-choice system in Champaign."
Indeed, Kenwood is the only school in its district that offers computational thinking, a problem-solving process that involves analyzing data and using algorithms to solve problems, and coding on a school-wide basis.
"During the past fifteen years, I have also come to know the work of Lenny Pitt in the UI Computer Science Department, who has been working to make computer science for all a reality long before it had its current visibility," Reese says. "Dr. Pitt, along with my MSTE colleagues, Judy Rocke and Jana Sebestik, have published three curriculum manuals introducing youth to computer science and programming through Scratch with National 4-H."
Reese is a writer for the K-12 Computer Science Framework, which guides states, districts, and organizations in creating their own computer science education standards and in implementing computer science education for all students.
"There's an obvious need for computer-science certified teachers, and the I-STECS program is designed to address that need," says Reese.
"Beyond the need for more teachers, there is a need to integrate computational thinking throughout the K-8 curriculum. Computers are everywhere. However, the supports within the K-12 education system are still only getting started. The place of computer science as a component of the curriculum is still not worked out, even at the high school level.
"So, I am especially pleased that there is a curriculum development component to the I-STECS project. I am looking forward to working with the local schools, community partners, and cross-campus faculty and staff to have the largest possible impact locally as well as at the state and national levels."