Illinois alumna awarded for building support between teachers and students
by the College of Education at Illinois / May 30, 2018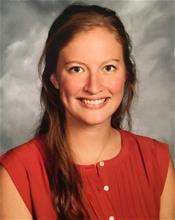 Carrie McMenamin, who minored in secondary education at the College of Education, was a co-recipient of this year's Cupcake Award from the Champaign Urbana Schools Foundation (CUSF) thanks to her work with students outside of the classroom.
McMenamin, a 2014 graduate of the College of Liberal Arts & Sciences at Illinois, led the effort to make social studies applicable to real-world situations by co-sponsoring a Model United Nations Club at Centennial High School in Champaign. Her award nominator told The News-Gazette that McMenamin's training in restorative justice practices has given her the skills to build trust among students and strong support between teachers and students.
Prior to teaching at Centennial, McMenamin said she was able to get a solid foundation in policy and pedagogy as she created lesson plans, developed her teaching philosophy, and collaborated with peers in her cohort at the College of Education.
"Our studies and practice always centered on culturally responsive education and placed the utmost importance on the diversity of students and schools," she said. "The College of Education helped me envision my future career with project-based learning experiences in the local community."
Following graduation, McMenamin said professors in the college assisted her with finding a job and offered feedback and materials for lesson plans. McMenamin herself has offered future student teachers in the college advice on what to expect during their placements.
The annual Cupcake Awards are given to area educators who display exceptional service to students, and nominators must be teachers in the Champaign or Urbana school districts. Darienne Ciuro Sanchez joins McMenamin as a co-winner of this year's award. Both educators received $500 classroom grants from CUSF.
Steve Keepes-England, a current master's student in the college, and Rhonda Turner '99 C&I, Ed.M. '03 C&I, were recipients of the Cupcake Award in 2017.