Two Education scholars honored by campus for mentoring, teaching
by the College of Education at Illinois / Apr 16, 2018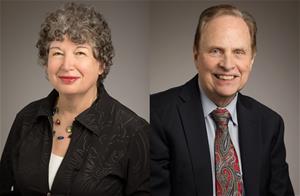 College of Education scholars Liora Bresler and David Zola were two of 21 faculty and staff members who were recognized this semester with Campus Awards for Excellence in Instruction.
Bresler received the Campus Award for Excellence in Graduate Student Mentoring, while Zola was the recipient of the Campus Award for Excellence in Undergraduate Teaching. All recipients of the campus awards were honored at an April 12 reception at the Beckman Institute for Advanced Science and Technology.
Bresler received the same campus honor more than a decade ago. She said the recognition is a meaningful public acknowledgement of what she strives to do in the classroom: connect students to course material, connect them to fellow classmates through shared experiences, and connect them to personal aspirations and quests.
"Mentoring builds on teaching, but for me, it goes beyond," said Bresler, a professor in the Department of Curriculum & Instruction. "It heightens partnerships and modeling of habits of mind and heart that are larger than mastering contents and pedagogies."
Bresler's award includes a $10,000 fellowship from the Graduate College and $1,000 to her department to support graduate-student travel.
Zola, who has been with the Department of Educational Psychology since 1978, has been rated an excellent instructor by his students in the Introduction to Educational Psychology course for 30 consecutive semesters. He is known as an educator who keeps students highly engaged through his enthusiastic, interactive teaching style. Zola also helps doctoral students as they prepare to become future teachers and scholars.
View all of the campus awardees.