New school university research coordinator joins Bureau
by Beth Niswander (eniswan1@illinois.edu) / Apr 5, 2018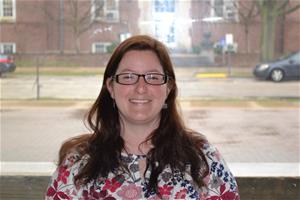 Raya Hegeman-Davis has joined the Bureau of Educational Research as a school-university research coordinator for the campus. Raya holds a doctorate in education policy and administration from the University of Minnesota and has also worked as a teacher in the Champaign Unit 4 School District.
This position has been created as a collaboration between the College of Education and the Office of the Vice Chancellor for Research, with support from the campus Office for the Protection of Research Subjects, to support research collaborations between the University of Illinois and area school districts.
Raya's position has been developed in direct response to feedback from our local school district partners, who have expressed that they would prefer a coordinated approach to research placements in schools. We want to ensure there are reliable opportunities for districts to engage early on with campus and college researchers, to provide input on study design and logistical planning of projects, how such projects might be carried out in schools, and to organize an overall forum to discuss school research interests. Raya now picks up on communications with school districts that were managed in the interim by Beth Niswander, the director of strategic initiatives.
Raya will be supported in her work by Dr. Gabrielle Allen, the director of the Bureau and associate dean for research at the College of Education. While the Bureau has offered previous coordination services in the past, we look to Raya's work as a new and sustained chapter in our work with campus researchers and PreK-12 school districts.
Please watch for further announcements from Raya about upcoming planning dates to initiate Summer 2018 research projects or to request school district participation in Summer 2018 externally funded proposal submissions.
Please help us welcome Raya. Contact her directly or submit applications for collaboration assistance via the School-University Research web page.