Elementary education senior biking with Illini 4000 for cancer awareness
by Sal Nudo / May 30, 2017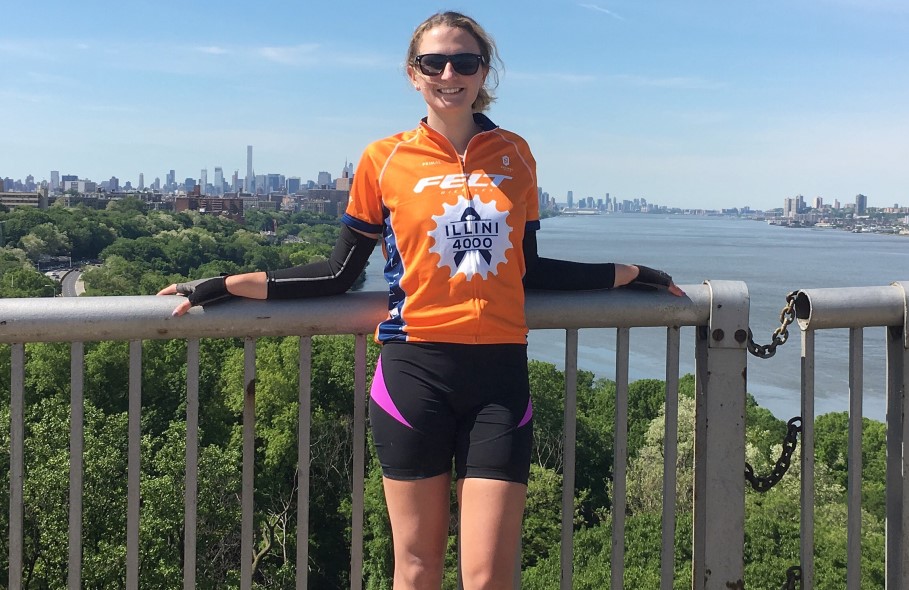 Many Illinois students who participate in the cross-country bike-riding trek as an Illini 4000 member have a cancer-related story to tell.
In the case of Maggie Benson, a senior in elementary education who will graduate next year, it was the passing of her dad's cousin from pancreatic cancer in March that inspired her to ride across America to raise awareness about a disease that afflicts thousands of people. She also participated because of what she'd heard about the landscape and camaraderie during such a journey.
"My father and uncle have done a cross-country bike trip during a summer in college and always talked about how special it was," Benson said. "So far I have been enjoying the scenery, the companionship from my teammates, and feeling inspired by the stories and generosity of people I have met along the way. This trip has really opened my eyes to the goodness of strangers."
This trip has really opened my eyes to the goodness of strangers.

Senior Maggie Benson
Traveling 70 miles per day on average, the bikers started their travels May 20 in New York City, will cruise into Champaign-Urbana June 7—Benson plans to eat at her favorite campus restaurant, Maize, while in town—and will finish in San Francisco Aug. 4.
In addition to promoting cancer awareness, members of the nonprofit, student-run Illini 4000 organization document people's cancer experiences via The Portraits Project, and they help raise money for cancer research and support services for patients. Illini 4000 students hope to raise $150,000 this year and are accepting donations through the fall.
The Portraits Project spotlights individuals nationwide who have been affected by cancer in some way, capturing their stories through interviews and photographs. So far 239 people have been featured in the project, and Benson said the riders are always looking for new folks to interview.
Benson wrote on her Illini 4000 bio page that she is excited to be an educator for a living. After graduating in 2018 she plans to teach English in South America. And later she hopes to work in a linguistically diverse school as a fourth- or fifth-grade teacher or as an English as a Second Language specialist.