College honors Distinguished Alumni and Young Alumni Achievement
by the College of Education at Illinois / Apr 3, 2017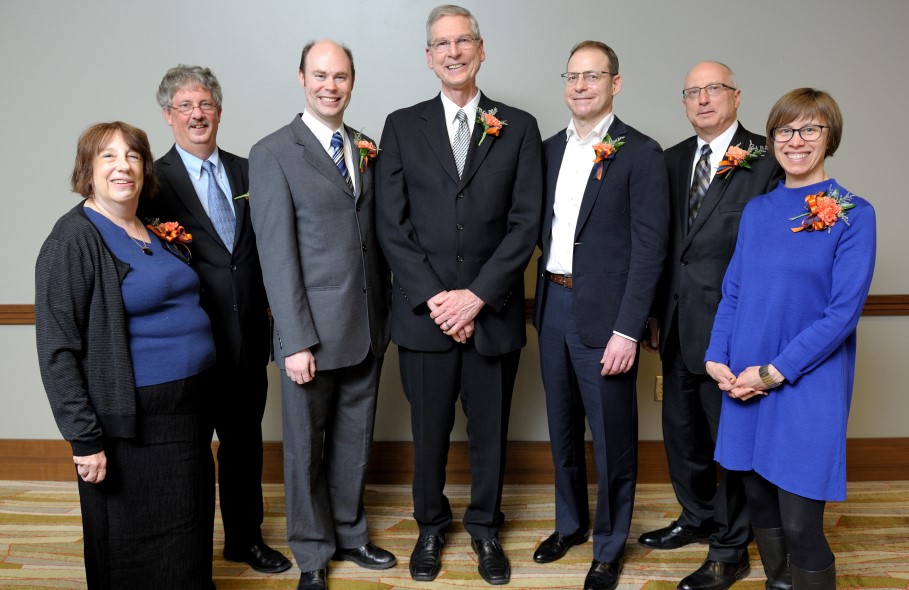 Education at Illinois graduates are recognized worldwide for their achievements in the field of education. Each year the College is proud to celebrate their successes by welcoming chosen honorees back to campus for the annual Distinguished Alumni and Young Alumni Achievement Awards.
Sponsored by the Education Alumni Association and hosted by the Office of Advancement in the College, this year's event took place on March 31 in the Technology Room of the I Hotel and Conference Center in Champaign and acknowledged six seasoned alumni and one young graduate who is demonstrating early career leadership in the education field.
The 2017 Distinguished Alumni Award recipients:
Dave Edyburn, Ph.D. '87 Spec.Ed.
Mark Gierl, Ph.D. '96 Ed.Psych
Elaine Horwitz, Ph.D. '80 C&I
Leslie Rutkowski, Ph.D. '07 Ed.Psych
Michael Wischnowski, Ph.D. '96 Spec.Ed.
Steven Wise, Ph.D. '81 Ed.Psych.
And the 2017 Young Alumni Achievement Award recipient:
Steven Luke, Ph.D. 11 Ed.Psych., MS '08 Ed.Psych
A 6 p.m. reception was followed by dinner and an awards program with gracious acceptance speeches among alumni, faculty, friends, and family members. Dean James D. Anderson and members of the Education faculty were also on hand to honor the awardees.
"We always look forward to this annual event," said Lisa Denson-Rives, associate director of alumni relations and stewardship. "These individuals are among the best in their fields, and annual event provides alumni the opportunity to connect with and celebrate their distinguished peers. Education at Illinois is recognized globally for producing some of the best education leaders. It's a privilege to welcome them back to the College to honor their dedication and success."
View the bios of each awardee and check out photos from the event.