Winners of 15th annual MLK contest announced
by the College of Education at Illinois / Jan 23, 2017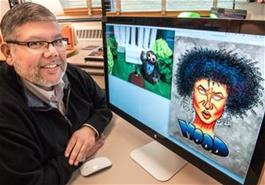 Victor Perez, coordinator of operations at the Center for Education in Small Urban Communities, said this year's MLK Creative Expressions Competition drew 109 entries from children in area K-12 schools, with the majority of submissions being essays and poems.
Perez said the 15th anniversary of the contest was a tremendous success thanks to the support from local school administrators, teachers, and parents.
"Witnessing all of the students who submitted winning entries smile and walk with great pride to receive their award makes this event all the more special," he said.
The 2017 winners were:
Second/third grades: 1) Sandaru Devmal; 2) Quincy Dixon; 3) Dayaneira Gomez; 4) Eldana Nigussie; 5) Simon Nudelman; 6) Campbell Phillips
Fourth/fifth grades: 1) Nydia Mora; 2) Corey Robinson
Middle school: 1) Kassandra Casco; 2) Sarah Ming Guo
High school: 1) Amani Joy Congleton; 2) Angelynn Huang
View the honorable mention recipients of the contest and the additional happenings that took place during the Jan. 21 Community Celebration at Krannert Center for the Performing Arts.