Registered Student Organizations for Undergraduates

Epsilon Delta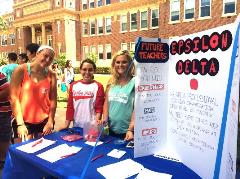 Epsilon Delta is a professional teaching organization for undergraduate students who are preparing for a career in the education profession. The purpose of the organization is to promote professional growth and understanding in the field of education. Epsilon Delta provides an opportunity for students to exchange ideas and concerns regarding educational issues. This exchange of information is presented in the format of lectures by guest professionals, workshops prepared by practicing teachers and University of Illinois faculty, and informal discussions among the members. Membership is available for any undergraduate who has a strong interest in the education profession.
Minority Association of Future Educators (MAFE)
Founded in 1994, MAFE, The Minority Association of Future Educators' mission is to provide a support network for underrepresented students seeking to become professional educators and to address the educational needs of children, with an emphasis on children from underrepresented groups. MAFE membership offers the chance to become involved with children and other community members, through community involvement, socials, and forums. For additional information, contact mafeillini@gmail.com.
Student Education Association (SEA)
With over 3.3 million students, teachers, administrators and other school staff, Student Education Association is the largest and most widely known, pre-professional education association in the nation. As an IEA-student program we provide students with professional opportunities to learn about issues teachers face while providing them with the skills and experiences necessary to become the best teachers. We also focus on community outreach and political action; serving as an organization for well-rounded, top-notch, future leading educators. For more information and questions, please visit the SEA website.
Golden Apple Illini (GA-Illini)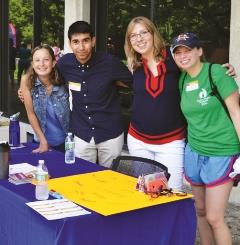 The mission of GA-Illini is to encourage unity, both now and in the future, among Golden Apple Scholars of Illinois (GA) attending the University of Illinois at Urbana-Champaign through an open forum for communication between GA, the campus, and the Golden Apple Foundation on all matters concerning GA life; provide support and guidance for GA at Illinois on social, financial, and academic matters; represent and promote the Golden Apple Foundation and the GA program in a positive, proactive manner throughout local and state communities; and contribute to the advancement and betterment of all future educators who will influence the lives of the children of tomorrow. For more information, contact Eduardo Martínez.
View a complete list of Registered Student Organizations at the University of Illinois.