Students at KAM: Education and Outreach with Sylvia Yang
by Krannert Art Museum / Feb 24, 2020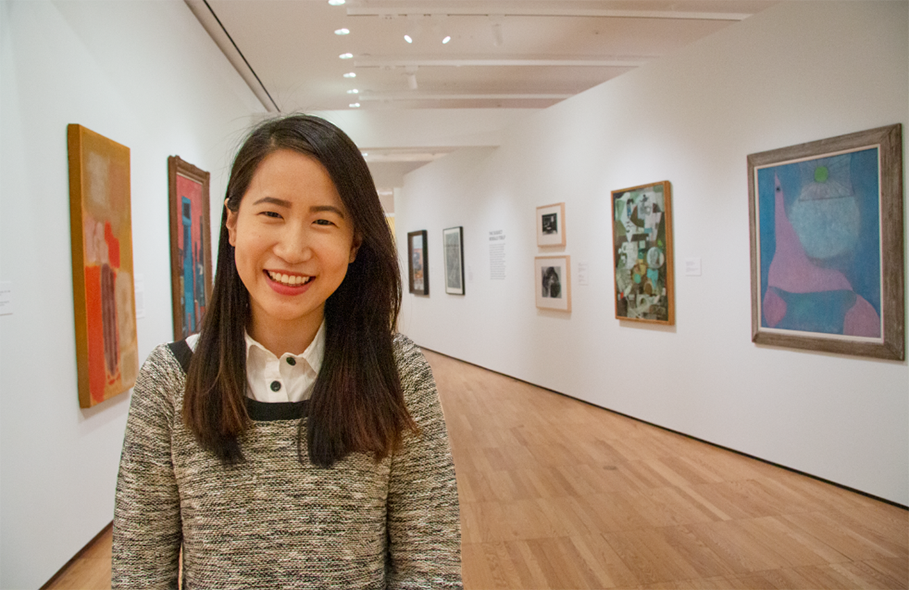 Sylvia Yang in the Krannert Art Museum collection installation Art Since 1948. Photo by Julia Nucci Kelly.
We sat down to talk with Sylvia Yang, a doctoral student and graduate assistant with the Krannert Art Museum–Week at the Museum (KAM–WAM) program. She talked about teaching at KAM and the ways her experiences at the museum relate to her studies in the College of Education at Illinois.
Q: Hi Sylvia, tell us a little bit about yourself?
I came to the U of I from Taiwan to pursue graduate studies in Curriculum & Instruction. My current focus is on early childhood and aesthetic education.
Prior to studying at Illinois, I was an intern at the Asian Art Museum in San Francisco. There, I volunteered at the Head Start program and created a bilingual Mandarin-English curriculum in collaboration with the museum.
I started at KAM in the spring of 2018. So for two years, I have researched and written study guides for exhibitions and co-developed curriculum with museum educators and teachers. I've also been able to do a lot of teaching in the galleries.
Read this full Students at KAM story, and more, at the Krannert Art Museum website...