EPSY's Joe Mirabelli Earns National Research Award From NAGAP
by Susan McKenna, Department of Bioengineering / Feb 3, 2020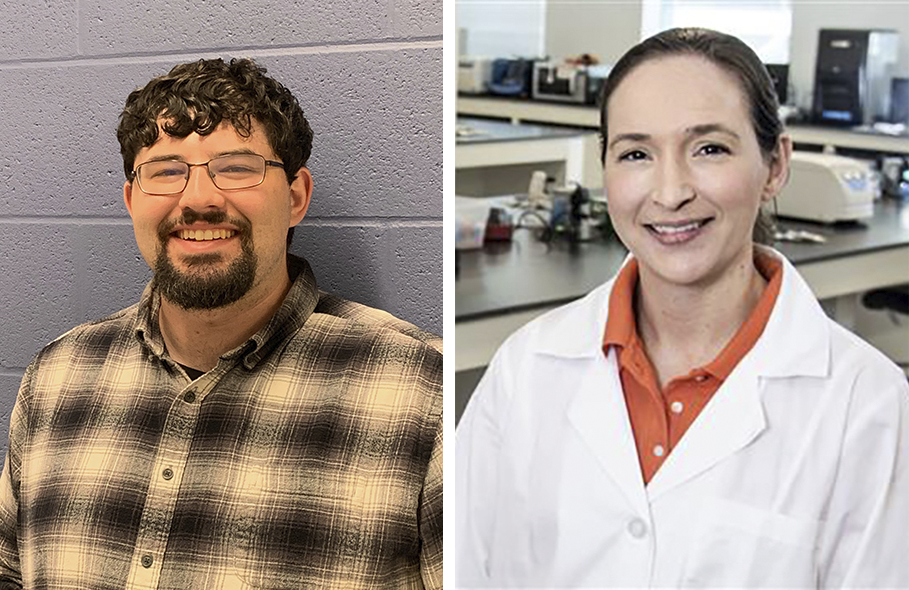 Joseph Mirabelli and faculty collaborator Karin Jensen.
Joseph Mirabelli, Educational Psychology PhD student, has earned a national Graduate Education Research Grant for his research, aimed at ensuring the mental health wellbeing of engineering students. Mirabelli, who is collaborating with Bioengineering teaching assistant professor Karin Jensen on engineering education research, received one of only two 2020 Gold Awards from the National Association of Graduate Admissions Professionals (NAGAP). The award includes $2,500 to support his work, travel assistance to the 2021 NAGAP annual conference in San Fransisco, and membership to NAGAP for one year.
Mirabelli's proposed project, "Exploring Retention, Mental Health, and Mentorship: A Qualitative Study of Engineering Faculty Advisors' Perceptions," dovetails well with Jensen's engineering education research focus on building a culture of positive mental health and wellbeing for engineering students.
"Joe is a fantastic member of our research team, and I'm proud to have the opportunity to work with him," said Jensen." This award is well-deserved recognition of Joe's research excellence."
After earning a B.S. in Engineering Physics from Illinois in 2016, Mirabelli enrolled in a nuclear physics program at Indiana University, where he says he saw many of his cohort leave within two years. Around the same time, he heard news about the simultaneous rise of student mental health problems and the large rate of graduate student attrition, which piqued his interest in transitioning to a new, related field for further study of these issues. He earned a master's degree from Indiana in 2018, and came back to Illinois in 2019 to start on his Ph.D., working under the direction of Jensen and Jennifer Cromley, associate professor in Educational Psychology, whose research interests include cognitive and motivational predictors of STEM students' achievement and retention.
"Our projects largely focus on students," Mirabelli said. "Their health, intention to remain, culture of stress, etc.—but I think it's important that we are aware of faculty perceptions when it comes to student health, as well. We want to design interventions to help the students in a way that is [also] sensitive to faculty's needs. So I hope that this project can explore what engineering faculty think can be done, how they perceive these two crises, and what changes to student life would not intrude on the faculty. In that sense, this study is a pilot study to inform any of our future interventions."
Mirabelli expects to earn his Ph.D. in 2023 and said he hopes "to build a career around improving student access to mental health care and ensuring paths to student retention, most likely as a faculty [member] in either engineering education or educational psychology."
The NAGAP created the Graduate Education Research Grant "to encourage emerging knowledge and understanding of the complexities of graduate enrollment management," according to its website, "including all aspects of admissions and recruitment, enrollment, retention, and graduation in higher education."