2019 Graduate Student Conference Broadens Conversations
by Ashley Lawrence / Apr 4, 2019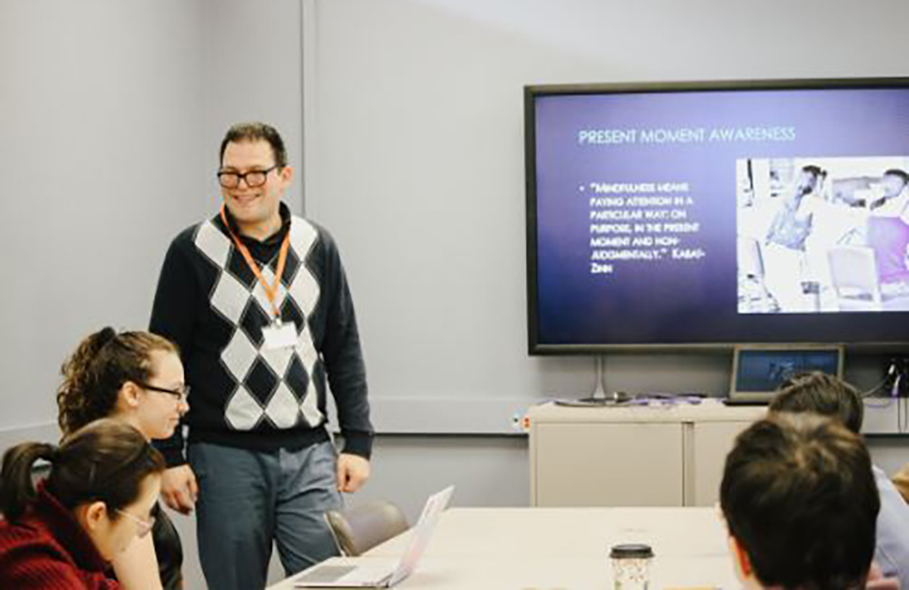 Each spring since 2010, the College of Education has provided a venue for its graduate students to come together to share scholarship in an environment designed to foster feedback and develop graduate work.
The 10th Annual Graduate Student Conference, themed: The Urgency of Now: A Clear Call to Action, did this and more, according to the conference committee chair Ross Toedte, PhD student in Educational Psychology.
"Graduate students' work is tough enough, and finding opportunities for talking about it are not that common," said Toedte. "Many conferences only want complete studies or work that falls into specific categories. Our call for participation encouraged diverse, subjective interpretations of 'urgent' educational scholarship and works in progress."
Besides being inclusive of research in various forms, the 2019 conference committee made the decision to reach out to other campuses with the goal of broadening conversations already happening at Illinois. Attendees from Indiana, Maryland, Colorado, and North Carolina—in addition to students at other universities in Illinois—participated in the Graduate Student Conference for the first time. Many of these long-distance attendees presented their work virtually, a nod to the ever-present need for technology solutions in educational spaces and the needs of a critical mass of online graduate students and programs throughout the nation.
"I personally enjoyed the presentations in the 'Importance of Learning Communities' session. The presenters from the University of Colorado Boulder presented virtually about their work into child-friendly cities and encouraged a great conversation on makerspaces," said Carrie James, PhD student in Curriculum & Instruction and 2019 conference committee member.
Purposefully held on the same day as the College's Annual Distinguished Alumni and Young Alumni Achievement Awards dinner and program, the conference benefitted from 2019 awardees participating in various ways. Margaret Kobia, Kenya's Cabinet Secretary in the Ministry of Public Service, Youth and Gender Affairs, delivered the conference's opening keynote address and was recognized as a 2019 College of Education Distinguished Alumna later in the evening. Other awardees chaired various presentation areas of the conference and provided feedback on students' developing educational research and ideas during the poster session.
2019 Distinguished Alumna Patricia Clark gave closing remarks to conference attendees.
"I really liked Dr. Clark's remarks at the end of the day, because she linked administration with effective classroom practice and provided great examples of what does and does not work," said Toedte.
Professional development and networking opportunities were also take-aways for conference organizers and attendees. James underscored how being part of the conference's planning committee was a truly positive experience.
"I wanted to participate in the conference mainly to meet other graduate students, learn from their research, and gain experience in conference planning. This happened, and it also prepared me to engage more fully in the professional conferences in my particular discipline," said James.
For more on the 2019 Graduate Student Conference, follow @GSC_CollegeOfEd on Twitter.