A Leader Who Gives
by Sal Nudo / Jul 31, 2018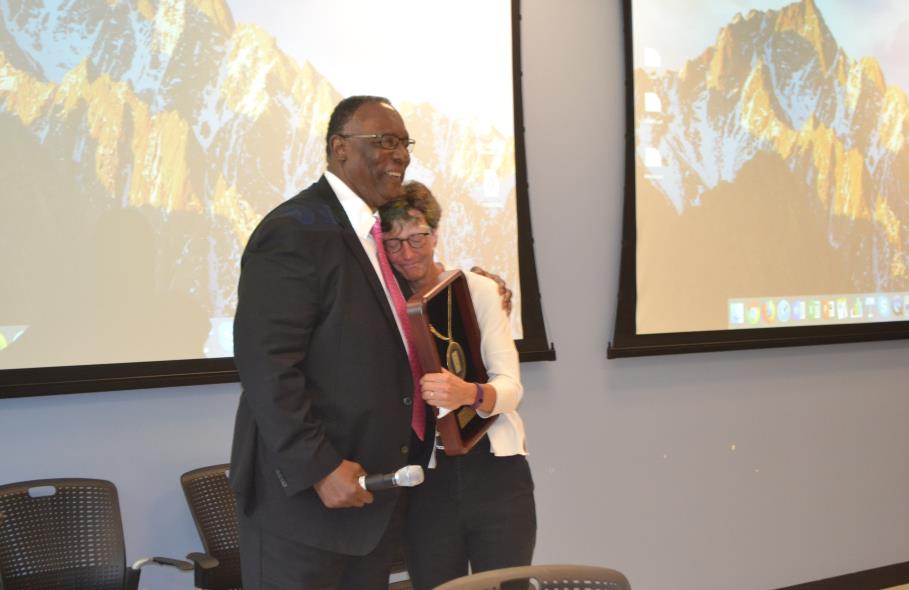 Barb Geissler receives the Dean's Medallion from
Dean James D. Anderson at her going-away party
As she winds down her career at Illinois, Barb Geissler is a proud supporter of the College of Education at Illinois.
The Massachusetts native is fond of the collaborations she has had with faculty and staff during the last 14 years to improve education, which is one of the reason she gives to the College.
I truly believe the work being done here ... is significant and impactful. I am lucky that I can be a part of those efforts."

— Barb Geissler
"It has been important to me that I further support our mission by making a financial contribution to the College of Education," said Geissler, who began her UI career in 1998 in the Grants and Contracts unit of the Office of Business and Financial Services. "I truly believe the work being done here, from preparing the next generation of educational leaders to researching theories and practices, is significant and impactful. I am lucky that I can be part of those efforts in multiple ways."
Dean James D. Anderson said Geissler has been an extraordinary campuswide ambassador while serving with distinction as the chief steward of the College's finances. In addition, he said she has offered excellent counsel to deans and has been an important contact for staff and institutional networks across campus.
"I am also extremely grateful for the steps she took to plan her succession," Anderson said. "Although we will miss her dearly, we will continue to benefit and remain in great shape because of the extraordinary efforts she made to attract outstanding staff to carry on in her absence. I am truly grateful for her selfless and enduring commitment to the College of Education."
As she exits her position in the College as executive assistant dean for business operations, Geissler said the College is engaged in numerous happenings that make it an exciting time. She points to the growth of its online and undergraduate programs as two examples.
In addition, as someone who is an expert on the university's budget issues and a certified public accountant, she is thrilled to see the College of Education will benefit from the campus's Investment for Growth proposals, which total $5 million campuswide.
Geissler has chaired numerous campus committees and has a reputation as a strong leader. In 2016 she was the only academic professional on campus appointed on the Campus Budget Reform Steering Committee; in 2014 she chaired the University Administration Budget Review Advisory Committee, which spanned all three campuses.
But it's the passion and dedication she's observed from faculty and staff at the College that have made some of the biggest impressions on her.
"People choose to work at the College of Education for a lot of reasons," she said. "Both faculty and staff care about the College's mission. They want to make the world a better place, and this is one small way they can contribute to that. Having colleagues like that around makes it a really great work environment. You feel like you're rowing in the same direction and working for some common good."
Geissler, an equestrian, plans to ride her horses more in retirement and give added attention to her garden. Additionally, she and her spouse, Monica Miller, are exploring the idea of opening a cidery that gets its apples and other food products from local farms.
In lieu of gifts for her retirement, Geissler has asked that people donate to the College of Education Scholarship Fund, which can be found in the "Invest in Our Students" dropdown menu on the College's Make Your Gift to Illinois page.