Counseling Psychology Alumnus Milo Dodson Talks Career Rooted in Service
by Sal Nudo / Jul 26, 2018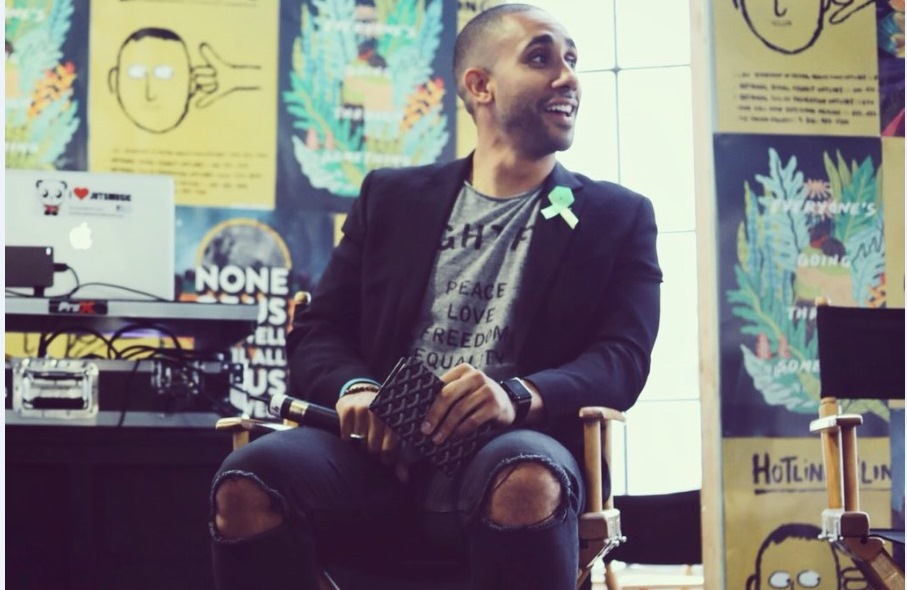 Ambitious graduate already a senior staff psychologist at university in California and hosting podcast
Accredited by the American Psychological Association (APA) since 1985, the highly regarded Counseling Psychology Program (CPP) in the College of Education combines multicultural research and practice for graduate-level students who are looking to pursue careers in the field.
The program's level of prestige is one of the reasons Milo L. Dodson, M.S. '10 Ed.Psych., Ph.D. '14 Ed. Psych., studied in the program as a doctoral student—but it wasn't his only rationale.
"I became interested in the educational psychology field at Illinois and wanted to collaborate with Dr. Helen Neville," Dodson said. "In particular, I wanted to work in her research lab to continue my own research that began during my undergraduate years. I knew Helen's pioneering research on color-blind racial ideologies would make her an insightful and inspirational adviser for my dissertation."
Professor Neville chaired CPP for more than 10 years and explores such areas as why black people develop a sense of racial pride within color-blind racial contexts. Dodson said he is impressed with the scholar's ability to run a research lab, chair multiple dissertation committees, and serve as an international leader and advocate in the areas of mental health and social justice.
Dodson's résumé since graduating from Illinois isn't too shabby, either.
As a senior staff psychologist at the University of California, Irvine Counseling Center, he provides individual and group therapy to undergraduate and graduate students. Similar to Neville, he infuses compassion and encouragement toward others into his life and work.
"My inspiration is grounded in service and leadership," Dodson said. "I've been privileged to receive many opportunities and blessings as a first-generation college student, so I feel called to serve others. Two philosophies I hold close to my heart are resisting hate and spreading love, and love and be loved."
While a student in the College, Dodson was able to participate in collaborative research and clinical work, which prepared him well for his career.
Knowing how to interpret and conceptualize data has made me a better researcher and clinician."

— Milo Dodson
"Knowing how to interpret and conceptualize data has made me a better researcher and clinician, and it's helped me develop my consultation and outreach skills," said Dodson, who, as a member of the American Psychological Association Minority Fellowship Program, advocated on Capitol Hill in 2017 for mental-health funding.
According to Neville, he also assisted CPP with preparing one of its APA accreditation reports, an effort that led to a successful outcome. She said Dodson was a model student who excelled in all aspects of the program.
"I am always struck by Milo's intellectual insights, gentle spirit, and his ability to both engage in academic and applied pursuits," Neville said. "He is a talented leader and I knew early on he would make his mark on this world."
Dodson's longtime goal of hosting a talk show has come to fruition via a new podcast he started with radio personality Yesi Ortiz titled Mental Health is R.E.A.L. (Reflecting Empathy and Love). He said the empathetic and companionable conversations on the digital platform offer a progressive, informative, and community-centered way to help destigmatize mental health.
On the show, Dodson utilizes his clinical expertise while speaking with prominent journalists, hip-hop artists, and actors. Keeping the show lighthearted and humorous, Dodson said he tries to bring fresh perspectives on the issues of mental health, wellness, and social justice, with a bit of an entertainment bent.
"Personal life experiences and formal education combine to make the podcasts energetic, cutting-edge, and also kind of youthful," Dodson said.
Outside of work and his podcasts, Dodson served for six years as the director of the Dreamer's & Believers Summer Youth Camp, a program sponsored by the Common Ground Foundation, an organization comprised of mentors and coaches who work with students in varied capacities.
Dodson is also a project manager for the MVP Group Program, a consultation service for Fortune 500 executives, and is writing a book, working on a television project, and hasn't ruled out someday getting into politics.
The selfless Dodson stays busy and has one major objective.
"I want my life to be devoted to ensuring children never grow up doubting themselves," he said. "I want to help them see that their internal validation begets self-confidence and help them realize their self-worth is preciously invaluable."
Photo by Bex Saldivar