Mary Kalantzis to be recognized in Greece with honorary degree
by the College of Education at Illinois / Jun 5, 2018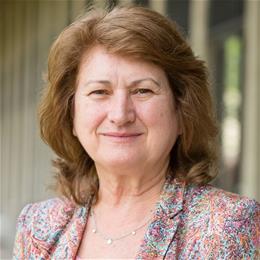 Professor Mary Kalantzis, a former dean of the College of Education at Illinois, will be recognized with an honorary degree—an Honoris Causa Doctorate—from the School of Education at National and Kapodistrian University of Athens.
The ceremony will take place June 21 in Greece, with Dr. Kalantzis giving a speech at the event titled "A Learning Odyssey."
Kalantzis, a professor in the Department of Education Policy, Organization & Leadership (EPOL), was dean of the College from 2006 to 2016 and began her career in education as a public-school teacher in Australia in the late 1970s. Over the years, her academic research has crossed over into numerous disciplines related to history, linguistics, education, and sociology.
Born in Greece, Kalantzis receiving her honor is in many ways a full-circle moment. Her parents left the war-torn country in search of a better life when she was 3, which for Kalantzis began a lifetime of personal and scholarly inquiry into the forces that move humans to relocate to other countries.
She has connected with numerous educators during her distinguished career, including Dr. Bill Cope of EPOL, who strive to enhance educational opportunities and systems in Greece, a country that continues to have major struggles, according to Kalantzis. The book New Learning: Elements of a Science of Education by Kalantzis and Cope has been translated into Greek and is widely used as a textbook in Greek universities.
"I've worked for more than 30 years with almost every government of all political persuasions and many educational institutions in Greece, which has led to partnerships with committed and creative educators, students, and administrators," Kalantzis said. "In various ways, it has been a shared objective of these projects to harness the affordances of literacy, diversity, and technology to advance the interests of learners, workers, and citizens."
Kalantzis said she is deeply honored to receive an honorary degree from National and Kapodistrian University of Athens.
"It provides a formal and affirming acknowledgement of our scholarly contributions and recognition of our genuine admiration and love for Greece and its people," she said.
Discover more about Kalantzis and her distinguished career as an educator.