Alumnus Scott Woods recognized for outstanding research in middle-level education
by the College of Education at Illinois / Apr 23, 2018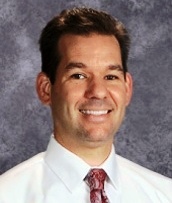 Scott C. Woods '97 C&I, Ed.M. '04 EOL, Ed.D. '17 EPOL, is the recipient of this year's Graduate Student Award from the Middle Level Education Research Special Interest Group, an affiliate of the American Educational Research Association (AERA).
The award promotes and recognizes outstanding research in middle-level education and is presented every year to graduate students and recent graduate students, as well as to master's students, specialists, or those in doctoral programs.
Woods focused on educational administration and leadership while studying in the college, obtaining his principal and superintendent licensures. He is currently the principal of Urbana Middle School.
"My studies at the College of Education significantly improved my analytical, writing, and leadership skills," said Woods.
His College of Education adviser and dissertation director, Dr. Donald Hackmann, said Woods was an excellent student and is a highly respected school administrator, in addition to being a passionate advocate for middle-level education. He said Woods's research in the college was valuable in providing insights into the use of interdisciplinary teaming and advisory programming in public middle schools in Illinois, core tenets of the middle school philosophy.
"Scott's dissertation adds to the growing body of research related to implementation of the Middle School Concept, which suggests that middle school principals should carefully examine how they design and implement middle school components in their schools—ensuring that teaming and advisory programming are implemented with fidelity," Hackmann said.