Eight-week Black Minds Matter course to be live streamed at College of Education
by the College of Education at Illinois / Oct 9, 2017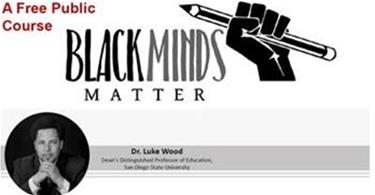 The College of Education will be a live-streaming site for portions of the upcoming Black Minds Matter course, taught by Dr. J. Luke Wood of San Diego State University.
Dr. Wood's eight-week course will take place on Mondays from Oct. 23 through Dec. 11. The first 60 to 75 minutes of every class will be accessible to the public from 6:30 to 8 p.m. in Room 2 of the Education building.
The course is designed to raise the national consciousness about issues facing black boys and men in education. Additionally, the class will address the pervasive undervaluing and criminalization of black minds and offer tangible solutions for promoting the learning, development, and success of black males. Guest speakers will include Patrisse Cullors, Shaun Harper, Pedro Noguera, and Eboni Zamani-Gallaher.
The live-stream events are sponsored by the Department of Education Policy, Organization & Leadership; the Higher Education Collaborative; and the Office of Community College Research and Leadership. Food and beverages will be provided.
Those interested in attending the full course can register here.
View the course syllabus.