College's community-focused camps provide educational, networking opportunities
by Sal Nudo / Jul 27, 2017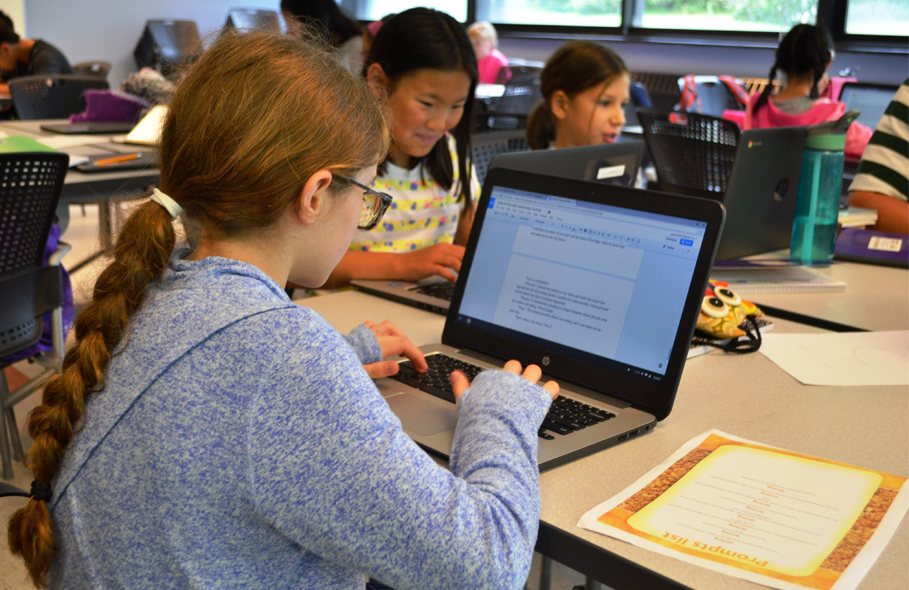 Writing camp and EdCampCU bring knowledge and community together
Two camps held annually at the College of Education provide learning and networking opportunities for different age groups, as well as a chance for those in the community who care about education to gather together and discuss issues that are important to them.
The Young Writers Camp consists of two weeklong summer sessions at the College of Education. It evolved from the University of Illinois Writing Project (UIWP), which started in 2007 as part of the National Writing Project, an organization that has more than 200 sites in all 50 states.
The UIWP Summer Institute, which the Young Writers Camp educators participate in, offers resources and support for teacher-centered professional development in the teaching of writing. Sarah McCarthey, interim head of the Department of Curriculum & Instruction, was one of four UIWP co-directors when the first Summer Institute took place in 2008.
In 2010 UIWP started a youth writing camp in the community as a way to utilize the expertise of the teachers who had participated in the Summer Institute. For the last two years this camp has been held in the College.
"It was important to provide a venue for children and youth to increase their motivation to write and provide opportunities outside of the classroom context to write in a variety of genres, formats, and modalities, using digital technology, collaborative practices, and drama," McCarthey said.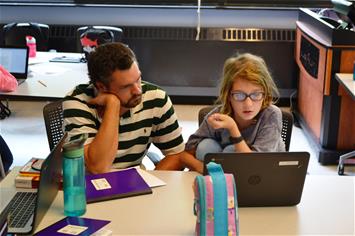 The Young Writers Camp offers writing assistance for children and youth from first grade to high school in a variety of genres including short stories, storytelling, comic-strip writing, plays, fairytales, and poetry. Different writing activities take place each week, and students are not obligated to sign up for both camps.
According to Christine Campos, Ed.M. '11 C&I, who has directed the camp for four years, attendees at the all-day sessions become empowered as writers through "free writing," collaborations, revisions, and feedback. It's a social, supportive environment with a typical ratio of 12 to 15 kids per teacher, though camp enrollment increased by 65 percent in 2017. Of the 76 attendees this year, 21 are returning campers, and the majority of them are in the middle grades.
"It's really awesome because even the kids who are the reluctant writers end up feeling more confident in their writing ability by the end of the camp and view writing as this really fun activity. It recharges you for the next schoolyear," said Campos, who teaches at Heritage High School in Broadlands.
Campos said she and her team offer campers a feel for the community through "writing marathons" on Fridays in which they visit locations such as the Urbana Free Library, Spurlock Museum, and Krannert Center for the Performing Arts, places where further writing instruction takes place and covered themes come to life.
The camp is designed to be as accessible as possible to children in the community and beyond through discounts and scholarships. Though the majority of attendees come from Champaign-Urbana, Campos said children from numerous other communities such as Springfield, South Elgin, Normal, Danville, Decatur, and Hanna City have attended.
As part of the national EdCamp initiative, EdCampCU is held in the College every January and offers Champaign-Urbana residents a chance to discuss education issues that are meaningful to them. Past topics, which are phrased as questions, have included:
- How can we integrate technology into social justice education?
- How can we change standardized testing from less quantitative to more qualitative?
- What are the purposes of education in this community in general?
- How can we best serve English language learners?
Katrina Kennett, Ph.D. '17 C&I, helped start EdCampCU in a grassroots way with Todd Lash, Ed.M. '98 C&I, and Matt Sly, '99 C&I, Ed.M. '05 Ed.Psych. The free gathering offers teachers, education administrators, campus faculty members, students, and all others who care about education opportunities to delve into important local issues that are decided upon the very day the conference takes place.
Among other topics, the first EdCampCU on January 24, 2015, covered strategies for engaging students in long-term projects, how to create collaborative learning spaces in the classroom, and how to support teachers with Next Generation Science Standards. Kennett said the sessions allow for focused discussions and connections that aren't available elsewhere.
"Where else is it really easy for a parent and a teacher and an administrator and a business owner and Champaign's school board president to sit down and have a conversation with a preservice teacher, for example?" said Kennett, who noted that EdCampCU is known nationally for having the widest range of participants.
Where else is it really easy for a parent and a teacher and an administrator and a business owner and Champaign's school board president to sit down and have a conversation?

- Katrina Kennett
Kennett attended EdCamps in Boston and elsewhere prior to moving to C-U, meeting fellow teachers whom she could learn from in varied ways. In particular, Kennett wanted to learn more about technology in classrooms.
When she moved to C-U more than four years ago to pursue her doctorate, Kennett observed a community in which many people were interested in education and asking questions in different places, but who didn't have a singular place to talk more in depth.
George Reese, the director of the Office for Mathematics, Science, & Technology Education, has attended four EdCampCUs and said all of them have been informative and inspirational. He appreciates how attendees can focus on issues they feel are important and then help lead the discussions. Reese said he vividly remembers a talk among teachers that centered on Islamophobia, as well as a conversation about mathematical mindsets.
"I think the model is uniquely suited to this day and age in which social media creates environments where all users expect to have a voice," Reese said. "EdCampCU gives people the voice and allows everyone to share their insights."
I think the model is uniquely suited to this day and age in which social media creates environments where all users have a voice. EdCampCU gives people the voice.

- George Reese
EdCampCU takes place a few other times a year in a location outside the College. When it's held at the College, the conference begins in Room 22 with breakout sessions in other classrooms such as Room 42A, where cutting-edge technology is available.
"The College of Education provides a variety of spaces that are responsive to the participants," Kennett said.
Last year, EdCampCU partnered with the Pygmalion Festival to show a free screening of the documentary Most Likely to Succeed, a film about education. Kennett envisions more such collaborations and hopes the conference, which averages 40 to 50 participants each time, will grow.
All the work Kennett put into co-founding and organizing EdCampCU earned her a 2016 Leadership Award for Education at the campus's YWCA Women Achievement Celebration. With its varied participants and wide range of crucial topics in education, she hopes the conference will become a community staple.
"It's really impressive to see, and important to see, how many different topics people want to talk about in the community," she said. "We have so many different layers and so many different questions when it comes to how to make teaching and learning better for the youth and adults in this community."