Hardie connection funds Australian scholars conducting e-learning research in College
by Sal Nudo / Jul 12, 2017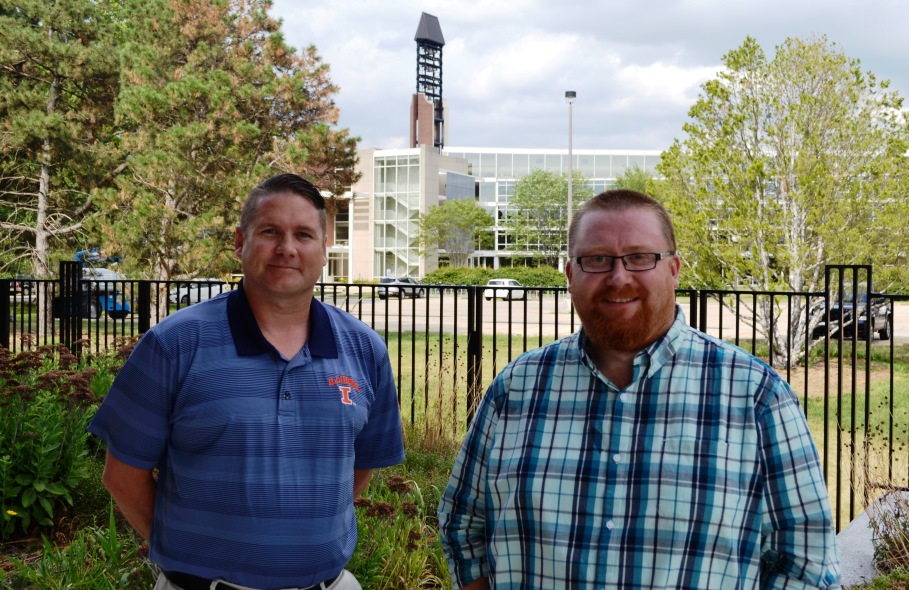 Visiting Australian scholars Josh Dean and Mark Sivills
Australian scholars Josh Dean and Mark Sivills are conducting research and taking courses in the College of Education this summer thanks to the Hardie Fellowship, which provides educators in Australia the opportunity to undertake professional learning and tertiary study in the U.S.
Dean is an advanced skills teacher and Sivills is a principal education officer of curriculum and standards. Both have a mathematics background and work for the Department of Education in Tasmania. They are blogging about their Hardie Fellowship experience and will travel to Florida later in the summer to continue their U.S. studies.
The duo's focus while on campus is on researching best practices in blended and online learning and formative assessment. Dean is taking the course Learning & Human Development with Educational Technology (EPSY 408) with Professor Bill Cope. He said students in the class conduct research that is peer reviewed through rubrics prior to finalization.
"Mark and I are keen to make a distinction between digitizing analog classroom practices and leveraging the affordances that technology-mediated learning now provides," said Dean. "We hope to develop a framework for blended and online learning using the principles and practices we observe."
The ongoing collaboration between Australian and College of Education scholars is made possible by Charles Dunn Hardie, who passed away in 2002. He was a visiting scholar for one year at the University of Illinois in 1968 and bestowed an unexpected gift in an endowment of more than $4 million to advance learning at the College of Education. The 2005 gift occurred nearly 40 years after Hardie's short tenure in Urbana-Champaign.
Professor Hardie was the dean of education at the University of Tasmania in 1946 and remained there until he retired in 1976. His bequest of $7.5 million from his estate enabled the establishment of the Hardie Fellowship Trust in Australia.
Dean said the Hardie Fellowship will allow him and Sivills to explore best practices from a leading institution and then apply the information to their own work.
"It's good to venture outside the sphere of what is known and what is perceived as possible to see what's happening in other parts of the world and be open to evidence-based research," he said.
They are also collaborating with Cope on the National Science Foundation-funded project "Assessing Complex Epistemic Performance in Online Learning Environments," which seeks to develop online software tools that assess and give feedback to learners in the medical field, individuals who must communicate complex scientific and technical information.
In addition, Sivills is working with several of Cope's doctoral students and other visiting scholars on a research project that focuses on inter-rater reliability and machine analytics in the Scholar application, a web-based environment for writing and assessment.
Cope, who is internationally renowned for his work in e-learning, said the Hardie endowment is a huge benefit to the College in numerous ways.
"In this case, it's brought leaders in e-learning in the Tasmanian Department of Education to work with me on my NSF grant, where we are evaluating the reliability of on-the-fly learning analytics as a mode of student assessment," he said.
Scholar Mary Kalantzis, a former resident of Australia with her husband, Cope, and a professor and former dean of the College, agreed.
"What an amazing, affirming story," she said. "This endowment has had such a profound effect over the years and still does."