IDEALL space focused on finding innovative ways to teach and increase interest in science
by Paul Engelman / Jun 29, 2017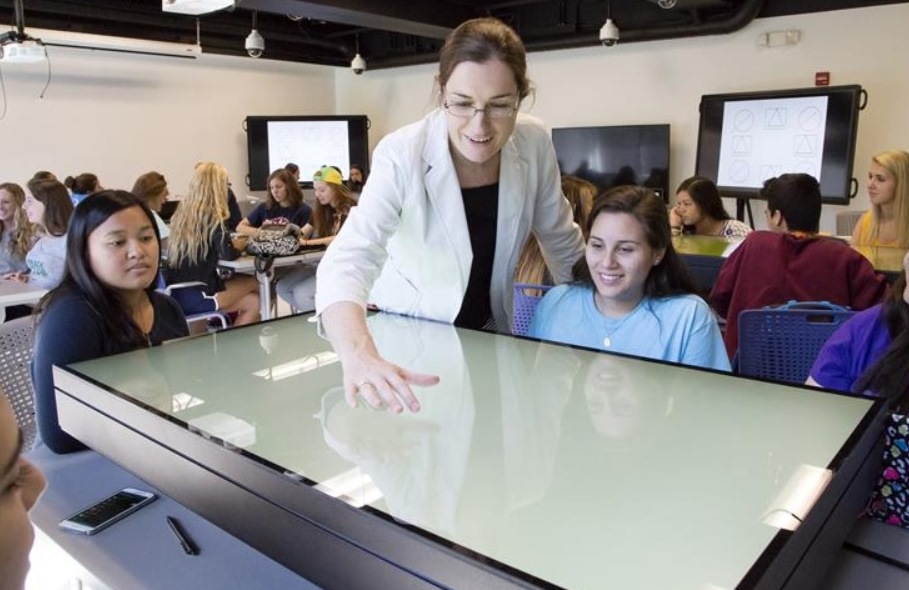 Cyberlearning in College sparking curiosity in science, technology, engineering, and math
Two little girls stand side by side in a virtually empty room, gleefully gyrating their arms. The room is "virtually" empty because the girls have a companion of sorts, a computer-simulated robot illuminated in high definition on one wall. Although their manner is playful, the girls have determined expressions on their faces, intent on completing a complex and urgent task. The robot is trapped in a factory that has caught fire, and the girls must help the robot escape by energizing it. Their motions control its movements, and the robot gives them verbal clues about what they need to do.
Through a one-way mirror in an adjacent room, Associate Professor Robb Lindgren and Assistant Professor Emma Mercier, Dept. of Curriculum and Instruction at Illinois, can observe the girls' progress. For the girls, rescuing the robot is a game, similar to one they might play on a computer, but acted out on a screen so large, they are immersed in it. For Lindgren and Mercier, the game is a digital research tool, one that helps them advance their pioneering work in finding new and innovative ways to teach scientific concepts and to increase interest in science, technology, engineering and math (STEM).
While helping the robot, the girls are assimilating knowledge about how to store and use energy and taking a virtual step into the future of science education—a future that is unfolding rapidly in a space on the first floor of the College of Education building, near the intersection of Peabody and Sixth Street, where artificial intelligence, digital technology and educational research also intersect.
This space is the Illinois Digital Ecologies and Learning Laboratory (IDEALL), and it is equipped with a range of high-tech tools, including tablet computers, adjustable 80-inch, flat-screen TVs, multi-touch tabletop screens, and a sophisticated recording system with ceiling-mounted cameras and wireless microphones connected to local storage units for data collection. "IDEALL is a resource we use, along with other faculty members," says Lindgren. "I don't know of any other facility like it that exists for this purpose."
Read the full article by Paul Engelman of Illinois Alumni magazine.