C&I graduate Jennifer Neubauer chosen as first woman to lead Alumni Association
by the College of Education at Illinois / May 11, 2017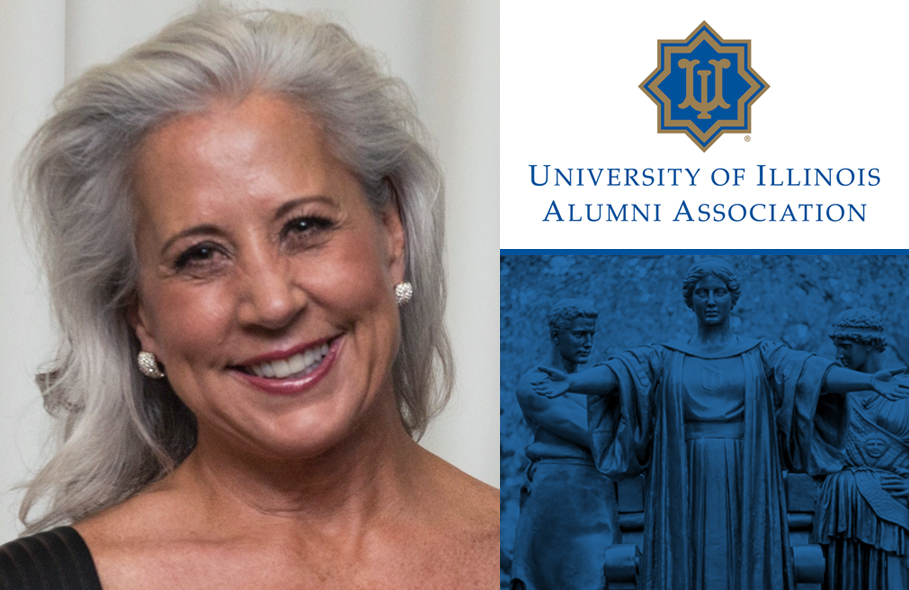 Champaign native and 1982 Curriculum & Instruction graduate Jennifer Neubauer was named president of the University of Illinois Alumni Association (UIAA) and associate vice chancellor for alumni relations. She will begin her position on July 15, pending approval by the University of Illinois board of trustees.
Neubauer is a first-generation college graduate and the first woman to permanently lead the UI Alumni Association. Having grown up in Champaign and as a former development associate at the UI Foundation in the 1980s, she is familiar with the campus landscape.
"I have long thought Champaign was a wonderful place in which to come of age," said the 1977 graduate of Champaign Centennial High School. "To this day, I think the people I grew up with were, and are, some of the kindest, funniest, smartest people I've ever known."
Neubauer's distinguished career in alumni relations includes tenures at Nazareth College, Indiana University, Georgia State University, Carnegie Mellon University, and the University of Pittsburgh, where she was director of the Institute for Entrepreneurial Excellence.
Prior to her return to Illinois, Neubauer was assistant vice president of alumni relations and executive director at the Ohio University Alumni Association, where she oversaw an organization that served 220,000 graduates from six campuses.
Neubauer said alumni relations is not a field one majors in, and she never anticipated pursuing it as a career while majoring in elementary education as an undergraduate. The career-forming intangibles are what Neubauer picked up as an Education student.
"While the College couldn't teach me formally about alumni relations per se, or advancement, it did teach me to be a critical strategic thinker and problem-solver. Those skills are universally deployable," she said.
During her undergraduate years Neubauer spent time on Green Street, ate her fair share of pizza (Garcia's, Papa Dels, and Pagliai's, to name a few), and studied with sorority sisters and Education peers at the Alpha Gamma Delta house. She takes pride in having learned from College administrators and faculty members such as Russell Zwoyer, scholars who were passionate about teaching and research.
Neubauer was a student teacher at Leal Elementary School and experienced her junior practicum at Westview Elementary School.
"I still think about those fourth-graders and how bright and funny they were," she said of the Westview students.
From 1983 to 1986 Neubauer worked at the UI Foundation and collaborated with UIAA Executive Director Lou Liay, one of her top role models in alumni relations.
"Few people knew the value of building, stewarding, and leveraging relationships on behalf of the University the way Lou did. To follow in his footsteps is the greatest honor of my career," she said.
Though Neubauer's gender won't define her tenure, she said it will inform her time as president. She arrived at Illinois as both an experienced practitioner and an alumna, an interesting combination, she believes. As UIAA president, Neubauer is striving to synergistically integrate and align advancement efforts between her organization and campus.
And, like her valued mentor Lou Liay, she wants to make alumni engagement a priority.
"Affinity always precedes philanthropy," she said.