C&I professor's app helps kids understand the environmental impact of food choices
by Paul Wood / May 2, 2017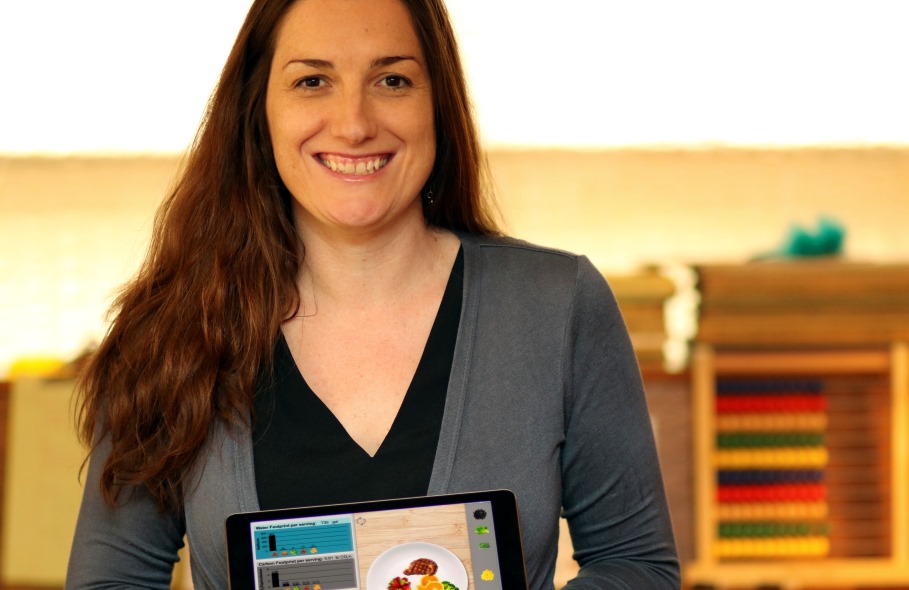 For two years Curriculum & Instruction scholar Emma Mercier and her team have been working on a Food for Thought app that helps make kids aware of the causes and impacts of climate change and assists them with making sense of data in their decision-making process on the topic.
"How is it that we can give them complex data about the carbon footprint and water use?" Mercier asks in a Wired In interview with The News-Gazette. "We came up with food."
Designed with the goal of stimulating conversation, the Food for Thought app charts the nutritional data and carbon footprint for food items and assembles the overall meal as a plate. To develop the app, Mercier conducted research at University Laboratory High School to learn about the eating habits of kids. She also let them use the app in its developmental stages.
Mercier's courses in the College of Education include Child Development & Technology and a graduate seminar in the Digital Environments for Learning, Teaching & Agency program. She said research has shown that engaging children in complex scientific phenomena is graspable and helpful, and that the Food for Thought app is "a way in" to such learning.
Food choices on the Food for Thought app include chicken, steak, hamburger, and bacon. Non-meat food items include black beans, peanut butter, tofu, and fruits and vegetables. Teachers can set challenges for students on the app, creating meals that are both friendly and non-friendly toward the environment.
Read the full News-Gazette interview and discover more about Mercier's app when it was in the developmental stages last year.